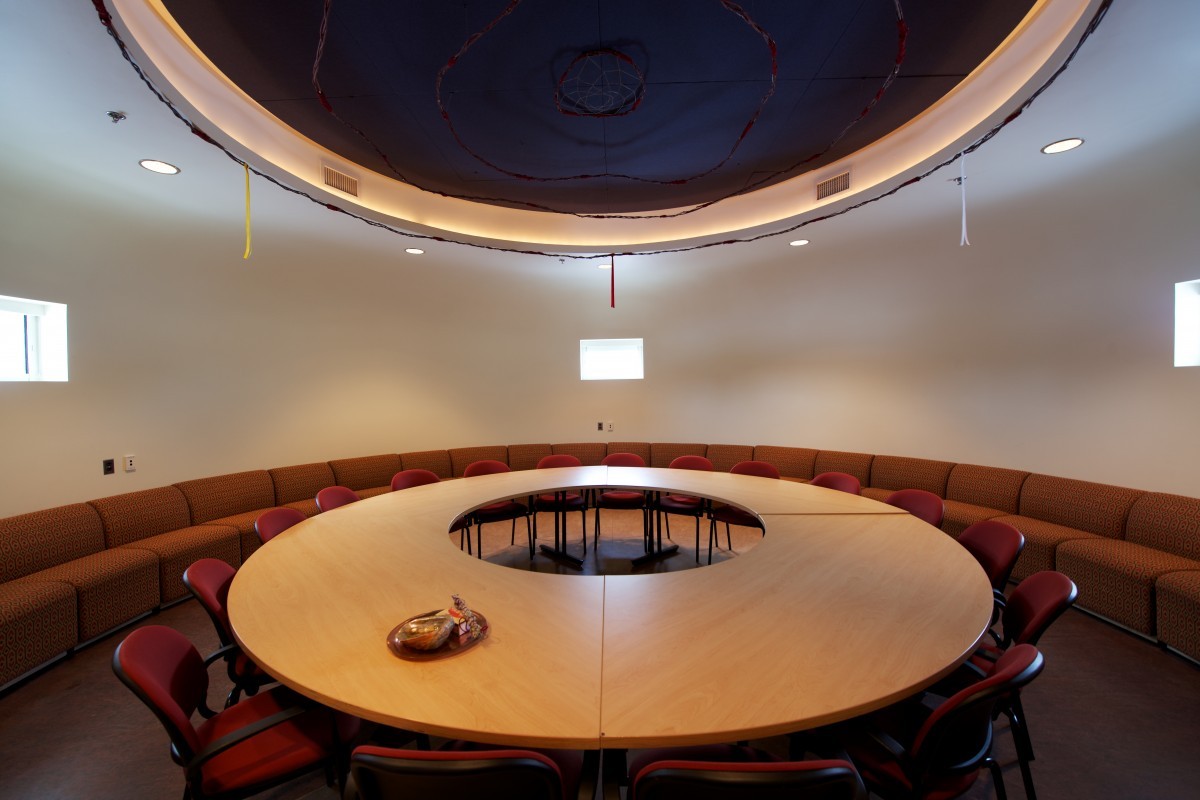 New Indigenous student leadership gearing up for Fall
April 18, 2019 —
On top of the looming deadlines for papers and the last day of classes, Indigenous student representatives were busy nominating, campaigning for and electing new leaders. Both the University of Manitoba Indigenous Students' Association (UMISA) and Métis University Students' Association (MUSA) welcomed new student executives who will represent the associations for the next school year. UM Today sat down with a few of the leaders from each association to see what new plans and initiatives are on the horizon.
UMISA
Alicia Kubrakovich is UMISA's newly elected female president. She is Ojibway and has roots in both Dauphin, Man. and Pine Creek First Nation. She is in her first year, studying Indigenous governance, and hopes to pursue a future in law.
"When I first came to campus, I saw some of the work that was being done by the UMISA Womxn's Council," she says, adding working with the Womxn's council is one of the things she is most looking forward to.
"We also want to have a bigger presence on campus and host more lunches and events," she adds. As far as fresh ideas, Kubrakovich says she and a few of the new executives have a common interest in sports. "We'll also be looking into creating an Indigenous Sports Award, and incorporating more sports nights and recreational initiatives for Indigenous students."
When asked about the importance of having an Indigenous-specific student association, Kubrakovich says it is important that there is a strong and unified voice to represent Indigenous students on campus. She looks forward to being one of them.
Julie Albert is UMISA's newly elected female vice-president. She is Cree from Norway House Cree Nation in Treaty 5 territory. Also in her first year, Albert is studying political science and Native studies with a long-term goal to get into law.
After taking her first Native studies course and learning about the past and present violence Indigenous peoples are subject to, she was immediately inspired to get involved with advocacy work. "Norway House is a place of poverty, so my home inspires me, too," she says.
One of Albert's goals is to host information sessions in her home community for campus supports, such as the Engineering Access Program (ENGAP), Access Program, and Indigenous Business Education Partners (IBEP). "It can be a really hard transition into post-secondary," she says. "We really want to do our part to prepare and encourage Indigenous students on how to navigate the tools and supports that are in place for them."
You can stay in touch with UMISA on Facebook, or follow them on Instagram at @UMISAcouncil

MUSA
Kirsten Fleury is a Métis woman from St. Francois Xavier and is a member of the Manitoba Metis Federation. She is in her fourth year of science and will graduate in 2020 with a major in biology.
"My interest in student politics began after my participation in the Indigenous Circle of Empowerment (ICE) program," she says. Having some prior experience in student politics in her high school years, Fleury says the MUSA position really spoke to her. "I think we can do a better job of advocating for the presence of Métis students on campus."
Fleury is eager to encourage other Métis students to explore their identity. Self-described as a white-presenting Indigenous person, she hopes that she can make campus a welcoming space for others to learn about their heritage. "[Métis students] are welcome here, and MUSA is a safe space to explore opportunities to learn more about your culture," she says.
While Métis student support will be a focus for her, Fleury also wants to extend recognition to Métis faculty to bring more awareness to their contributions on campus.
Brandon Wozniak is a Métis student from Fort McMurray, Alta. He is in his third year of science with an honours in biochemistry. He recently received a Natural Sciences and Engineering Research Council of Canada (NSERC) grant and will spend his summer engaging in chemistry research.
Wozniak has been active in many areas on campus. He has been involved in environment initiatives with a focus in sustainability, and recently completed the ICE program. "While I was learning about sustainability," he says, "I wanted to draw those connections to my ancestry." This desire is what led to his participation in MUSA.
Wozniak's priority is to see the MUSA membership grow. "I want to have more of a presence both online and on campus," he says. "I want to host more informative class talks, incorporate sustainability initiatives and even host Métis cooking and language classes."
Wozniak believes that having smaller working groups and student associations is the most beneficial way to ensure all voices and concerns are heard. He looks forward to representing the Métis student body.
You can stay in touch with MUSA on Facebook, or follow them on Instagram at @MUSAmanitoba