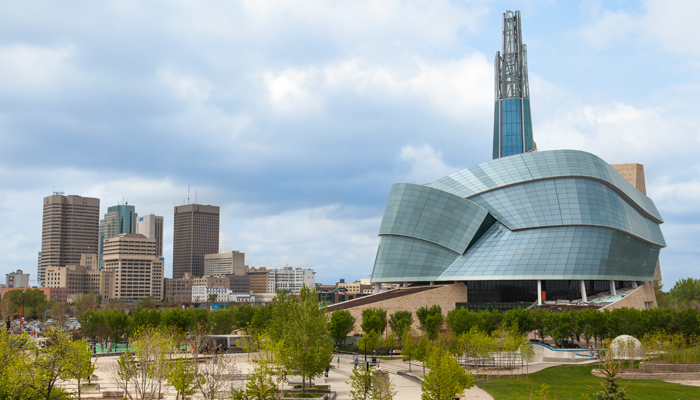 New course helps educators address human rights issues
July 21, 2014 —
This week marked the beginning of a new course in the Faculty of Education that will teach educators how to talk about human rights in schools.
"The fourth 'R': Teaching and leading human rights education" aims to guide teachers through some of the same difficult questions the Canadian Museum for Human Rights (CMHR) has faced leading up to its opening: Whose stories get told? Who should tell them? What purpose will they serve?
Chrystal Lynch, a student in the inaugural class, says it's important for teachers to understand how human rights impact every aspect of education.
Human rights "should really be across the curriculum," says Lynch.
"It shouldn't just be something that [educators] introduce one day and is part of a theme and then they move on. I think it's something that needs to be incorporated into our schooling system from early childhood development right up to senior years."
The course's content will closely reflect the themes in the CMHR's galleries, such as Indigenous perspective, examining the Holocaust, and other turning points for humanity. Students will have the opportunity to visit the museum prior to its September opening and interact with each of the galleries.
Lynch, a former classroom teacher, sees the course as the start of growth for herself and the university, saying that she hopes to one day teach in the Faculty of Education.
"And hopefully we'll have a lot more courses focused on human rights," she adds.
Last year, the CMHR and the Canadian Teachers' Federation conducted a cross-Canada survey that revealed 94 per cent of teachers wanted to acquire more knowledge and skills around methods for teaching about human rights.
CMHR president and CEO Stuart Murray, who met with the class on the first day, says the results spoke volumes.
"It became clear that there was a strong desire to talk about human rights in the classroom, but there wasn't the resources to do it," says Murray.
"We've been able to create through the partnership a toolkit that will be so significant for teachers to be able to bring into the classroom and talk about human rights from coast to coast to coast."
Developed and led by the Faculty of Education's Jerome Cranston and Melanie Janzen, the course is the latest product of a 2011 partnership agreement between the CMHR and the University of Manitoba. Over 150 faculty members at the university currently participate in human rights education and research.
Listen to more comments from Chrystal Lynch:
Listen to more comments from CMHR president and CEO Stuart Murray: