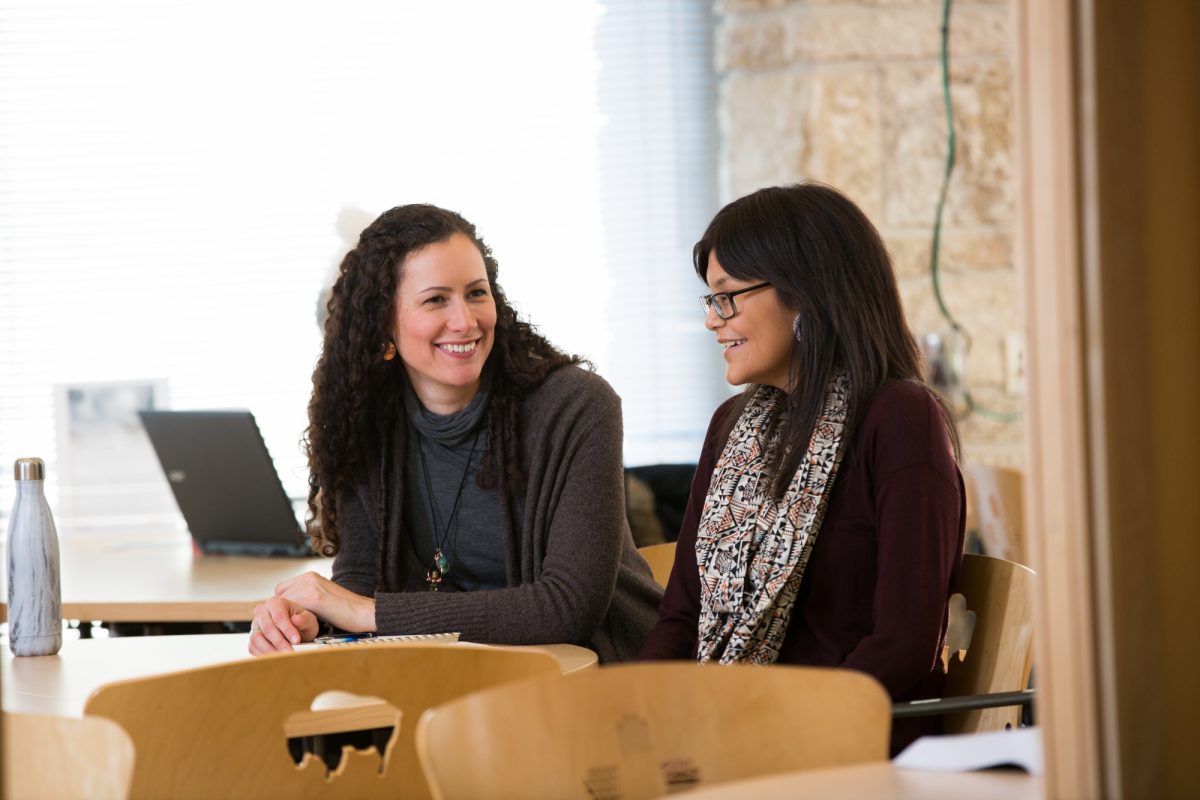 Neechiwaken celebrates 10 years of creating friendship
Created out of a brainstorming session on how to assist first-year Indigenous students, the Neechiwaken Indigenous Peer Mentorship Program is an integral component of the Indigenous Student Centre.
August 15, 2019 —
What started out as brainstorming sessions with the campus community in 2007 about program gaps and how to best reach out to first-year Indigenous students led to a peer mentor program. In September 2009, Promoting Aboriginal Community Together (PACT) launched out of the University 1 (U1) First Year Centre. New Indigenous students were paired with upper-level Indigenous students as a way to create community and ease the transition into university. The program, now called the Neechiwaken Indigenous Peer Mentor Program , is an integral component of Indigenous Student Centre (ISC) programming.
UM Today sat down with Neechiwaken's facilitator, Carla Loewen [B.Ed./01, B.A./03, M.Ed/16] to talk about celebrating a successful 10 years. Loewen is a student advisor at ISC, a member of the Mathias Colomb Cree Nation and an Alumni Representative on the University of Manitoba Board of Governors.
UM Today: Why Neechiwaken?
Carla Loewen: Neechiwaken is a Cree term meaning 'friend.' The program emphasis has always been that students learn from each other, so instead of using the usual terms of mentees and mentors, we refer to each other as 'Neechiwakens.' Focusing on friendship also allows for a holistic approach to mentoring and takes the hierarchical emphasis away.
UM Today: Tell us about the very first year of the program.
CL: As a new program, I knew it would start small. I believed that even if I only gained the attention of a handful of students, the program would grow. My vision was that after every year, students who had a mentor in their first year would become mentors themselves the following year and create a constant flow of experienced mentors and new mentors. This is exactly what happened and it is so rewarding to see a vision in action. Twenty-one students signed up in the first year, eight matches were made and six pairs stayed together for the whole year.
UM Today: How has it evolved over time?
CL: PACT started in U1 because at the time, the Aboriginal Student Centre (ASC) was a small office that did not have the capacity to run many programs. By the time it launched, the ASC had more staff and moved into Migizii Agamik – Bald Eagle Lodge. The shift created a partnership to run the program together. This partnership worked so well that by fall 2012, we had a record year with 87 students signing up and 21 matches made in the fall and an additional 13 matches in the winter. If not for the enthusiasm of my ASC co-coordinators, this program would not be as successful. When I got the opportunity to work at the Indigenous Student Centre, it made sense to bring PACT with me and change it to the Neechiwaken title. My new partnership is now with Student Life and we work together for group mentor events and training. It is amazing how things have worked out!

UM Today: What do you find most successful about the program?
CL: The friendships. Working with so many students throughout the years has allowed me to build many long-term relationships and it is so rewarding to watch students flourish. They start out as an unsure first-years and new mentors who share the common goal of wanting to be involved. Eventually, both groups are fully engaged by the time they leave. This is my favourite part. I strongly believe that the university experience is better when a student feels a sense of belonging on campus. The students also create long-term friendships with each other.
UM Today: What are some challenges that arise with the program?
CL: Becoming the sole coordinator of the program means I can only work with a fixed number of students. Neechiwaken now averages about 20-25 matches per year and is a component of the Qualico Bridge to Success program. I try to accommodate all requests for a peer mentor and that, of course, depends on how many mentors sign up. Thankfully, the numbers keep working and it is the dedicated mentors that keep it going. I am so grateful that the mentors believe in the program, because I could not do it without them! It is an honour to work with them.
UM Today: Share a memorable moment from the past 10 years.
CL: In fall 2011, a visiting student learned about the program and asked if she could join for one term. She is Sami from Sweden and was paired with a science student who went way beyond program expectations to introduce her to Manitoban Indigenous culture. She took her to Manito Ahbee, introduced her to her family and even took her up north to her home community. It was so fun to hear about their adventures. They still hold the record for spending the most time together.
UM Today: Can you elaborate on the importance of mentorship for Indigenous students?
CL: I truly believe in the positive impact that mentoring can have on a new student's transition into university. I believe this because I have seen the impact in action for 10 years. First-year students have better experiences when they have a mentor to go to for questions. I even wrote a thesis about peer mentoring for Indigenous students to explore student engagement theory. Being able to identify with other Indigenous students on a regular basis is what emerged as the most important program aspect to research participants. Results indicated they felt less alone and liked knowing they were not the only ones to experience challenges or face worries (Loewen, 2016). This guides all of my work!
Those interested in applying to the program are welcome to apply here.