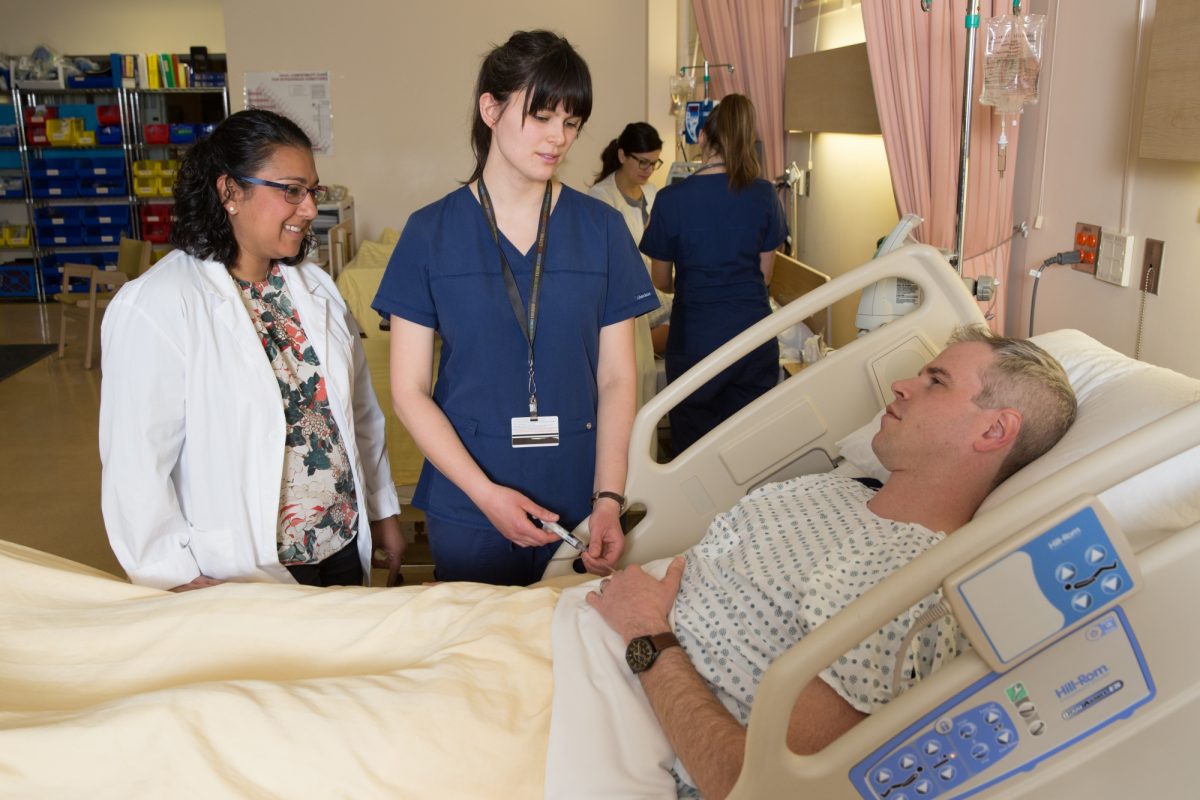 National Nursing Week celebrates care and compassion
May 15, 2020 —
Despite not being able to hold a public gathering this year, nursing faculty and learners at the University of Manitoba acknowledged National Nursing Week, May 11 – 17, as a time to congratulate and thank Manitoba's nurses for "going above and beyond" during the COVID-19 pandemic.
"We are proud of their tremendous leadership, care and compassion during this time of COVID-19," said Dr. Netha Dyck, dean of the College of Nursing, Rady Faculty of Health Sciences.
"National Nursing Week is also a great time to celebrate the excellence of our nursing faculty in continually innovating in the delivery of quality nursing education," Dyck said.
She commended the faculty for its impressive adaptation to an online teaching format and exam model and their ability to adjust their engagement in research initiatives. She also praised students for their resiliency as courses and exams moved online and practicums were reimagined.
"Our faculty incorporated the use of virtual simulation to deliver course content and designed a process for submission of videotaped demonstrations to ensure completion of skills courses," she said. "And as clinical placements shifted or were discontinued, new clinical practice placements were created such as the one that supported services at Health Links – Info Santé during this unprecedented time."
Dyck also noted the efforts of faculty members from the college's new bachelor of midwifery program who have been working to support maternal and child care at the Rankin Inlet Birth Centre in Nunavut to allow pregnant women to stay in the territory to give birth rather than travel during the pandemic.
"I am proud of the dedication and initiative of our midwifery faculty in providing much needed midwifery services in Nunavut during this COVID-19 pandemic," said Dyck. "As we celebrate 2020 as the Year of the Nurse and the Midwife, I commend them on their commitment to quality midwifery services and prevention of COVID-19."
National Nursing Week occurs annually during the week of May 12, the birthday of nursing pioneer Florence Nightingale. This year's fitting theme, developed by the International Council of Nurses, is "Nurses: A Voice to Lead — Nursing the World to Health." May 13 was also celebrated as Indigenous Nurses Day.
"We pay tribute to the tremendous leadership and contribution of Indigenous nurses in Ongomiizwin and around the province, as well as the leadership of our Aboriginal Nursing Cohort Initiative in supporting more than 80 Indigenous nursing students at the college," Dyck said.
This year's National Nursing Week events were moved online because of the global pandemic, and included presentations by faculty members including Dr. Donna Martin, associate dean of graduate programs, and Dr. Susan McClement, associate dean of research.
Martin noted that the college is celebrating the 40th anniversary of its graduate programs and the 35th anniversary of the Manitoba Centre for Nursing and Health Research in 2020.
"There are approximately 500 graduates, including 200 nurse practitioners, from our graduate programs. Our graduate programs have generated advanced practice nurses in leadership roles as clinical nurse specialists, nurse administrators, nurse educators and nurse practitioners," she said.
McClement discussed the importance of investing in nursing research and the synergy between research and practice.
"Just as we have a growing shortage of nurses providing care, a shortage exists of those who are prepared to conduct the scientific research our discipline needs," McClement said. "If we commit to improving its scientific base, we will continue to improve the practice of nursing in its many forms. Failure to invest in and support the further development of nursing scholarship will make attainment of this goal impossible."