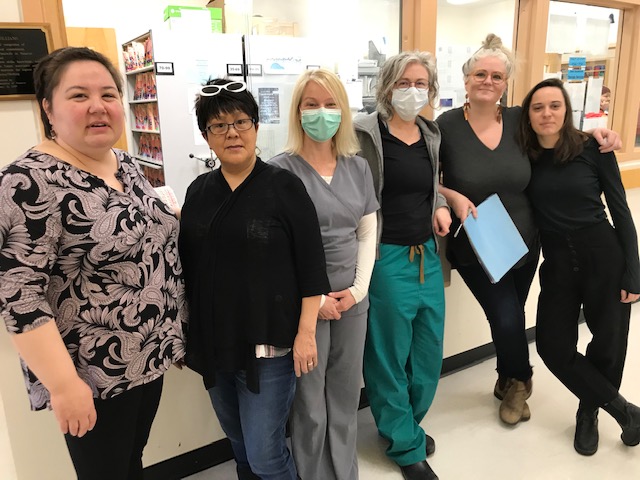 Midwifery program offers support in Nunavut during pandemic
May 13, 2020 —
In an effort to stop the spread of COVID-19 to Nunavut, three faculty members from the College of Nursing's new bachelor of midwifery program have been working to support maternal and child health with a full-scope midwifery practice that includes antepartum, intrapartum and postpartum care.
Program director Dr. Kellie Thiessen and instructors Fleur McEvoy and Susan Wintoniw are working at the Rankin Inlet Birth Centre (RIBC) on two-week rotations over the next few months so pregnant women from six different communities can stay in the territory to give birth rather than travel during the pandemic. This has increased the birth numbers to upwards of 20 women per month that are managed through the facility. Women are also seen for well-woman care, family planning and newborn immunizations and health assessments.
"I am proud of the dedication and initiative of our midwifery faculty in providing much needed midwifery services in Nunavut during this COVID-19 pandemic," said Netha Dyck, dean of the College of Nursing, Rady Faculty of Health Sciences. "As we celebrate 2020 as the Year of the Nurse and the Midwife, I commend them on their commitment to quality midwifery services and prevention of COVID-19."
Typically, women would have to leave the territory to have their babies, but there are currently zero confirmed cases of the novel coronavirus in Nunavut. In an effort to avoid transmission of the virus, the territory has contracted the services of midwives for the next three months to provide the clinical midwifery services onsite.
"There are about six different outlying communities being diverted to Rankin for care, communities where mothers would otherwise be going to Winnipeg or Iqaluit," Thiessen said. "When COVID hit across the country, some midwives also had to back out of working here for various reasons. Suddenly, they were left with all these holes in their schedule and an increase in the volume of cases to manage."
Nunavut's territorial coordinator of maternal newborn health and midwifery Carol Griffin, contacted Thiessen about the assistance in March. They then worked with Ongomiizwin – Indigenous Institute of Health and Healing to have midwifery added to the existing contract for care in the area and established emergency licenses through the territory's government.
Thiessen, McEvoy and Wintoniw are part of a team of midwives from across the country-serving women in the area. Thiessen said the facility needs at least four midwives full-time at this time, but they're typically only operating with two or three.
"It became very complex almost overnight in terms of taxing a system that didn't have the personnel to deal with it," Thiessen said. "We typically each work two weeks in and four weeks out, but it fluctuates a bit because scheduling sometimes works out where we have to wait couple of days before another midwife arrives. We are trying to be flexible to meet their needs while balancing our University responsibilities, as well."
Thiessen said the relationship with Nunavut will benefit both the territory and the midwifery program, which will welcome its first group of students in September 2021. The program offers up to half of the seats will be under a Canadian Indigenous Category to Manitoba Indigenous students to address concerns regarding the lack of midwifery/obstetrical services in or near northern Indigenous communities.
"There's a real opportunity to offer support long-term as the community leads and we hope our students could benefit from this relationship as well," she said.