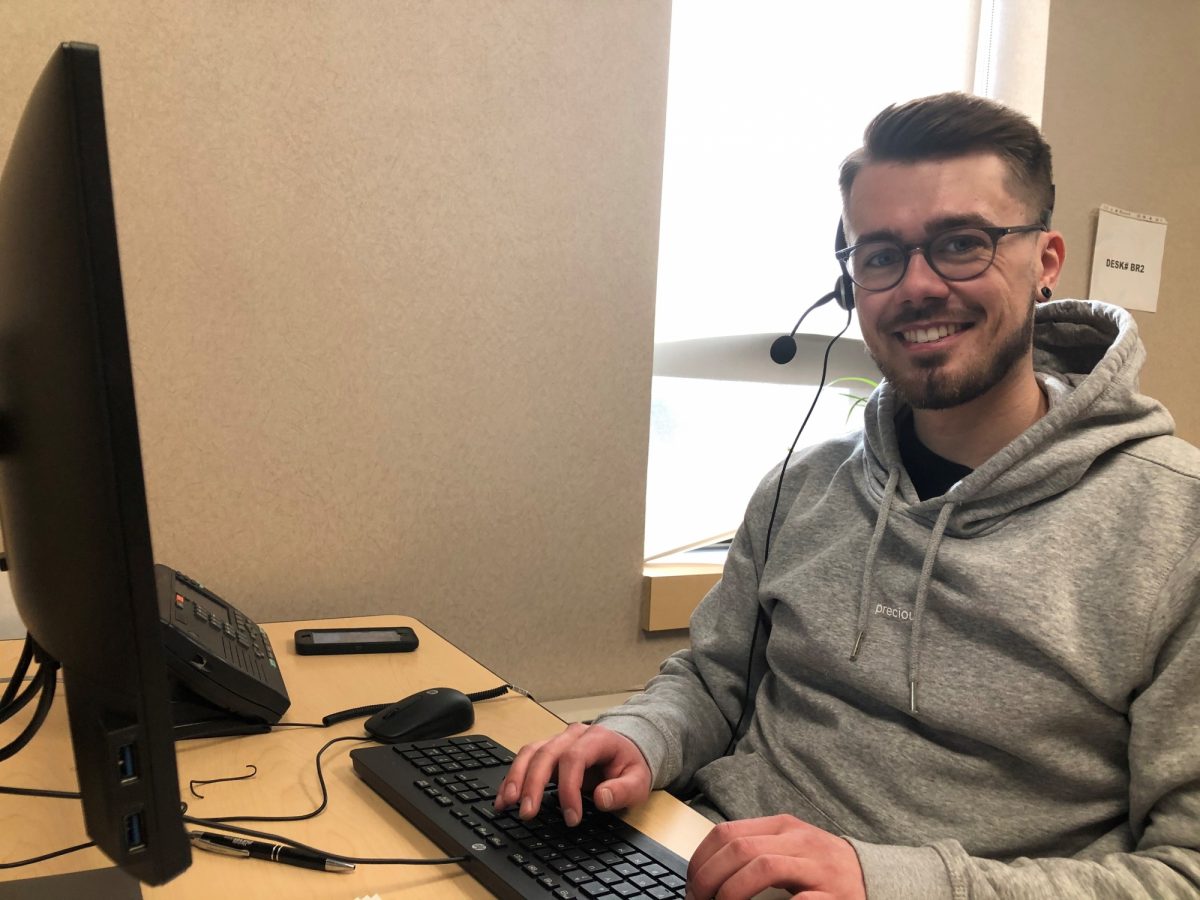 Nursing students provide 'vital work', join Health Links in fight against COVID-19
April 1, 2020 —
Over 100 fourth-year UM nursing students were unexpectedly pulled from their three-week community health clinical placements in mid-March when the COVID-19 pandemic hit Manitoba, but they soon found themselves working directly in the fight against the spread of the coronavirus as screeners for Health Links – Info Santé.
"Many of the sites where students were on their placements had to cancel the final week because they needed to start to get their own pandemic plans ready. Like most of us, it caught them off guard," said Donalda Wotton, instructor with the College of Nursing. "We had to look for a way for students to complete their final 40 hours in some kind of meaningful manner, and that's when we found out Health Links needed more screeners."
Courtney Masson, 22, was at her clinical placement at Main Street Project on March 13 and days later was answering calls at the 24/7 phone-based nursing triage system based out of Misericordia Health Centre.
"I was surprised by the number of calls. They had 3,000 calls in one day," she said. "That's a lot of people asking questions, a lot who were sick with a cold and they don't know if it's COVID-19 or not. We were trying to help people feel safe and guide them on where to go if needed."
The students received extensive training before starting to take calls. Thomas Koop, whose clinical placement was initially at Learning Disabilities Association of Manitoba, said there was a definite learning curve.
"It was a challenge at first to learn how to assess a patient over the phone as opposed to in person," said Koop, 22. "I'm used to seeing patients at the hospital bed."
Koop, who is continuing to work for the system now that his clinical hours are complete, noted the rapid changes to public health recommendations, testing site locations and general information continue to be a challenge.
"At the start of every shift we get an update on the latest changes. Things are changing so fast, they'll sometimes have to update us in the middle of a shift," he said.
Both students said they were surprised by how patient callers have been, considering the amount of uncertainty and misinformation.
"People have every reason to be anxious after waiting on the phone for over two hours, but almost everyone has been respectful and understanding," Koop said.
"They seem thankful to have a place to call and get an actual person to talk to, not just a robot," added Masson. "They're getting a response and they like that."
Gillian Toth, chief nursing officer at Misericordia Health Centre, said the work the students have done has been vital and that many are continuing to work with Health Links – Info Santé on a casual basis.
"We had to really get running in very short order, but the calls are levelling out now, as we've increased both our capacity with our software and hardware, and our manpower. The students have been a big part of that," she said. "They're very obviously a high-caliber group of people. There is a shortage of nurses in our system now and I hope they've found this a good experience."
So far, 16 College of Nursing senior students, who've completed the Health Links day-long training and spent the remainder of the week screening calls, have been hired on by Health Links.
Wotton noted that other fourth-year students are doing similar work, screening patients in-person at Grace Hospital. She said exams for nursing students will be completed in April as scheduled, but online. Senior practicums have been postponed until June.
"We're trying to get a plan in place because units that students may have been expecting to go to have changed or moved," she said. "There's quite a few considerations that we're looking at. There will be a bit of a pause so we can look at what kinds of things we need to have in place."
Masson said she hopes to do her practicum in emergency, but knows that could change depending on where students are needed.
"I'm hoping things aren't as crazy by then so we can get into the field and keep learning," she said.