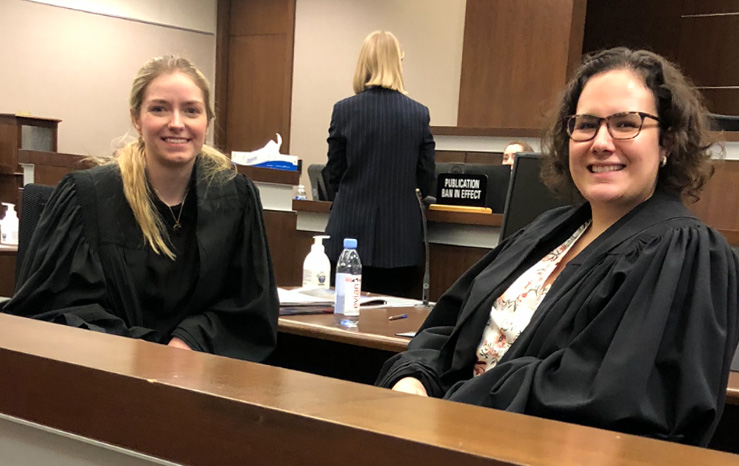 MOOT REPORT: Strong performances by Team Manitoba at MacIntyre Cup
February 15, 2023 —
The University of Manitoba was proudly and exceptionally represented by Sarah Sharp (3L) and Aiyana McKenzie (3L) in last weekend's MacIntyre Cup held in Calgary (Feb 9 – 11, 2023).
Last November, Sarah and Aiyana were shining stars in a field of excellent performances at the Solomon Greenberg trial competition. The judges of that competition, Judge Raymond Wyant, Judge Tim Killeen, and Crown Attorney Chantal Boutin, were amazed at both Sarah and Aiyana's natural comfort in the courtroom and their ability to refresh memory, use exhibits and control their examinations with ease.
They took these formidable skills with them to Calgary to represent Manitoba in the Western Canadian Trial Moot Championship – the MacIntyre Cup. Sarah and Aiyana represented the Crown in its case against 14 year-old T.P.J. on the charge of First Degree Murder for placing a bomb in the vehicle of his father's nemesis – Carl Benoit. In a twist, the hypothetical problem had the bomb literally meeting its maker – Dennis Parent – after he entered Benoit's vehicle unexpectedly.
Sarah and Aiyana diligently prepared for the competition practicing for over 4 hours a week – crafting a tight theory of the case and advancing that theory through cogent direct examinations, punishing cross examinations and articulate and forceful addresses to the jury. At the competition, their cross–examinations were stand-outs as they controlled their witnesses like trial veterans, eliciting responses of one-word whimpers of "yes" and "no" answers throughout.
Ultimately, while they did not win the competition, they had an incredible performance even drawing a rare smile from coach, Judge Tim Killeen, and a (moot) courtroom-appropriate fist pump from their 'ever reserved' coach Chantal Boutin, at the end of Sarah Sharp's powerful closing address.
We could not be more proud of both of these talented women! Their efforts once again demonstrated the trademark advocacy we have come to expect from Robson Hall students. Well done Sarah and Aiyana!!!