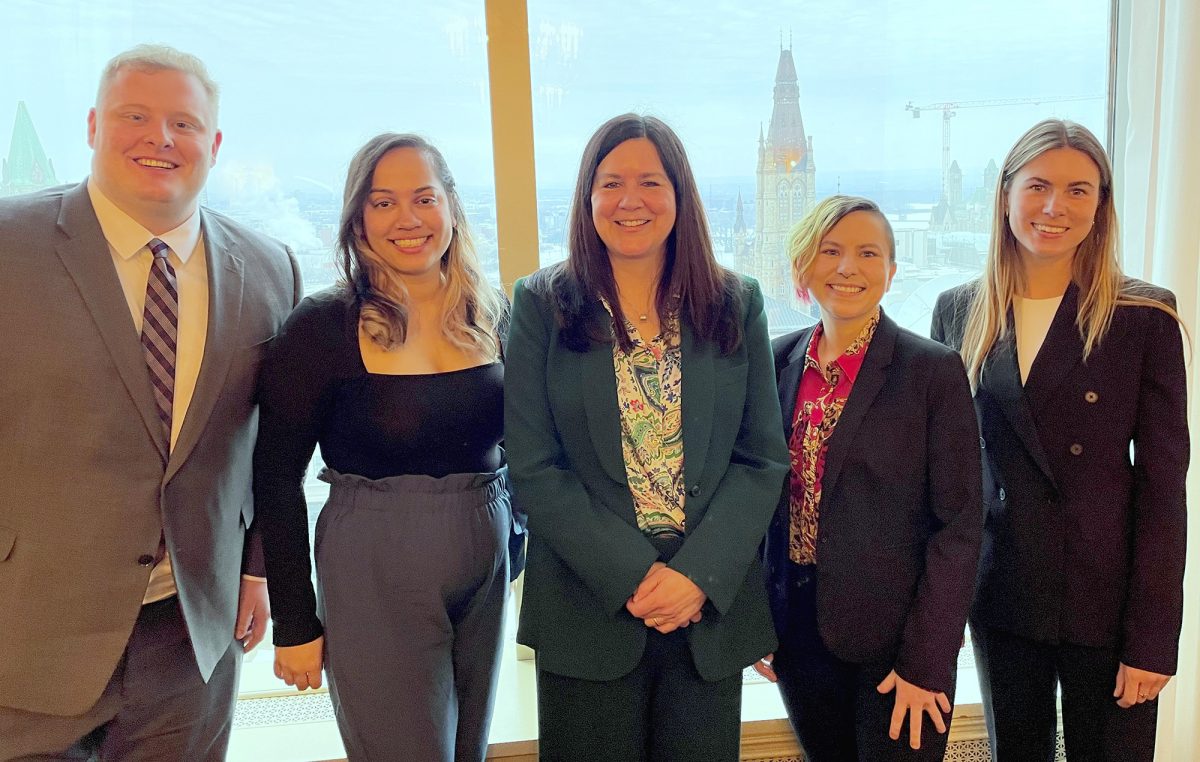 Moot Report 2023: Top-ranking Manitoba Bastarache team makes impact in French language moot
Constitutional law mooters place as second-best pair, second & third-best oralists
March 24, 2023 —
The University of Manitoba Faculty of Law team competing at the Concours de Plaidoirie Michel-Bastarache at the University of Ottawa, March 17 – 19, 2023, earned much praise from judges and organizers when they took second-best pair overall and second and third-best oralists, especially since French is not the first language of any of the team members.
"I couldn't be more proud of our Bastarache team," said faculty advisor, Dr. Gerald Heckman. "Though French is not their first language, the mooters developed excellent written arguments and delivered compelling oral arguments with passion and conviction in la langue de Molière! As one of the judges who attended their practice sessions said, they achieved "un tour de force"!"
The University of Manitoba team consisted of Seth Lozinski (2L), Marie Boyd (2L), Trusha Dash (2L) and Dominique Gibson (2L). The team was superbly co-coached by Julien Bédard of Justice Canada, and Richard Goulet of Manitoba Hydro.
Dash and Gibson, Manitoba's appellant pair, mooted in the finals and placed second-best pair overall. Gibson placed as second-best oralist, while Boyd took third-best oralist.
Goulet observed that competition judges and organizers were "very impressed by the preparation and advocacy skills which all members of the U of M team demonstrated."
"Our team demonstrated that it is possible to excel in French advocacy even though this language was not their first," said Goulet, adding an enthusiastic "Bravo!"
Both Goulet and Bedard noted how very gratifying it was to work with such a talented and committed group of students whose diligent work paid off with stellar performances and persuasive oral advocacy.
"When I learned the results of the moot, I repeated what I told them at the outset: that I was happy for them, but I was not surprised," said Bedard.
The Concours Michel-Bastarache focuses on constitutional and statutory language rights. This year, the students mooted about whether the Government of Alberta has a constitutional obligation to adequately fund the Campus Saint-Jean of the University of Alberta because it trains the francophone teachers and staff required to give effect to franco-Albertans' right under section 23 of the Charter to have their children educated in French and/or because the unwritten constitutional principle of the protection of minorities requires that this important franco-Albertan institution be preserved.
Mooters prepared their facta entirely in French and presented oral arguments entirely in French. This year, five teams and six law faculties participated in the moot (Calgary, Saskatchewan, Alberta, Moncton, Ottawa, Manitoba).
Highlights of the Ottawa trip for the team included meeting the Honorable Justice Michelle O'Bonsawin and – for the Manitoba appellant team, mooting in the finals before a panel of Judges that included the Honorable Sébastien Grammond, Constance Hunt and Paul Rouleau (author of the Final Report of the Public Order Emergency Commission).
"The Bastarache was an amazing experience and I got to work with the best partner," said Dash. "I came out of this with renewed motivation for my commitment to bilingualism and to be a lawyer. I advocated and answered questions from real judges in French, something I never thought I would do. Our coaches and professor are to thank for that as they were engaged, actively involved, and incredibly supportive. I felt well-prepared going into a nerve-wracking experience while mooting in a third language."
"The Bastarache moot was an excellent opportunity to meet French-speaking students from around Canada, and to participate in a competition regarding important constitutional issues," said Gibson. "This moot helped me to further develop skills that I know will be helpful throughout my legal career. Thanks to Dr. Heckman, as well as our coaches (Julien Bédard and Richard Goulet) for all their support throughout the process."
"Competing in the Concours Michel-Bastarache in my second language was one of the most rewarding and fun experiences I've had in law school so far," said Boyd. "Mooting in French is something I never thought that I would be capable of doing but the support and help from my coaches and teammates made it possible. I am so lucky to have gotten to work alongside such an awesome team! Highlights for me were meeting other teams from across Canada, touring around Ottawa with my teammates and coach, Richard Goulet and meeting Justice O'Bonsawin!"
The team and coaches are deeply thankful for the support of the Association des juristes d'expression française for helping them organize practice sessions, and for the many faculty members, practitioners and judges who acted as judges at the practice sessions.