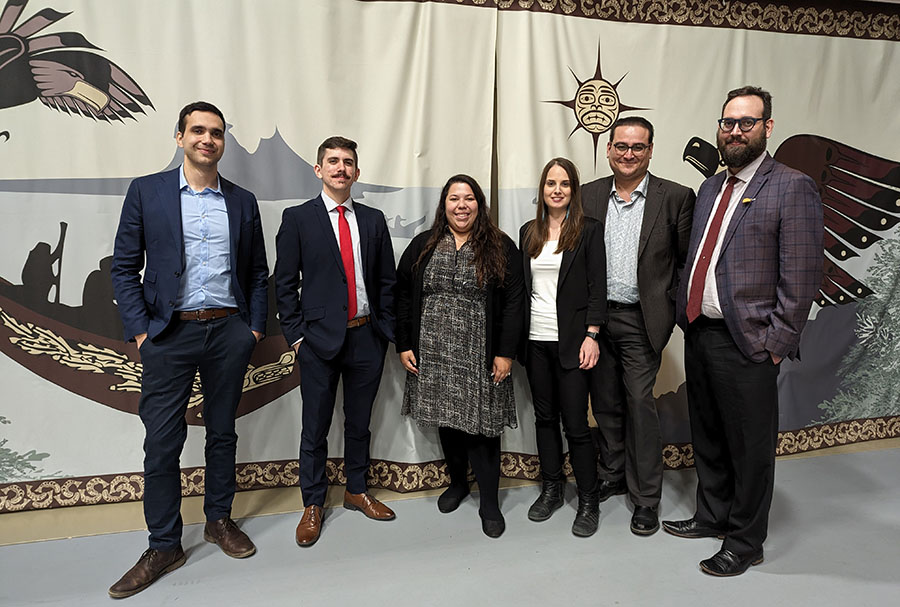 Moot Report 2023: More than words, Kawaskimhon offers real-world practice of collaborative principles
April 11, 2023 —
University of Manitoba law students travelled to the University of Victoria to take part in the 2023 Kawaskimhon Moot held March 10 – 11. Third-year students Adam Kowal, Brayden Gray, Heather Alexander, and Carleena Cavallo were coached by Assistant Professor Daniel Diamond, and Indigenous Legal Studies Coordinator Marc Kruse [JD/2015]. The students returned with profound learning experiences from having had the opportunity to put the collaborative principles of the Indigenous moot into practice.
Kawaskimhon is a nêhiyawêwin (Cree language) word that means "speaking with knowledge." The Kawaskimhon moot stands out from all other moot competitions in that it centers Indigenous legal orders alongside federal, provincial, and international law. The moot is consensus-based and non-adversarial. Students are given a fact pattern and divided into teams that represent each party to the case being addressed. This year's "problem" was based on an actual situation involving a gas pipeline that had been partially constructed in northeastern British Columbia with interested parties including federal and provincial governments, several oil and natural gas companies, and Band councils with several reserves in Wet'suwet'en territory.
Teams from over 20 law schools across Canada took part. The Manitoba team of Kowal and Gray represented the provincial government, and the team of Alexander and Cavallo represented the Wet'suwet'en Matrilineal Coalition (WMC). Gray and Cavallo shared some thoughts about their experiences taking part in this unique moot.
Both are currently completing their final year of law school. Gray has particular interest in Indigenous law as it relates to Indigenous land, governance and economic development. He is most interested in reattaching his family's links to its Indigeneity, which were severed after his grandmother was sent to residential school. Cavallo's mother is Indigenous, and Cavallo's maternal grandmother is from the Key First Nation in Saskatchewan on Treaty 4 territory. Cavallo is interested in legal issues that involve Indigenous / Aboriginal rights and land use. "Preserving lands, culture and the rights to self-governance are crucial," she explained, "and this moot was a way for me to further my understanding of different laws, different issues, and it allowed me to speak with other individuals who share similar backgrounds, stories and passions."
What motivated you to take part in this particular moot?
Gray: A few things. First, I have been gaining an increasing interest in Indigenous legal topics. This moot provided an opportunity to explore, in a more practical way, that desire to engage with Indigenous issues.
There is more than reading, hypothesizing, and thinking about Indigenous issues with this moot; there is an opportunity to see how some of these concepts may play out in practice and how real-world emotions, circumstances, relationships, and experience may impact negotiations on a topic as charged as a pipeline being installed throughout Indigenous land.
Second, I was particularly interested in this moot because of the format. Most moots available to Robson Hall students follow the same format of written and oral arguments [being made] to a panel in competition format. This moot rather focuses on negotiation, Indigenous legal tradition, and changing positions based on new information; it is more collaborative and solution-based rather than competitive.
Participating in a non-traditional moot provided a unique experience most students won't get, one that I think is very valuable and a highlight of my law school experience. – Brayden Gray, 3L
Cavallo: There were multiple motivators for me in relation to partaking in this moot. The first one was that I really wanted to research and brainstorm Indigenous legal issues and Aboriginal law with other students across Canada. As an Indigenous law student, listening to other Indigenous students share their thoughts, understandings and research on different topics was a once in a lifetime experience. We were able to be "counsel" representing a client in a moot but also students who could share our personal opinions and thoughts outside the mock negotiation experience, and this was one reason I really wanted to partake in the moot.
Another motivator for me was being able to experience a moot, in its entirety, with some of my closest law school friends. My moot partner Heather and I were able to able to conduct our research together, work on a negotiation plan, travel, and go through the whole new experience together.
My last motivator involved meeting and learning from different Indigenous lawyers and professionals across Canada. At Robson we had Marc Kruse and Daniel Diamond as our coaches. They were able to guide us and provide assistance as needed. Then at the moot, there were professors, practicing lawyers, elders etc., who provided students with guidance, stories, and who were such knowledge keepers on different topics. It was an educational experience like no other.
Do you already know what area of law you intend to practise in or did this moot experience have an impact on that?
Gray: I intend to practise civil litigation generally, although I am interested in far too many topics to know what specialty I would like to have in that area. I also have developed a deep interest in administrative law. However, this moot specifically has concretely established an interest in Indigenous law. I always had some interest, but participation in this moot deepened it; I found great intellectual and emotional satisfaction from engaging in issues that are personally important. If I find myself practicing Indigenous law in the future, I know I will be able to attribute much of it to my experiences participating in this moot. It gave me practical experience I may have needed to grow my interest in practising in the area.
Cavallo: I want to practise criminal law. Coming into law school I had a feeling I wanted to practise criminal law as it has always been an area of law that interests me. While Indigenous / Aboriginal law is something I am interested in on a personal level, I don't know if it is an area of law I want to practise.
This moot was such a different experience than criminal law, it was non-traditional and non-adversarial. We sat in a circle, smudged at the beginning of each day of the negotiations, used a speaking feather and were only able to talk when it was our turn, when we were in possession of the eagle feather.
This moot taught patience, the importance of listening to others, the importance of collaboration in these types of settings etc. I will say during the moot, it was such a nice change of pace from the traditional court system and the procedures of court. It made me appreciate the different type of practice and wish that some of those aspects would be adopted in other areas of law.
What were your biggest take-home lessons from this experience?
Gray: Three takeaways come to mind from this experience. First, how fulfilling it is to be surrounded by other Indigenous people who are so welcoming and inviting. Due to my family's life circumstances, I have largely been severed from my Indigenous ties. So to be welcomed and invited to partake in Indigenous tradition, witness local dancing, experience local cuisine, and generally socialize with Indigenous people across the country was incredibly fulfilling and connecting. I left the Kawaskimhon moot with friends, connections, and a feeling of rejuvenation for connecting with my Indigeneity. Spending time with my teammates and other teams was worth the experience on its own.
Second, I left the Kawaskimhon with a better understanding of Indigenous perspectives on issues such as pipelines and how important other aspects of these issues are, such as Indigenous governance. A large aspect of the moot was figuring out the Indigenous group's governance system and how that system impacted the decision-making of all parties. The dynamics of multi-group negotiation of an Indigenous issue was an aspect I did not fully appreciate until this experience. This is an experience I can relate to my future understanding of similar issues. Altogether, I can appreciate the intricacies of these issues on a much better plane than before.
Lastly, I left with an appreciation of the importance of non-traditional law school experiences such as this moot.
If not for this moot, I may not have had my interest in Indigenous law rejuvenated, I may not have felt so reconnected with my Indigeneity, and I may not have met such amazing people. – Brayden Gray, 3L
I know experiences such as this moot mean a lot to those who want to participate; it provides an opportunity to engage with ideas and topics in a way that we seldom get to in law school. The coaches also provided great insight into issues and topics before, during, and after the moot, which enriched the entire experience. Their understanding of the relevant issues and insight went far beyond the information necessary for the moot and extended to reshaping how I think about Indigenous issues and perspectives.
Cavallo: My biggest take-home lesson from this experience is how important it is to collaborate with others when researching and discussing such important topics that impacts so many people. Questions regarding land, land title, Aboriginal rights etc., are not simple questions, there is not one easy answer.
Listening is worth so much more than speaking sometimes, and this moot really highlighted that for me. Additionally, a big take away and something I will cherish knowing is that the future generation of lawyers I met at this moot will be good advocates for Indigenous communities. – Careena Cavallo, 3L
Are there any courses you took that you found helpful for this moot?
Gray: The mandatory negotiations 2L course I found helpful concerning negotiation strategy. However, although I did not take them, I think Indigenous-focused courses would be more helpful for understanding how Indigenous-created law and the common law interact and how this may impact positions within a negotiation. The moot requires a constant reminder that the common law has limited application in these negotiations and that Indigenous legal orders and governance matter heavily. These are aspects that, if not focused on in school through optional courses, I think law students will have difficulty fully comprehending. Immersing oneself in Indigenous-focused curricula generally and shaping one's understanding of Indigenous law would greatly help with this moot.
Cavallo: Aside from Constitutional law that is mandatory in 1L, I took Indigenous Methodologies and Perspectives in 3L and the course and the topics we covered were extremely helpful for this moot. Additionally, having experience with legal research and writing is key, it allows you to focus on the contents of what you are researching instead of the basics of how to research or write a paper.
What would you say to the next batch of law students to encourage them to take part in this moot?
Gray: I would encourage those interested in Indigenous legal issues and how Indigenous legal orders interact with other aspects of the Canadian legal system to participate in this moot. This moot is a unique way to put that interest into practical experience. All the moots provide valuable experiences and memories, but the Kawaskimhon provides a unique experience in being a non-competitive negotiation, being steeped in Indigenous legal tradition, and focused less on legal arguments and more on the interactions of positions between parties. I would be hard-pressed to find a better way to spend 3-credit hours of law school. Besides, who doesn't want to take a trip for a class and enjoy some fantastic Indigenous cuisine while they're at it?
Cavallo: This moot was a highlight for me in law school. It was challenging, enlightening, rewarding and fun. I think students should want to participate in this moot going forward not just for the educational experience but more so for the moot experience itself. The moot was filled with culture, history, education, and a bunch of students who are interested in similar things as you. Aside from negotiating on the moot topics itself, my favourite part of the moot was taking part in the different ceremonies offered during the moot. This moot is such a good experience for so many reasons and it's hard to put into words how amazing this experience was.