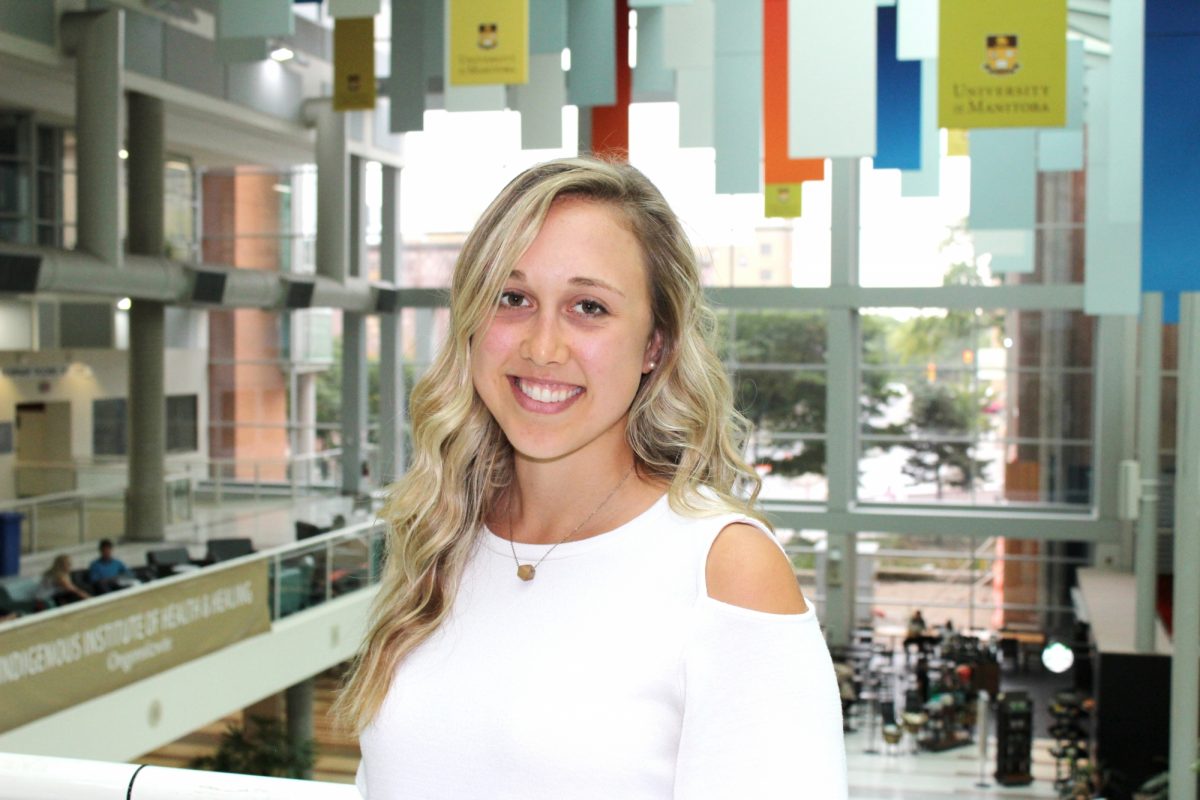 Meet Sarah Turner, one of five of UM's 2020 Vanier Canada Graduate Scholarship recipients.
June 22, 2020 —
These awards, considered the Canadian equivalent of the United Kingdom's Rhodes Scholarships, help recruit and keep in Canada top doctoral students from across the country and around the world. Each recipient will receive $150,000 over three years toward their research.
Sarah Turner will be conducting her research in the Max Rady College of Medicine's Department of Community Health Sciences and at the Children's Hospital Research Institute of Manitoba, under the supervision of Dr. Meghan Azad. Her award is funded by the Canadian Institutes of Health Research. UM Today caught up with Turner to chat about how the Vanier Scholarship will support her research titled: Breastfeeding and child behaviour: Understanding the link through five different pathways in the Canadian CHILD birth cohort study.
Tell us about your thesis and research topic.
My research looks at how breastfeeding and breast milk are related to child cognitive development. I am using data from the CHILD Cohort Study to look at how different components of breastmilk, like certain fats, carbohydrates and microbes, as well as social factors related to breastfeeding, like bonding and maternal mental health, are related to child cognitive development.
What got you interested in your topic in the first place?
I am constantly amazed at the capacity and complexity of the female body. Pregnancy and breastfeeding are common experiences so it can be easy to forget how amazing they are. Breastmilk is a superfood that provides everything a baby needs for the first 6 months of life. It is tailored specifically for the baby and will adapt if the baby is sick and as they grow. We know some things about breastmilk, but we are still discovering the many different components and why it is so good for babies. I am drawn to this research because early life nutrition affects everyone, but we still know relatively little about it.
What impact do you hope your research has?
I hope that my work will shed new light on how different milk components interact and influence child cognitive development. This could provide evidence to support policies that help more mothers to breastfeed and meet their breastfeeding goals. Having better evidence about the composition of breast milk may help us to isolate nutrients that could be added to breastmilk substitutes for babies who are not breastfed and it could also encourage more research into how to best support mothers who are having trouble with breastfeeding. Breastmilk composition is an important part of my research, but I am also really interested in effectively and appropriately communicating breastfeeding research to the public. My end goal is to help more women make informed and supported decisions about how they feed their babies.
How has writing the thesis been going (if you're at that stage of your research)?
So far, really great! I am part of an amazing interdisciplinary lab with incredibly smart and generous people. I learn a lot from them through our weekly lab meetings and frequent conversations over coffee. I am really looking forward to working on my project in this lab for the next 3 years.
How long have you been at UM?
I have been a student or worked at the UM for 11 years! I completed my undergraduate and Master's degrees from UM and then worked for 2 years in the Max Rady College of Medicine before transitioning back to graduate school for my PhD.
What does it mean to you to receive a Vanier scholarship?
Receiving this award is absolutely incredible. It means that I can fully dedicate myself to research for 3 more years and make my project bigger and better than I originally expected to. This was not my first try at applying for a national award, so being awarded the Vanier is a major boost to my confidence as a researcher.
What do you do with your time outside of your PhD work?
I love running and biking and until the pandemic happened, taught a bootcamp at the Joe Doupe Centre. I also volunteer at my church in downtown Winnipeg and I love to drink coffee, preferably on a sunny patio with my friends or family!
Where do you see yourself in five to 10 years from now?
I'm considering a few different options. One possibility is to take the academic route; to become an independent researcher at a university. I am also very interested in science communications, policy development and career counselling. I can see myself having a career in translating science to the public or informing policy on maternal child health. I am exploring how the skills I am developing in my PhD, like effective public speaking and clear writing skills, can be leveraged to set me up for a range of possibilities after I graduate.
Research at the University of Manitoba is partially supported by funding from the Government of Canada Research Support Fund.