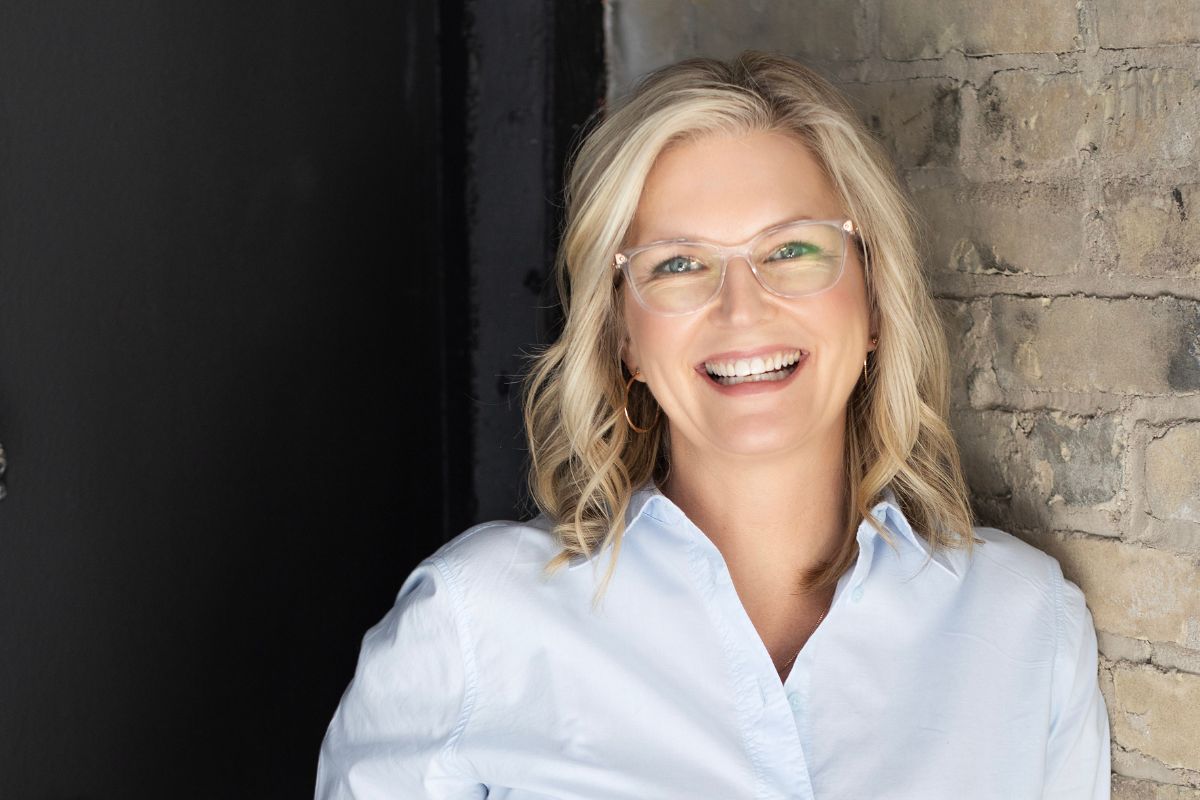 MBA grad champions inclusion and strives to create more opportunities for women
Jamie Theroux celebrates spring convocation and embraces unpredictability
May 29, 2023 —
Asper MBA grad Jamie Theroux joined the program looking for a change. She had advanced in management at MTS (now Bell MTS) but was burning out as she balanced work and life as a mother.
When Bell acquired MTS, Theroux took an opportunity and a severance package to provide a buffer for her to pursue her MBA part-time, something she had always considered with some reservation.
"My biggest concern about quitting work was that I went to University to have a career; that was my plan in life," she says. "I was happy to take a few years off with my kids, but I always worried about taking that time off then re-entering the workforce. I didn't work to restart at the bottom."
The Asper MBA offered Theroux the flexibility she needed to be with her family and re-enter the work force with more credentials and advanced business and leadership education.
For Theroux, flexibility was non-negotiable. She is a mother of two, and her youngest daughter has an intellectual disability. Her daughter's disability was unexpected, and both her diagnosis and prognosis brought many unknowns. Theroux has learned plenty from both of her children and motherhood, and she came to intimately understand life's unpredictability and demand for adaptability.
This unpredictability followed Theroux into the MBA program.
"My experience wasn't typical because 90% of my MBA was completed during COVID. That said, I don't think I felt as alone during COVID because I was in classes having intelligent conversations and staying busy. We still had opportunities to connect and work."
Theroux thrived on conversations with MBA candidates from different backgrounds, and she learned from each colleague's unique perspective. She was able to reconnect in her final terms, meeting her online cohort in-person and feeling the connections that were built from shared experiences regardless of course delivery.
As her MBA came to an end, Theroux's old fears about what to do next and losing that flexibility returned. Despite looking into corporate positions, she decided instead to say yes to an opportunity that she couldn't have imagined pursuing before the MBA.
"A life-long friend and I are starting a program that helps women build their online client-based businesses. With technology there is so much opportunity for women to create their own businesses, but they may not have all the practical knowledge to realize their goals. We're building a program that walks clients through all those steps so that they are ready to launch and grow their business."
The MBA taught her many of these practical skills, but when it came to starting a business, she gained something more important. "The MBA gave me the confidence to do it—to see that I could figure out the unknowns and that I was capable of learning something new."
Beyond her MBA, Theroux's professional and personal life converge in her role on the board of Inclusion Winnipeg.
For Theroux, "inclusion means ensuring that every single person feels valued, accepted, included and respected no matter their background, ability or perspective. It means removing barriers, especially in our education systems and workplace."
Barriers to inclusion go beyond accommodations for people with disabilities; they also affect people who may not yet understand how to value, accept and include those whose experience differs from their own.
Theroux's approach to inclusion is tied to her youngest daughter's experiences in education.
"I've watched her thrive being immersed with her peers for the last 15 years. I want her to feel included, but I also want her to be able to teach other people how to include her and to include everybody that is neurodivergent. As adults, we all need to feel like part of a community, and the best way to do this is to educate our children, our peers and ourselves to include people with disabilities."
As an advocate of inclusion, Theroux embraces new, unique, sometimes challenging perspectives as learning opportunities.
In the Asper MBA, she engaged in conversations with colleagues and with innovative course content on sustainability, accessibility and reconciliation. As she pursues entrepreneurship, her goals remain to amplify perspectives, remove barriers and create more opportunities and inclusive communities.
Her story is full of unexpected conclusions, but there is one that went as planned.
When she began her MBA, she pledged to finish before her oldest daughter graduated high school. Theroux receives her degree on June 8; her oldest will receive her diploma on June 27 before beginning her Bachelor of Commerce (Honours) at Asper in Fall 2023.
As she celebrates the end of this chapter, she shares her advice for her daughter's time at Asper: "I want her to learn and make mistakes, to allow herself to see other perspectives. That is the greatest learning and teaching that you can do."