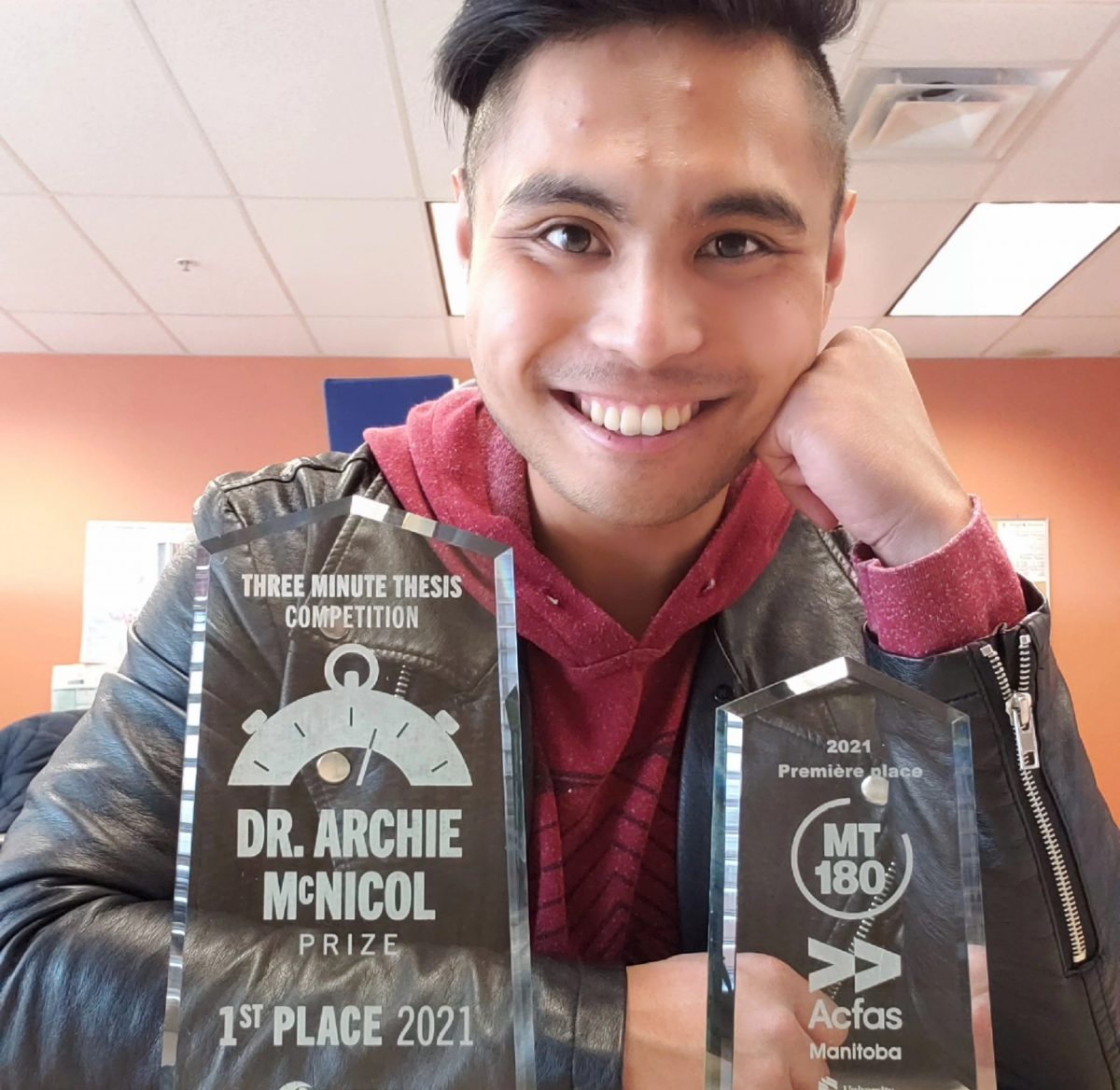 Master's student takes home the win in UM's 3MT and MT180 competitions
May 12, 2021 —
Nolan De Leon, a Master's student in Physiology and Pathophysiology, was awarded first place in both the English Three Minute Thesis (3MT) and the French Ma Thèse en 180 Secondes (MT180) competitions in 2021. Veronica Coppolaro, pursuing a doctorate in Geography, was awarded second place in MT180 and will be advancing to the National MT180 Finals, hosted by Acfas (Association francophone pour le savoir) on June 15, 2021, at 2:30pm central, where she will be competing virtually against other PhD candidates across Canada. Information on the Final event and how to watch live can be found here. You can watch the live event here.
The annual 3MT and MT180 competitions at the University of Manitoba provide a platform for graduate students in thesis-based programs to feature their research and promote the success of UM graduate students.
Cheer for Veronica Coppolaro on June 15 when she competes in National MT180 Final competition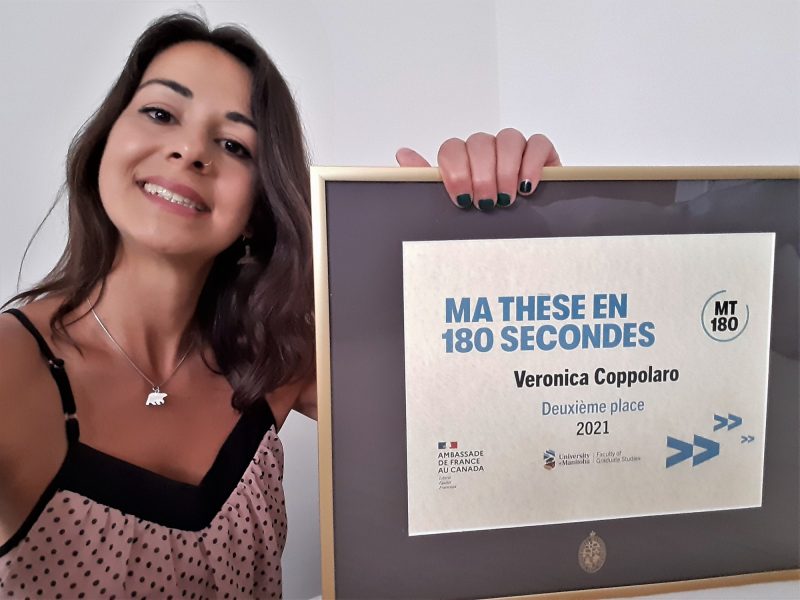 Coppolaro's research analyzes the impacts of increasing anthropogenic sounds and activities in Arctic waters on marine mammals and their habitats. The implications of her research span from the concerns around subsistence harvesting in local communities to the protection of marine ecosystems, especially as climate chance continues to exacerbate many ecological threats.
With a background in physics, she found a passion for sea ice physics and bioacoustics, and the application of these topics to complex global issues. Coppolaro's love for nature was embedded in her upbringing in the Tuscan countryside, and she treasures the ability to connect it to her scholarly work.
"Throughout my studies, I've always wanted to make my work count towards a bigger goal," says Coppolaro. "I want the next generation to see and experience what I had the chance to, and leave them a better planet and a healthier environment to live in."
She started learning French in schools at a young age. She has since practiced communicating in French in her personal life with family members as well as in her professional life during study exchange programs. In addition to research, Coppolaro also finds joy in teaching and school outreach. Her success in MT180 advances the possibility of gaining similar opportunities in French-speaking countries.
More about Nolan De Leon, winner of UM's English Three Minute Thesis (3MT) and the French Ma Thèse en 180 Secondes (MT180)
De Leon's research focuses on understanding lung development and identifying factors that may cause abnormalities, such as the progression of congenital diaphragmatic hernia (CDH). Working in this field of research is part of his greater ambition of becoming a physician in the future and developing treatments for congenital diseases that center on the cause of these issues before they develop.
From his childhood memories of family members to opportunities to meet CDH patients, De Leon is constantly in awe of being in the presence of strength and resilience throughout his life. It is what drives him to pursue his education and a career in a rigorous discipline.
"There's a lot of responsibility that comes with this profession," says De Leon. "This field is constantly evolving, and I want to be a part of that growth. I want to be in a position where I can continue to learn and grow. I couldn't imagine doing anything else."
As a second-generation immigrant from the Philippines, De Leon reflects on the importance of communication and its role in a person's confidence in the system when they receive medical help. He was determined to attend French immersion schools and completed a Bachelor of Science in French at Université de Saint-Boniface.
3MT and MT180 have been crucial in refining his skills as a communicator since both competitions require challengers to deliver complex information in understandable ways, a valuable skill in the medical profession.
Learn more about the second annual UM MT180 competition and the list of challengers here. Click here to watch the recording of the UM MT180 competition.