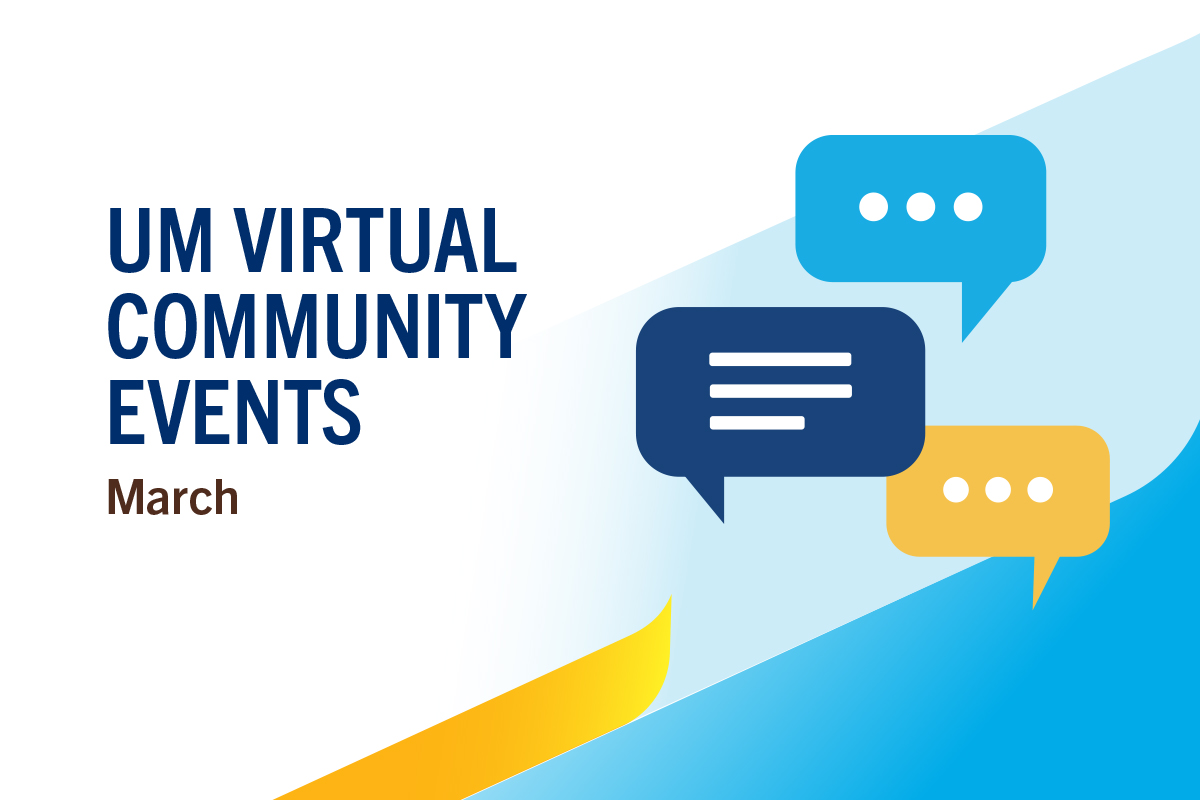 March 2021 UM Virtual Community Events
February 26, 2021 —
Discover how your everyday actions can be more sustainable; take part in the UM Trivia Night; hear how new technology can help people with Parkinson's disease; and learn as Elders share Indigenous knowledges. Tune in to these events and so many more at our wide-range of impactful presentations and thought-provoking conversations that are open to everyone. Add the events to your calendar and join us online!
Prairie Design Lab
Tune in and turn up the volume to the Prairie Design Lab podcast to hear discussions about ideas, design and culture with Terry MacLeod, former host of CBC's Information Radio. Episodes premiere weekly on UMFM 101.5 and are available to download. Presented by the Faculty of Architecture.
Listen to the podcast

Desautels Faculty of Music presents: Dido and Aeneas
Be entertained by the UM Opera Theatre and UM Symphony Orchestra as they perform Dido and Aeneas, Henry Purcell's classic opera about Carthaginian love, loss and isolation. This physically-distanced opera will be shown on the Desautels Faculty of Music's YouTube channel.
Feb. 25-March 31 | Free
Attend event
Métis Awareness Mondays
University of Manitoba campuses are located on the homeland of the Métis Nation. Hear about the rich history and culture of the Métis Nation in this weekly video series.
Videos posted every Monday | Free
Watch video 
3MT Heats
Watch graduate students from more than 30 departments present their research in three minutes or less in the 2021 Three Minute Thesis competition. Finalists from each heat will compete in the 3MT finals on April 21.
March 2, 4, 5, 1 p.m. | Free
List of competitors and presentation links
Virtual Learning for Life: Alumni Scholars Series 
Discover insightful presentations by UM alumni experts every Wednesday. March topics include how one UM alumnus helped save trapped miners in Chile; hot health topics for 2021; best practices in intercultural health; David Asper, dean, law, in conversation with International Criminal Court Judge Kimberly Prost; and an in-depth discussion with 5468796 architects.
March 3, 10, 17, 24, 31, 1-2 p.m. | Free
Register for events
Food for Thought: Lori Morris "No Rules Design: The Art of Building a Successful Business"
Learn from designer Lori Morris as she shares her approach, philosophy and journey of her successful House of LMD brand. For 34 years Morris has blazed her own unique trail with her distinctive 'no rules' style and is a role model for both designers and entrepreneurs. Presented by the Faculty of Architecture.
March 3, 12 p.m. | Free
Attend event
Sustainability Day
Join UM's Office of Sustainability for a full day of speakers and activities that build awareness around individual action to confront climate change and create a more sustainable world. This year's virtual event focuses on the United Nations' 17 Sustainable Development Goals and how to make our day-to-day actions and systems more sustainable.
March 4, 8:30 a.m.-8 p.m. (drop-in) | Free
Register to receive more event details
Unsettling Ideas Book Club 
Hear author Joshua Whitehead discuss his novel Jonny Appleseed, currently shortlisted and longlisted for numerous literary awards, by Zoom or Facebook live. A Q-and-A period will follow. Unsettling Ideas is intended to engage our community in discussions around anti-racism, decolonization and reconciliation.
March 4, 6:30 p.m. | Free 
Attend event 
Artist Talk: Adrian Stimson
Listen to award-winning interdisciplinary artist Adrian Stimson at this School of Art event. Stimson, a member of the Siksika (Blackfoot) Nation and residential school survivor, uses performance to look at identity construction. His installations examine the residential school experience and speak to genocide, loss and resilience.
March 4, 7-8:30 p.m. | Free
Register for event
UM Café: International Women's Day Event
Challenging Workplace Norms for Better Roles & Opportunities
Be inspired as Bridget King (IBM), Vicki Ng (adidas), Kelly Pereira (RBC), and Elaine Rocha (AIG) discuss how they propelled their careers into positions of leadership. These powerhouse women will share inside tips and advice on how to #ChooseToChallenge gender norms and support women in their career journeys. Powered by Ten Thousand Coffees for International Women's Day 2021.
March 5, 12:30 p.m. | Free
Attend event
PAWS: Protest, Activism, Whimsy and Self Care in Animal Crossing
Tune in to this multi-event exhibition that examines how Nintendo's Animal Crossing: New Horizons, a slow, sweet game of social relationships, crafting, and exploration became the stage for global tensions and tensions of the heart. Hear PAWS artists speak to their experiences in activism, self-care and community in this popular game, watch a curatorial talk with Ciel Noel, and learn how to add your own art to your island.
March 5, 7 p.m.; March 13, 2-4 p.m. | Free
Attend events (ASL interpreted)
Dancing with Tantalus
Be engaged by Dancing with Tantalus, a School of Art exhibition curated by Lilliam O'Brien Davis and featuring the work of Ella Dawn McGeough, Katie Lyle and Gabrielle L'Hirondelle Hill. This multi-day exhibit explores contact between people, surfaces and objects. Events include Volta: A Writing Workshop with Nic Wilson; Choreography as Premonition//The Imaginary Event of Presentation: A Movement Workshop with Katie Lyle and Shelby Wright; and Performance by Ali Robson.
March 6, 1-3 p.m.; March 7, 12-1:30 p.m.; March 11, 7 p.m. | Free, registration required
Exhibition information
Virtual Fireside Chats
Learn from Elders and community members every second Tuesday as they come together to share Indigenous knowledges in this long-running series. 
March 9 and 23, 11:30 a.m.-12:30 p.m. | Free
Attend event
Central and East European Studies Lecture Series
Soviet Judgment at Nuremberg: A New History of the International Military Tribunal After World War II
Hear Francine Hirsh, professor, University of Wisconsin-Madison, discuss her book Soviet Judgment at Nuremberg: A New History of the International Military Tribunal After World War II. Hirsh will reveal how the role of the Soviet Union has routinely been excluded from accounts of the Nuremberg Trials, created to hold the Nazis to account after WWII.
March 11, 1-2:30 p.m. | Free
Attend event
Centre on Aging Speaker Series
Dr. Genevieve Thompson: "Dying alone in the time of COVID-19"
The COVID-19 pandemic has shined a light on dying for many people, including dying alone. Join Genevieve Thompson, associate professor, nursing, as she discusses how dying alone is perceived as experiencing a "bad death" and how this impacts the bereaved. Thompson will also explore narratives that better consider how to support the bereaved.
March 11, 2:30-3:30 p.m. | Free, registration required
Register for event
Margaret Reid Seminar
"Household Production and Feminist Economics, 100 Years Back and Ten Years Forward"
Celebrate the 100-year anniversary of the graduation of UM alumna Margaret Gilpin Reid – a pioneer in the field of household production economics – by exploring the next decade's important issues in household and feminist economics. Shoshana Grossbard, San Diego State, and Nancy Folbre, UMASS-Amherst will present. Sponsored by UM Economics Department and the Canadian Women Economists Committee.
March 12, 1:30-4 p.m. | Free
Attend event
Café Scientifique
"Research in Motion: The latest's advances in Parkinson's disease"
Discover how new technologies like brain imaging and home-based digital rehabilitation programs can improve the quality of life in people with Parkinson's disease as our expert panelists discuss this innovative work and its potential impact on our community. Presented in partnership with the Manitoba Neuroscience Network during Brain Awareness Week (March 15-21).
March 15, 7-8:30 p.m. | Free
Attend event
UM Trivia Night – St. Patrick's Day edition
Wear your favourite green outfit and get ready to test your insight on pop culture, geography, general knowledge and fun facts knowledge at UM Trivia Night – St. Patrick's Day edition! Compete as an individual, couple or as a group (with those living in your home). Prizes from Manitoba-based, UM alumni-owned businesses are up for grabs! Sponsored by The Personal.
March 17, 7-8 p.m. | Free
Register for event
UM Alumni Book Club 
Join host Chancellor Anne Mahon and a network of over 700 UM alumni, friends and fellow book lovers to connect and discuss books on ideas, literature, lifelong learning, leadership and more. Everyone is welcome to join at any time. The next reading period begins March 18 with President Benarroch's recommendation Medicine Walk by Richard Wagamese.
March 18 and onward | Free 
Register
Indigenous Scholars Speaker Series
Dr. Mylene Gamache: "Reflections on reading unsettling stories"
Learn as Dr. Mylene Gamache, assistant professor, Native studies and women's and gender studies, explores how some contemporary Indigenous stories preclude readers from settling in seemingly fixed or self-assured positions of knowing.
March 25, 12 p.m. | Free
Attend event
For more events: University of Manitoba events calendar.