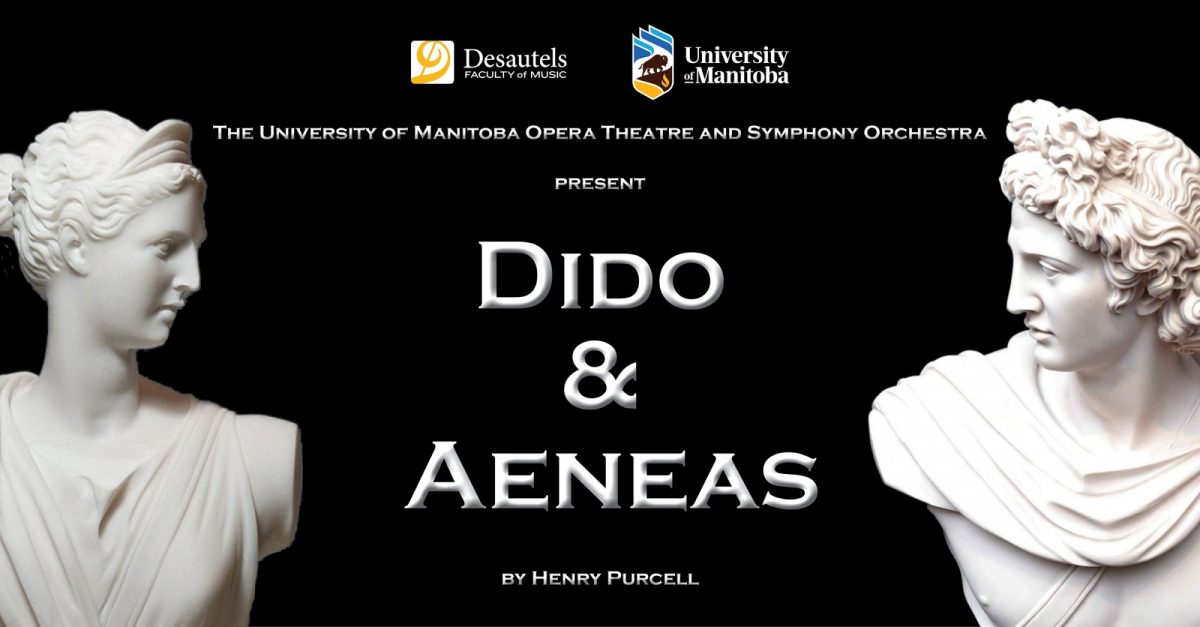 The Masked Singers
UM Opera Theatre and UM Symphony Orchestra work through COVID-19 barriers and restrictions to produce a physically-distanced opera.
February 22, 2021 —
COVID-19 has certainly added a lot of challenges to university-level education. Cancellations have become a regular part of life, and university students have very admirably and stoically dealt with constant change.
This is especially true in performance-driven majors like music and theatre, which have worked to create in a remote era. This makes it all the more impressive that the University of Manitoba Opera Theatre and University of Manitoba Symphony Orchestra found a safe way to produce an opera in the middle of a pandemic.
In early November 2020, just prior to increased lockdown protocols, eight UM vocalists and nine instrumentalists – all masked – gathered to perform an opera while spread across an otherwise empty room, with the opera recorded and filmed by University of Manitoba audiovisual technicians.
Dido and Aeneas, Henry Purcell's classic opera about Carthaginian love, loss, and isolation, was the result, and the Desautels Faculty of Music is thrilled to present the completed video, beginning February 25, 2021 at 7:30pm on the Desautels Faculty of Music's YouTube channel.
The power of women
UM Opera Theatre is overseen by Opera Studies Coordinator Katherine Twaddle and Professor Mel Braun. For Dido and Aeneas, UM Opera Theatre brought aboard University of Manitoba Symphony Orchestra (UMSO) Conductor Naomi Woo to serve as the Music Director for the production.
Creativity arose out of several major limitations that UM Opera Theatre experienced.
The first limitation was that there are currently no tenor or baritone voices in the Desautels Faculty of Music's opera studies program at the master's level. Historically, operas are written for voices in the soprano and mezzo-soprano range and voices in the tenor and baritone range. While other opera groups might have felt constrained by the vocal limitations, Twaddle and Woo immediately came up with a progressive solution.
"[We both] independently came up with the same suggestion for the biannual collaboration – an all-female production of Henry Purcell's Dido and Aeneas," says Twaddle.
2020 Desautels graduate Svetlana Gharagyozyan, who is now pursuing psychology at UM, was cast as Dido, and Kathleen Murphy, a Desautels graduate who studied piano for her undergraduate degree and is now pursuing a post-baccalaureate diploma in vocal performance, was cast as Aeneas.
Overcoming creative barriers while maintaining physical barriers
COVID-19, of course, was the other limitation confronting the production.
For the 2020-2021 academic year, the University of Manitoba implemented a series of restrictions designed to keep its community safe, including room capacity reductions, physical distancing, and campus mask requirements.
While many universities in both Canada and the United States have experienced significant COVID-19 outbreaks on their campuses, the University of Manitoba's cautious measures have worked as intended, keeping the campus community healthy throughout the pandemic.
There was a strict cap on the number of people allowed in the performance space at any given time. In order to overcome that challenge, the performers learned to multitask.
"The cast of the opera served as both principals and chorus," says Twaddle.
"It also inspired a chamber-sized ensemble for the orchestra. Both of these limitations bore fruit in an intimate production where every person, and every gesture, both musical and dramatic, made an impact," she adds.
Masked but not muted
Opera singers rely on facial expressions to convey emotion during their performance. With masks covering half of their faces – and with COVID-19 restrictions keeping them two metres apart – the performers had to learn alternate ways to express themselves and communicate visually with each other.
"It was challenging to have our masks on while singing," says Afton Wrzosek, who plays one of the witches feeding misinformation to Dido and Aeneas.
"We rely so much on facial expressions to express emotion and to connect with other people on stage, but here we had to try and communicate purely through eye contact and our gestures," she adds.
"In terms of acting, I found eye contact and energy of thought became super important because that was our only way of communicating when we weren't singing," agrees Chelsea Kutyn, a first-year masters student.
"Being so far apart forces you to interact with other characters through stronger, more specific choices," adds Kathleen Murphy.
"Svetlana [Dido] and I had to find ways to build romantic chemistry without physical closeness, through continuously reacting to each other's energy, eyes, and body language. It actually made it easier to fully immerse myself in the character, and stay present in each moment," she says of an unexpected benefit of the physical distance.
"Purcell composed Dido and Aeneas during the baroque era when the use of choreographed, stylized gestures was the acting style for opera productions," says Twaddle of the opera choice.
"Using gesture is a great way for singers to get inside the words and really communicate their understanding of the text," she says.
"Not only did our singers learn about a historic style of acting, somewhat redefined, they also learnt a technique that helped to convey meaning even though their facial expressions were limited by the masks. The singers also worked on diction with the greatest intention and clarity possible," Twaddle says of her performers accomplishments.
In addition to finding new ways to act, the performers also had to learn new formats for acting, since they were performing in front of a camera instead of a live audience.
"A silver lining that I've found has been learning how to act for the camera, which I didn't have much experience in prior to [COVID-19]," says Afton Wrzosek.
"A few of us in the Dido production are also in a class called 'Acting for Singers,' which is taught by our director Katherine Twaddle, and she's really emphasized ways in which we can connect to our audience and other actors through a computer screen," Wrzosek adds.
For violinist EmilyAnn Dueck, who served as the opera's concertmaster, the distance and masks led to new challenges in leading the chamber orchestra.
Concertmasters are an orchestra's lead violinist, and their role is to ensure that the other musicians stay in time. In addition to conductors, musicians take their timing cues from the concertmaster, whose gestures and movements are often exaggerated in order to be visible to the musicians.
"Being in orchestras for the majority of my life, I'm used to playing and performing in close quarters with other musicians," Dueck says.
"Now that everyone is much further apart, every gesture you do must be bigger so that everyone stays together," she says.
"For example when giving a cue, usually you can make eye contact and do a little shoulder shrug and you're fine, but being further away, you're cueing with basically your entire body and everyone must breathe together. So, coming in and staying together was definitely more challenging with the COVID-19 protocols," she explains of the changes she had to make for her role.
Masks were a challenge for emoting, but they were a much bigger challenge when it came to singing. However, those who say that people can't breathe in masks have never watched opera singers perform a complex opera flawlessly while wearing them. However, it took a bit of practice to pull it off!
"Wearing a mask was definitely a good lesson in diction, because the diction had to be even more exaggerated to be audible through the mask," says Kutyn.
"It was also tricky to sing with a mask during fast pieces because I often ended up eating my cloth mask when I tried to breath in! I eventually learned to work around that," Kutyn adds.
Challenging times create new inspirations and a healthy dose of gratitude
While COVID-19 has certainly hampered some aspects of university-level music education, the Dido and Aeneas performers noted that COVID has also led them to find new musical inspirations and learn techniques that they might not otherwise have learned.
EmilyAnn Dueck has especially enjoyed her COVID commute this year.
"I live at home and usually spend two hours a day driving to and from the U of M," she says.
"Now that I'm home all the time, I have so much more practice time which is really nice since right now I'm preparing for my 3rd year recital," she says.
"But academically, I've discovered that I really like analyzing orchestral scores, which probably steamed from Dr. [David] Byrne's awesome orchestration class I took in Fall 2020," she says of her new, COVID-inspired interest in scores.
Having spent so much time apart, all of the performers have noted how happy and excited they were to be together again, even if at a distance.
"Dido and Aeneas was my first 'performance' since February 2020, so it was really nice to be working and performing with a larger ensemble again after such a long hiatus," says Dueck.
"I was really excited [to perform], because when code red hit in November, I assumed that we would have to wait until winter semester to record the opera, but the production was granted special permission from the university and faculty to record in-person, which was really surprising and unexpected since every other ensemble was shut down," Dueck adds.
"It was so wonderful to be in the same room creating music with other people again," echoes Kutyn.
"However, it was a bit nerve-wracking because it had been so long since I had performed in front of anyone other than my dogs!" she laughs.
"I was excited when I was asked to participate in the production!" says Wrzosek.
"It's my first year at the faculty, so actually being able to spend in-person time with other people in the program was an unexpected treat, as I was expecting most of my classes to be online," Wrzosek says.
"I don't think I'm the only one to say that it had been a while since I had been able to perform with other people, so we were very lucky to be able to do that!" she adds.
Watch Dido and Aeneas starting Thursday, February 25th
While all of our students are looking forward to performing together in front of a live audience again, they are incredibly excited to be able to share their current work during a time when so many concerts and productions have been sidelined.
Viewers can watch Dido and Aeneas on the Desautels Faculty of Music YouTube channel beginning on Thursday, February 25, 2021 at 7:30pm. The video will be available for view until March 31, 2021.
We hope you will join us!
The University of Manitoba Opera Theatre and University of Manitoba Symphony Orchestra are proud to present Dido and Aeneas, which will be released on February 25, 2021 at 7:30pm on the Desautels Faculty of Music's YouTube channel, and will run through the end of March.
Faculty
Mel Braun, professor of music – Music Director, Voice
Laura Loewen, associate professor of music and Associate Dean, Undergraduate – Vocal Coach
Katherine Twaddle, instructor and coordinator of Opera Studies – Stage Director
Naomi Woo – Music Director, UMSO
Cast
Allison Petten – Belinda
Svetlana Gharagyozyan – Dido
Chelsea Kutyn – 2nd Woman
Kathleen Murphy – Aeneas
Ashley Schneberger – Sorceress
Roan Shankaruk – 1st Witch
Afton Wrzosek – 2nd Witch
Nada Hajin – Spirit/Sailor
Orchestra
EmilyAnn Dueck – Concertmaster
Elise Massicotte – Continuo
Nathan Mohabir – Violin
Bariah Penner – Violin
Barbara Graham – Viola
Eleanor Payne – Viola
Cadence Penner – Cello
Wyatt King – Percussion
Matheus Coelho – Assistant Conductor
Megan Dufrat – Rehearsal Pianist