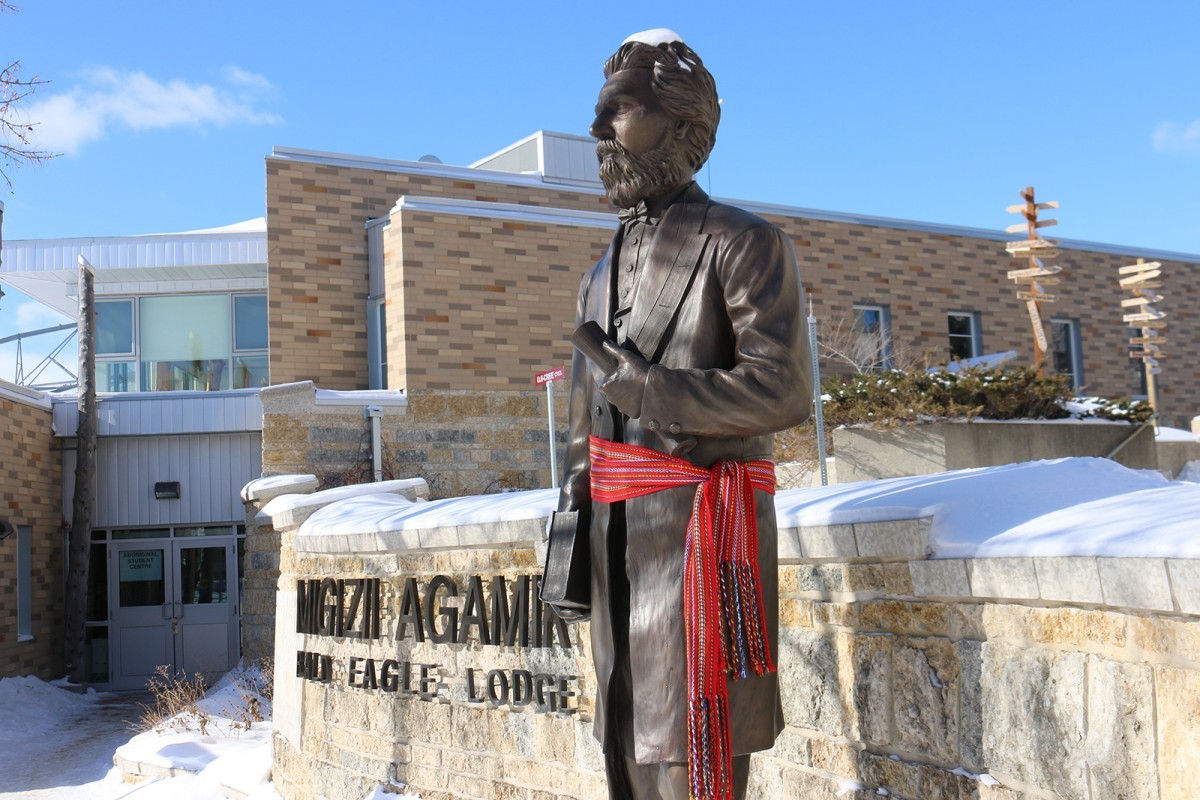 Louis Riel Day: Celebrating Métis inclusion on campus
February 13, 2018 —
Louis Riel is a Métis hero, founding father of Manitoba, and leader who fought to protect his people. In his honour, Louis Riel Day celebrates the history, resiliency and re-emergence of the Métis whom he defended.
Louis Riel Day is officially celebrated in Manitoba on Monday, Feb. 19, 2018, as a provincial holiday.
On Friday, February 16, the fourth-annual Louis Riel Day celebrations will take place at Migizii Agamik – Bald Eagle Lodge, beginning at 11 am. Events will include fiddle music, jigging, delicious Métis fare and adorning of the sash.
Today, Métis presence on the University of Manitoba (U of M) campus is as strong as it's ever been, as staff and students have come together to make their voices heard.
Christine Cyr, director of the Indigenous Student Centre (ISC) at the U of M, has seen the passion of the Métis community firsthand.
Over the years, Métis students have told her that there "wasn't anything for them" in Migizii Agamik – Bald Eagle Lodge, as most of what was being offered was centered around First Nations culture. She sent out an invitation asking Indigenous students, staff, and faculty to gather to discuss how the Métis experience could be enhanced.
"Within half an hour, 45 people accepted the meeting, and everyone came in really excited. Through the course of the meeting, even though I had a really big agenda, we got stuck on number one," Cyr says.
"Everybody who was in the room who was Métis wanted to talk about what being Métis meant to them."
After a second meeting garnered similar results, Cyr applied for an Indigenous Initiatives Fund, with the goal of "directing energy" towards Métis initiatives. With that in mind, the Métis inclusion coordinator position was created.
Laura Forsythe, a student in the master's program in the department of Native Studies, with a specialization in Indigenous Education, has held the role for the past 10 months.
"As a Métis graduate student, I personally felt the isolation of not knowing who shared my academic experience as a Métis student. Throughout the past 10 months, I have met numerous successful motivated Métis students on our campus looking to connect through culture and history. I am humbled to have met them and proud to have been apart of the catalyst that created the beginnings of a University of Manitoba Métis community."
Antoine Allard is a fourth-year business student who is also the current vice president of marketing for the University of Manitoba Indigenous Commerce Students (UMICS) as well as the executive coordinator of the Metis University Students Association (MUSA). "The position has further bridged the Métis and other Indigenous communities together, helping to ensure Métis people are remembered when Indigenous affairs are being planned on campus," he says.
"Slowly, the Métis presence on campus has grown this year. With many events being planned for the end of the semester and the future, it will help current and future students feel like they can be a part of the Métis – and the Indigenous community – as a whole."
With Forsythe's help, 37 Métis events have been created over the past 10 months. A few highlights include a Louis Riel Institute certification course on Métis culture and history, as well as upcoming talks from Métis lawyers Jason Madden and Jean Teillet as part of Indigenous Awareness Month. These speakers will discuss the history, resiliency and future of Métis pride, which has been instilled for generations, starting with Louis Riel.