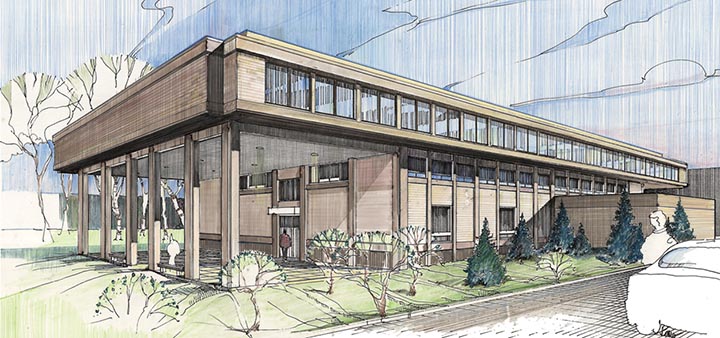 Looking Backward to Look Forward
Faculty of Law's Homecoming 2019 to Celebrate Robson Hall's 50th Year on U of M's Fort Garry Campus
August 16, 2019 —
Preparations are well underway at the University of Manitoba's Faculty of Law to welcome alumni to Robson Hall for 2019 Homecoming celebrations. This year, a special reception will be held on Wednesday, September 18, 2019 5:00 – 7:00 p.m.at Robson Hall to commemorate the 50th anniversary of the building's official opening as the permanent home of the Faculty of Law.
Until 1969, the Manitoba Law School occupied a number of locations from its earliest days in 1914, moving as it grew, from the downtown Winnipeg YMCA building on Vaughan Street to the Law Courts building on Broadway.
A number of interesting oral histories of how the Faculty finally came to occupy its current home on the banks of the Red River are captured in the Manitoba Law Journal's Volume 39 Issue 1, "The Great Transition in Legal Education." The entire volume is available to read on the MLJ website.
Named after Chief Justice Hugh Amos Robson (1871 – 1945), a founder of the Manitoba Law School, Robson Hall was officially opened during a formal ceremony on September 15, 1969, at which time a time capsule was concealed in the building wall. At this year's Homecoming, the time capsule will be opened, and alumni, current students, staff and faculty members will have a chance to see what was hidden away 50 years ago. The container will then be sealed again for another 50 years, along with a few additional items from today for the next generation to find.
Alumni and guests are invited to enjoy refreshments and hospitality at their alma mater, tour the building in the company of current law students, and reconnect with former classmates and faculty members.
Guests are asked to please RSVP by Thursday, September 5, 2019 to lawdean [at] umanitoba [dot] ca.
Please visit the Manitoba Law Journal website to read in-depth interviews in Volume 39 (1) with Faculty of Law Professors and alumni. A special edition of the Manitoba Law Journal featuring the work of Chief Justice Robson is forthcoming this fall.
Related: Faculty of Law celebrates 50 years at Fort Garry Campus