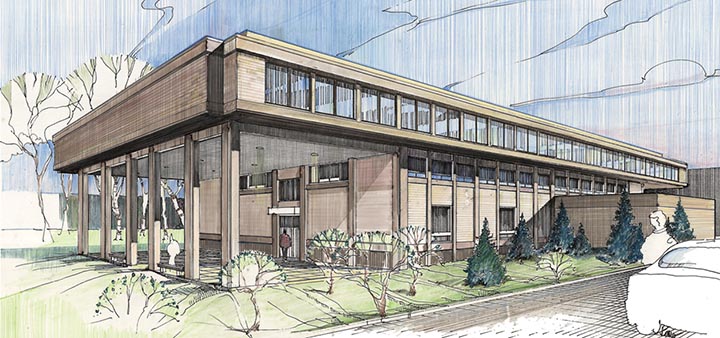 Faculty of Law celebrates 50 years at Fort Garry Campus
April 3, 2019 —
Robson Hall is a relative newcomer to the University of Manitoba Fort Garry Campus, having only just opened its classrooms in 1969, compared to the earliest buildings on campus (including Taché Hall and the Administration Building) which opened in 1912. Fifty years later, the Faculty of Law is planning special birthday celebrations to take place during the University's Homecoming week of September 16 to 22, 2019.
"It is a pleasure to celebrate the anniversary of the opening of Robson Hall as the official site of the Faculty of Law," said Dr. Jonathan Black-Branch, Dean of Law. "Moving legal education to the University campus gave academic faculty the opportunity to work within the University's collegial environment, which has no doubt been influential on the growth of multidisciplinary collaborations and the furtherance of legal research that we have seen over the years."
For its first 55 years, the Manitoba Law School, as it was formerly known, was located in Winnipeg's downtown area, moving to larger spaces as its ranks of students and instructors grew over time. The school always stayed near or in the Manitoba Law Courts, however, which made sense at the time, given that the four-year program required students to work at law offices as articling students in the afternoons after attending morning classes.
By the mid-1960s, however, not only had the law degree curriculum changed to consist of three years of straight study prior to one year of articling, but the Faculty was growing. Thus, the decision to move to the Fort Garry Campus was made and the opening ceremony for Robson Hall took place on Monday, September 15th, 1969.
Robson Hall was named after Hugh Amos Robson (1871 – 1945), an early founder of the Manitoba Law School, former Chief Justice of Manitoba, and politician. Notably, he was appointed by the Manitoba Government to chair the Royal Commission on the Winnipeg General Strike in July of 1919, which became known as "The Robson Commission." The Law Faculty Library located on the building's fourth floor was dedicated to Robson's colleague and Law School co-founder, Esten Kenneth Williams (1889 – 1970), who taught at the Law School for most of his professional career.
Details of the September, 2019 50th anniversary event will be announced in the near future.