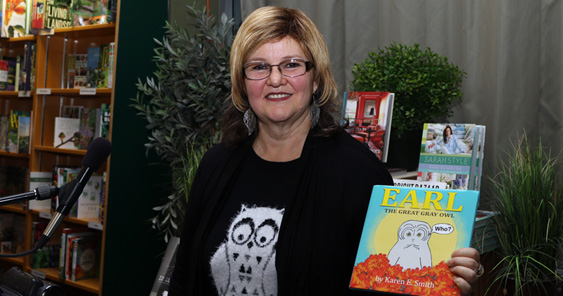 Literature professor publishes Great Gray Owl book for children
Book aims to teach young people about Manitoba's provincial bird and to interest them in wildlife conservation
February 3, 2015 —
Karen Smith remembers when she first became fascinated with owls. She was in the third grade and had gotten in trouble at school in her hometown of Carman, Man., for acting up.
"My mom said, 'Be a wise owl,'" says Smith, a language and literacy professor in the Faculty of Education. She thought about what it meant to act like an owl—calm and watchful—and the next day at school her teacher praised her good behaviour.
That moment piqued her interest in owls. "I've had it in my head since I was seven years old," says Smith. "I've always wanted to write about birds." Writing a book about owls was further established in her mind when Robert Nero, renowned naturalist, scientist, poet and Great Gray Owl researcher, visited Smith's classroom while she was working as a teacher in the public school system. He brought along his Great Gray Owl, Lady Gray'l.
Fast forward to late 2014, when Smith's Earl the Great Gray Owl—the book she'd been thinking about for such a long time—was published. Earl is a children's rhyming story and factual information book about Great Gray Owls. Smith's official book launch on Jan. 24 at McNally Robinson Booksellers included a guest appearance by Luna the Owl.
"I can still recall the thrill of looking into those beautiful Gray Owl eyes for the first time. Robert's poems provided the path and memory into loving wildlife for many people of all ages," Smith says.
The story, which Smith wrote and illustrated, is about a Great Gray named Earl who begins to count his blessings as he tries to fall asleep. Included among those blessings are his mate, Lady Gray, and their six offspring—Louis, Tommy, Nellie, Gabrielle, Duff and Izzy—who will go on to make the world a better place. Those "wise owl" children are of course Métis Leader Louis Riel, healthcare advocate and politician Tommy Douglas, women's rights crusader Nellie McClung, author Gabrielle Roy, politician Duff Roblin and lawyer and media magnate Izzy Asper. That allowed Smith to infuse the story with some Canadian history for young readers.
Following the rhyming story are actual photos and facts about Great Gray Owls—Manitoba's provincial bird—and their owlets. Smith includes photos she has taken herself, along with photos by James Duncan, an internationally recognized owl expert, and Dennis Swayze, a Manitoba wildlife photographer.
Smith feels it's important to introduce children to the natural world and animals that exist in Manitoba—including owls. She has an interest in nature deficit disorder and says that especially in cities, children don't get enough exposure to wildlife or learn about conservation.
But once they are introduced to owls and facts about these birds, she says they get very excited.
Earl is the second of a 15-book children's series the associate professor is working on. Her first, Steve the Urban Rabbit, was published in 2013, and follows the same format—a rhyming story illustrated by the author, followed by facts about rabbits.
Smith's next children's book, which she hopes to release this summer, is about raccoons.