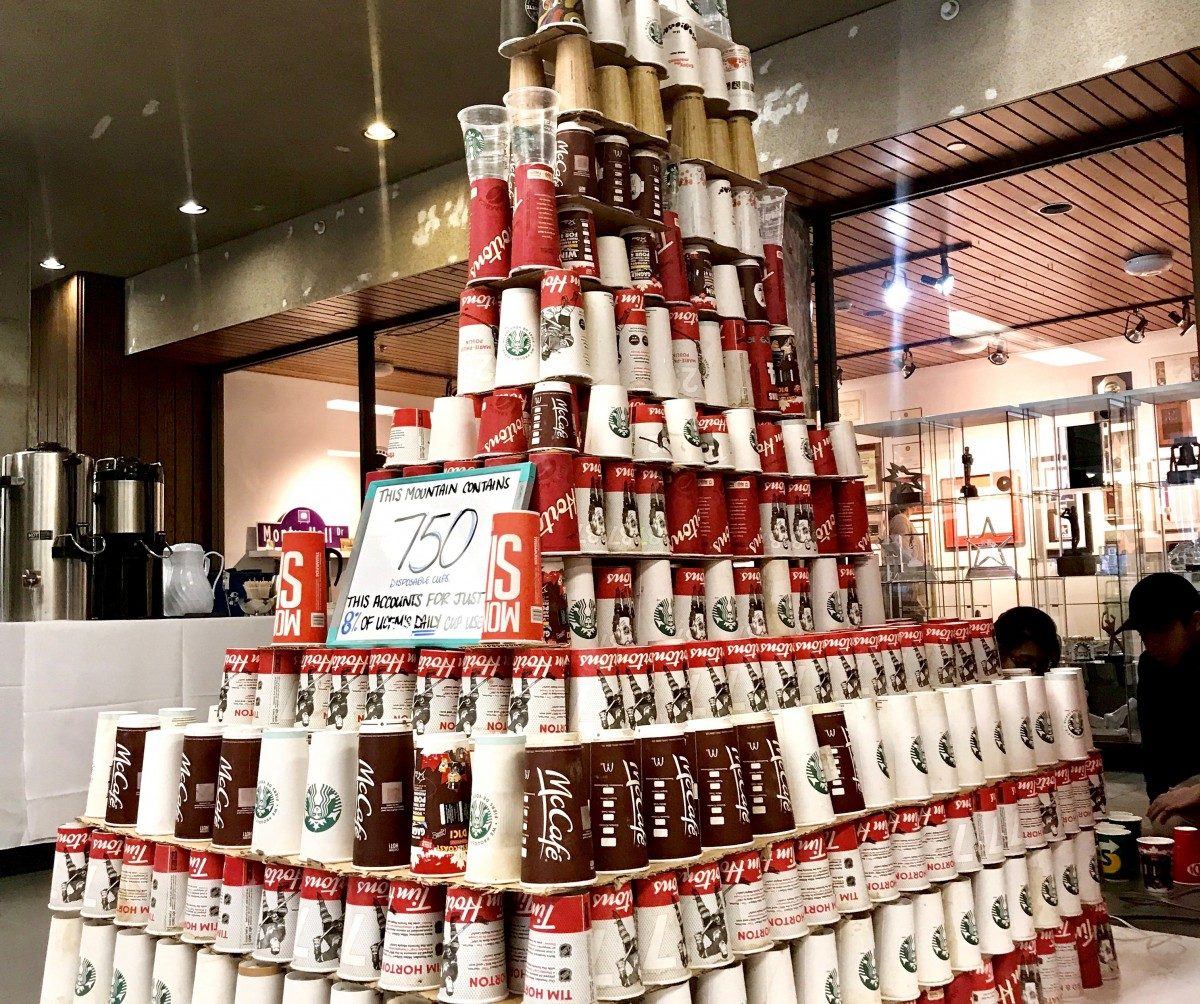 Let's Talk Waste: Disposable Cups
October 12, 2018 —
Welcome to the Office of Sustainability's series on waste as part of Waste Reduction Week, an annual event celebrated across Canada and hosted by provincial organizations from coast to coast. Throughout the week, we will look at different forms of waste on campus and dive into some of the most prevalent topics in waste reduction.
Disposable Cups
What is the problem?
It is estimated Canadians consume 14 billion cups of coffee a year, and of that, 30 per cent is consumed on the go. The coffee industry has responded to North America's 'grab-and-go' culture by not only selling coffee, but also providing single-use, disposable cups for convenience.
While this has certainly helped millions of Canadians satisfy their daily hot beverage fix, the single-use, disposable culture that comes with it has consequences.
The disposable coffee cup is paper infused with polyethylene plastics, which ensures that tasty beverage does not soak through the cup. Unfortunately, this lining makes these coffee cups non-recyclable in most Canadian cities and regions. In Manitoba, recycling facilities are not able to separate the paper from the plastic, meaning they cannot recycle the cups. In addition, the plastic lids from disposable cups are made from Plastic #6 and are not recyclable. That's a lot of disposable cups destined to the landfill!
University of Manitoba's impact
In winter 2017, the U of M conducted a university-wide waste audit, which included both Fort Garry and Bannatyne campus buildings.
Waste audits collect all waste (garbage and recycling) produced by the location over a period of time. The collected waste is sorted into various categories to help the university understand its collective waste habits. For more details on the waste audit and what the university found, click here.
From the waste audit, the U of M discovered the Fort Garry and Bannatyne campuses discard approximately 1,191,000 disposable coffee cups throughout the academic year. These disposable coffee cups are mostly found in the garbage, but many are being inappropriately recycled. When a disposable coffee cup is placed in the recycling bin, they contaminate it. As a result, once the recycling is processed and prepared for market, the material is found to be contaminated and can ultimately be sent to the landfill, creating even more waste!
How problematic is this for our landfills?
The energy used to create, distribute and dispose of 1,191,000 disposable coffee cups could be used to power 8.5 houses for a full year or run 32,200 loads of laundry. To put this into context, this would be the equivalent amount of energy needed to allow two loads of laundry a week for all 316 students in Arthur V. Mauro residence for a year!
The Greenhouse Gas (GHG) emissions created throughout the life cycle of the average disposable coffee cups could be used to power a car for 171,000 km – the approximate distance of driving Canada's Highway 1 from Victoria, British Columbia to North Sydney, Nova Scotia 21 times. This is also equivalent to the amount of fuel required for nine cars in a full year. These GHG emissions are the amount of carbon sequestered by 6,760 trees.
What can you do?
Disposable coffee cups are a big problem not only for the U of M, but also across the globe. The university community can do its part to prevent more disposable coffee cups from ending up in the landfill.
The most effective strategy to reduce the use of disposable coffee cups is to stop using single-use coffee cups all together. Grab a reusable coffee mug, and make a habit of keeping it at hand.
A good reusable coffee mug can last for several years and can be purchased on campus. Plan to have the reusable coffee mug available during your daily coffee run. Keep it in the car, at your desk or in your bag!
---
Cup Mountain
From October 15 – 19, Sustainability Ambassadors constructed a mountain made of disposable coffee cups. Free coffee will be provided on Oct. 18 and 19 to those who brought their own reusable mug!