sustainability month News Archive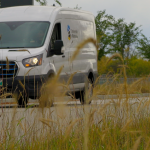 October 11, 2023 —
VIDEO: See how the University of Manitoba is setting an example and inspiring change in the province by exploring innovative solutions around energy consumption that are paving the road for a more sustainable future.
+
October 3, 2023 —
2023 marks the tenth anniversary of the Office of Sustainability at the University of Manitoba. Through innovative practices, programs and resources, including the UM Climate Action Plan, it has made significant sustainable impacts. With much, much more on the horizon, let's look back at 10 milestones from the first of many chapters in sustainability and climate action at UM.
+