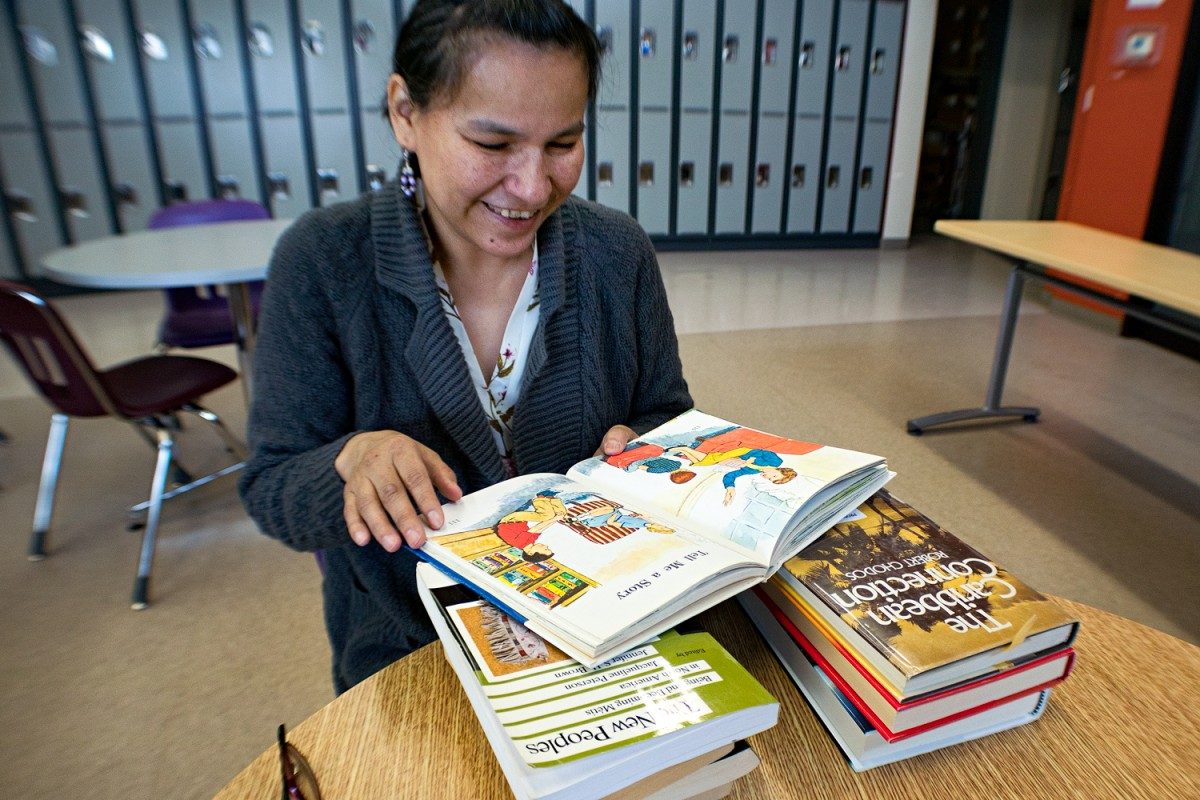 Leading with a love of reading
Resource coordinator seeks ways to motivate students through new master's of Language and Literacy program
April 4, 2018 —
You don't have to spend much time with Rhonda Flett before you realize her guiding philosophy could be summed up in the words: Happiness is found in the pages of books.
"Reading is a big part of my life," Flett says, surrounded by books from the bookshelves in a common area at Winnipeg's Yellowquill College. "Every time I come to the city, I buy books. And then if there is a book fair, I'll go."
The special-education coordinator oversees the resource programs of early, middle, and high school in St. Theresa Point First Nation, a community located some 470 kilometres northeast of Winnipeg.
Living in the remote, fly-in community presents a challenge to book-lovers like her and the students in whom she wants to impress a love of reading. You won't find books in the Northern Store of the Island Lakes community, and overcrowding at the school resulted in the library being converted into classroom space.
"In St. Theresa Point, it is so hard to get access to these books. At our school, we have so many kids and we don't have space," Flett says, adding the books have been relocated to the resource offices.
Her love of reading and the challenges of accessing books are, in part, what led Flett to enroll in the Faculty of Education's new master's program in Inclusion Language and Literacy, announced last year, and launched in partnership with Manitoba First Nations Education Resource Centre to meet the needs of students attending First Nations schools.
"This one caught my eye because I love reading. And then I thought about my students, and I was thinking of ways that I could help them," Flett says, adding she sees a growing number of students struggling with reading and writing.
Flett sees the love of reading as foundational for a love of learning and a successful education.
"… Because if you don't know how to read, I don't know how you will learn," Flett says, adding the biggest challenge for teachers is to find ways to make their lessons interesting and engaging for the students.