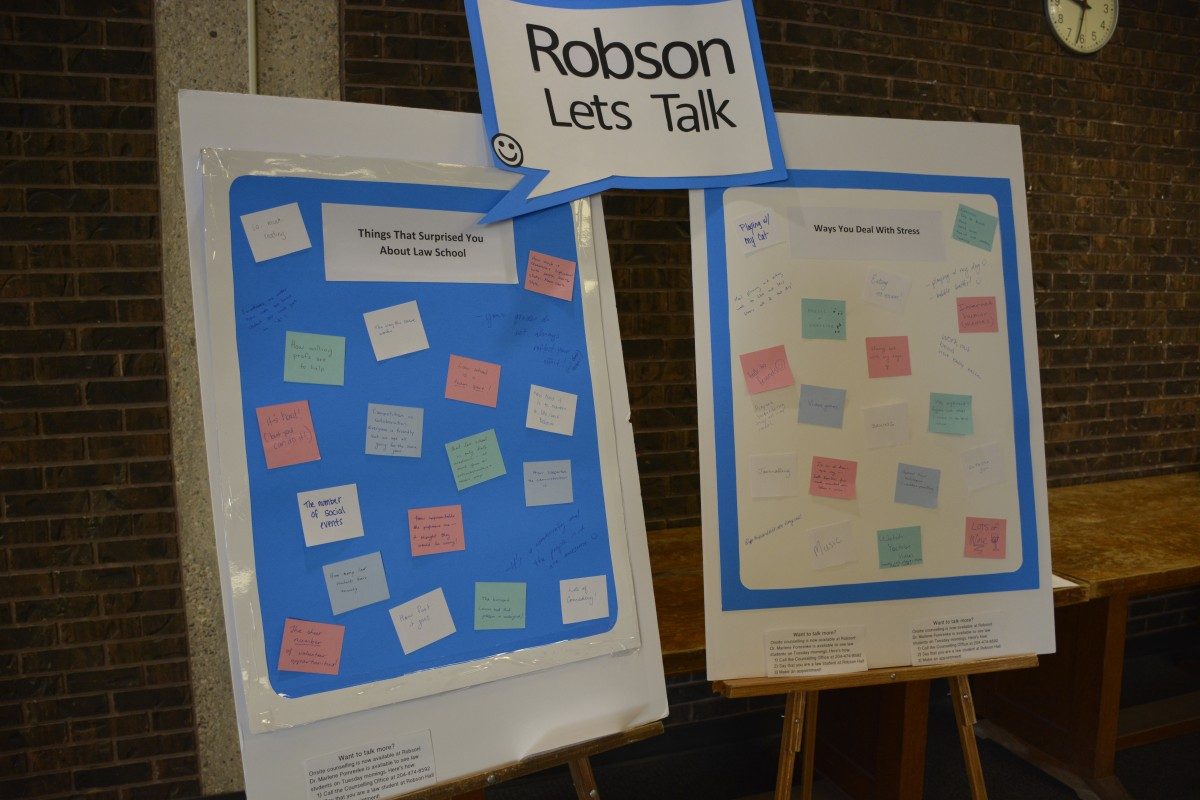 Law Students Looking Out for Mental Health on Bell Let's Talk Day
January 25, 2019 —
Studying law can drain even the strongest students, both mentally and physically, and Robson Hall's Mental Health Group is taking action to make sure the University of Manitoba's Law student body stays healthy this Winter term. As part of the 2019 Bell Let's Talk mental health awareness campaign, the student group is inviting fellow law students to submit answers to the survey question, "Looking back now, what would you tell yourself prior to entering law school?" Answers will be posted anonymously on display boards in the Faculty of Law Common Room on Wednesday, January 30th.
Bruce Curran, Associate Dean Academic at Robson Hall, said, "The attitudes toward law student mental health have changed dramatically over the past few decades. For the most part, we've moved away from a law school environment that functions on the "Paper Chase" model, where the prevailing climate was one of intimidation, fear, and one-upmanship. Law students admitting to any weakness, let alone taking steps to address it, was anathema to such a climate."
Today's law schools are different, said Curran, explaining, "Attitudes towards the mental health struggles of law students are becoming more enlightened, although we still have a long way to go. The work of the courageous students of the recently established Robson Hall Mental Health Group are contributing to this positive change. My sense is that our current law students are far more willing to acknowledge, discuss, and address mental health issues than past cohorts. Robson Hall has taken steps to help students address mental health struggles by running workshops on issues like stress management, and by having trained counsellors available to meet with students on a one-on-one basis."
Law student and Mental Health Group executive member Bethany Hutlet said, "Widespread mental health issues are something of an open secret in the legal community. Lawyers have higher rates of anxiety, depression, substance abuse and other mental health issues than the general population, but this is often not addressed due to a culture of putting on a good face and not showing weakness. This toxic culture starts in law school."
As Hutlet noted, "The Robson Hall Mental Health Group wanted to provide Robson Hall students with an opportunity to discuss their real law school experiences without fear of judgement. We saw Bell Let's Talk Day as a perfect opportunity to launch that discussion. We hope this will help to foster a healthier environment in which students know they are not alone in the way they feel about the challenges law school presents – be that the heavy workload, the pressure to get good grades, or finding a place in the unique social environment of law school."
The Faculty of Law will be hosting guest speaker Orlando Da Silva, a vocal Mental Health advocate from the Ontario Bar Association, who will talk to law students about mental health on Friday, March 1, 2019. Mr. Da Silva's talk will address the prevalence of depression and anxiety in the legal profession, the stigma associated with these mental health problems, how this stigma has a deterrent effect on seeking help, and the tools that law students and lawyers can use to maintain wellness.