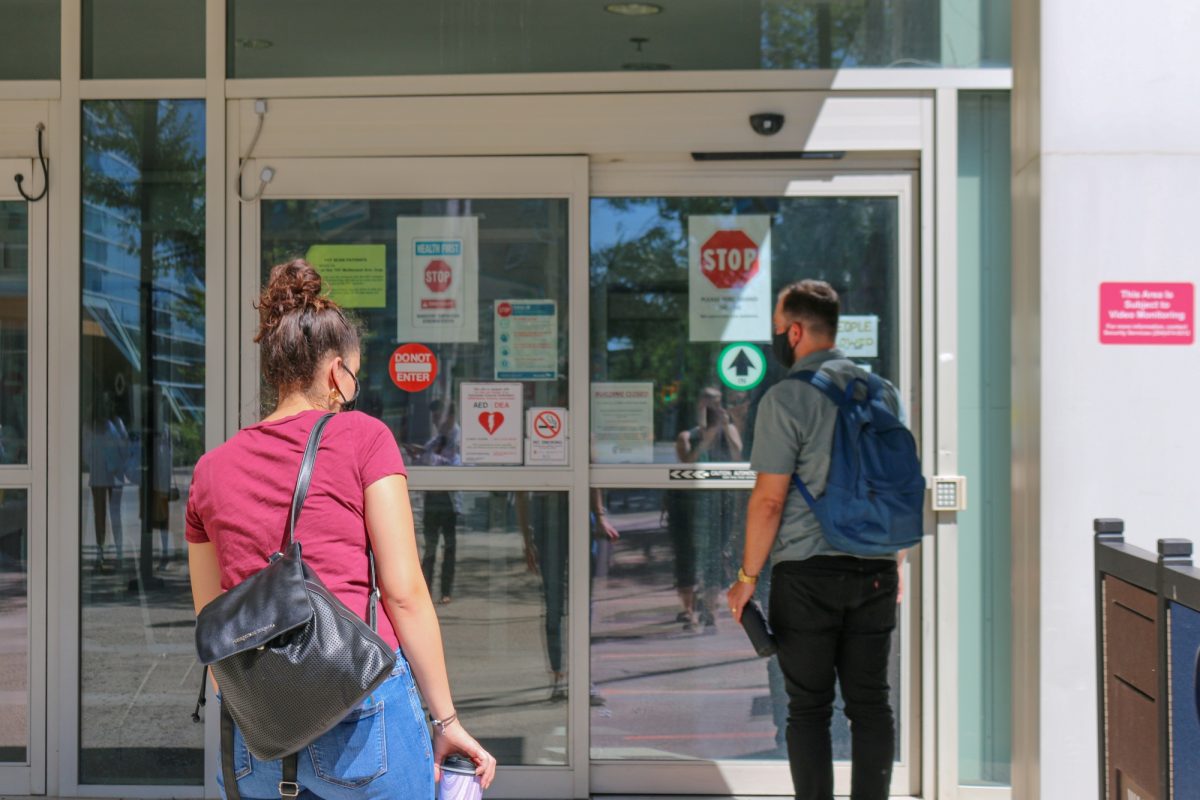 Latest news on COVID-19 campus recovery
Updates include masks, parking & housing
UPDATED AUG. 28.
After a period of reduced activity on campus, UM is working towards a slow, safe and practical return to some activities on our campuses. The health and safety of our UM and broader community remains our highest priority.
The university is approaching Phase 3 of its recovery plan, which extends from Sept. 1 to Dec. 31. During this time, the majority of courses for the Fall Term will be delivered by remote learning. In exceptional cases, few in-person instruction or assessment has been approved, with extra safety protocols. Working remotely is still preferred where possible and practical, as the health and safety of students, staff, faculty and visitors remain as the overarching priorities. Face masks are required in all indoor common or shared spaces on our campuses and where social distancing cannot be maintained.
Below are the latest news and updates.
For further information, visit the COVID-19 webpage. Read more about the Recovery Working Group and phased approach to recovery of approved activities.
MASKS NOW REQUIRED AT UM
All UM faculty, staff and students —as well as visitors, contractors and vendors— will be required to wear a face mask in all indoor common or shared spaces on campus. Masks are also required where social distancing cannot be maintained in any campus setting. This takes effect immediately (Aug. 24) on the Bannatyne campus, and on Sept. 1, 2020 for all UM campuses.
Faculty, staff, and students will be given a reusable cloth mask. Pickup details are below.
Fort Garry Campus:
Beginning September 1st there will be a safe pickup location in the Quad (open outdoor space south side of the Administration building). The hours of operations are:
September 1st to September 4th from 9:00 a.m. to 12:00 p.m.
September 8th to 11th from 8:30 a.m. to 2:30 p.m.
September 14 and 15th from 8:30 a.m. to 2:30 p.m.
Bannatyne Campus:
The requirement to wear masks took effect August 24, 2020. Pick up locations and hours of operation are:
Brodie Centre main doors, 727 McDermot Avenue from 5:30 a.m. to 5:30 p.m.
Dentistry building, 780 Bannatyne Avenue from 7:00 a.m. to 4:00 p.m.
Apotex side entrance, 750 McDermot Avenue from 6:30 a.m. to 4:00 p.m.
Rehab Sciences building, 771 McDermot Avenue from 7:00 a.m. to 4:00 p.m.
As health and safety is our overarching priority, strict protocols are being followed at these stations including plexiglass shields, hand sanitizing stations, signage and fencing to ensure directional consistency and socially distanced flow throughout.
In order to avoid congestion, ideally you should pick up your masks when you are coming to campus(es) and avoid making a special trip.
Planning is underway for more permanent distribution processes on our campuses. Please view this video to see how to properly wear a non-medical mask. Or visit the UM COVID-19 website for more information
PARKING FEES REINSTATED FOR STAFF; STUDENT PARKING NOW AVAILABLE
Starting in September, the university will reinstate faculty and staff permit charges previously waived in recent months due to the COVID-19 pandemic. Faculty and staff members who do not wish to retain their parking permit have two options:
Cancel their permit outright (and lose their parking lot allocation); or

Take advantage of a specially created $10 per month permit "hold" fee to retain their parking lot allocation until such time that they return to work.
Permit holders have until August 28 to inform parking & transportation services at parking [at] umanitoba [dot] ca if they wish to cancel or place their permit on hold; otherwise their regular parking fees will be reinstated.
Student parking permits are on sale as of Tuesday, August 25 for the 2020 Fall Term. Commuter, residence and flexible student permits will be available for purchase for one month or the entire 2020 Fall term. Permits will be available on a first-come, first-served basis and will operate through a virtual permit system. For more information, visit http://umanitoba.ca/parking/student-parking
SHUTTLE BUS NOT OPERATING AT FORT GARRY CAMPUS
With expected low ridership and in an effort to maintain the health and safety of the UM community the Fort Garry campus shuttle will not operate until further notice.
STUDY SPACES ON CAMPUS
To provide quiet study space for students only, two UM Libraries on the Fort Garry campus are open with limited capacity and detailed safety protocols. Elizabeth Dafoe Library provides study space on a drop-in basis; while the Sciences & Technology Library requires advanced booking, with space reserved for a full day. Learn more about booking and accessing available student study space.
LIBRARIES OFFERING SERVICES REMOTELY TO STUDENTS, FACULTY, STAFF
UM Libraries continue to provide collections and services online for students and faculty.
Get help with your Reading Lists in UM Learn.
Learn how to access physical materials.
Contact your subject liaison librarian regarding course reserves.
For researchers, online services are also available.
Librarians are also available to help with your research or information needs and can be reached a number of ways: through AskUs, or by booking an online appointment.
For assignments, Learn at the Libraries offers tips on university level writing, how to search the library, finding appropriate books and articles for papers, and the correct way to cite those books and articles.
ACCESSIBILITY ACCOMMODATIONS ARE AVAILABLE
The University of Manitoba strives for an inclusive, welcoming environment that supports all abilities. Accessibility accommodations and/or disability related supports are available for students, faculty, or staff who are attending a UM campus. They are encouraged to contact the following service providers:
Students
Phone: 204-474-7423
Email: student_accessibility [at] umanitoba [dot] ca
Staff and Faculty
Phone: 204-474-7195
Email: kathy [dot] niziol [at] umanitoba [dot] ca
REMEMBER: STAY HOME IF YOU ARE FEELING UNWELL
Employees, students and all visitors should self-monitor for COVID-19 symptoms, and ensure they are able to answer "no" to the following questions based on the Shared Health Manitoba screening protocol:
Do you have any of these symptoms: cough, fever, difficulty breathing, sudden loss of smell?
Have you been out of the country in the last 2 weeks?
Are you in contact with someone who has COVID-19?

If you answer yes to any of these questions, you must stay home.