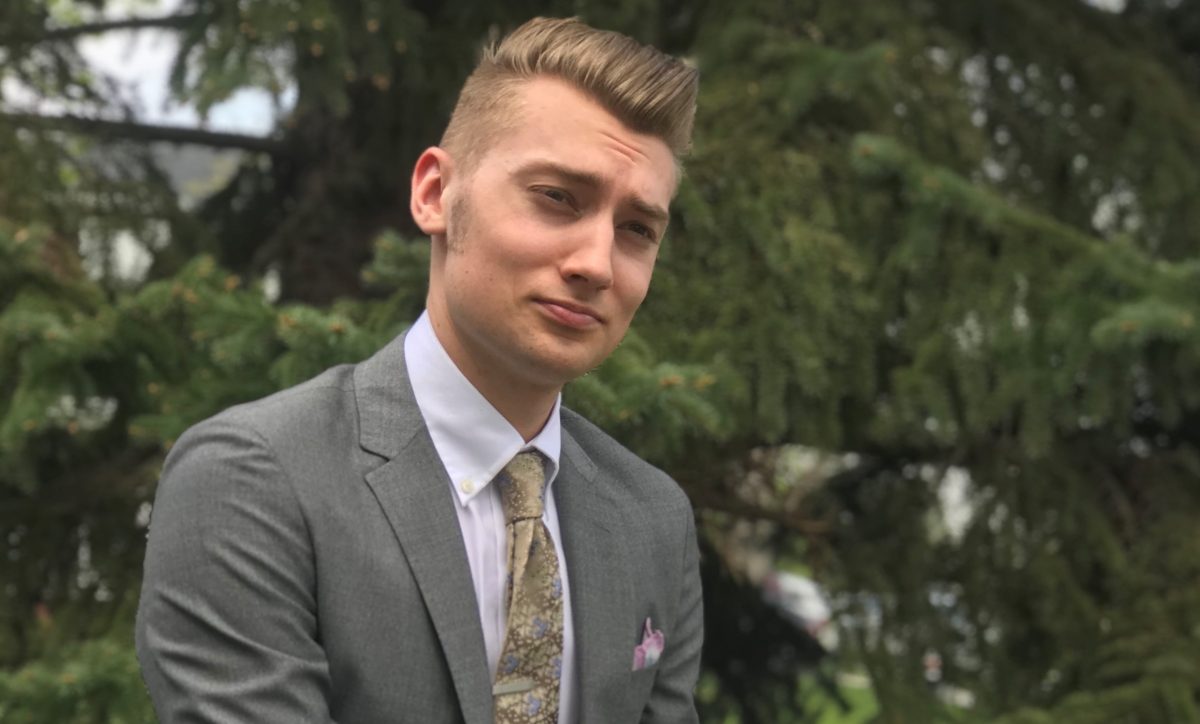 Kenny Ingram's talent will make you sit up and notice
2020 DFOM graduate Kenny Ingram's talents will remind you of another well-loved musician
June 5, 2020 —
NOTE: We in the Desautels Faculty of Music are incredibly proud of our students. While COVID-19 is sidelining in-person commencement ceremonies around the globe, we want to find alternate ways to celebrate our graduates and give them the recognition due to them. Until we can gather together to properly applaud the years of study and practice that have led to this milestone, please join us in congratulating our 2020 Desautels Faculty of Music graduates.
Today we celebrate Kenny Ingram!
Within the faculty, 2020 DFOM graduate Kenny Ingram is know for his nimble improvisational piano playing with small jazz ensembles. However, Ingram has been thrilling audiences since before he graduated from high school.
Ingram's multi-faceted talent – he is also a singer and guitarist – was noticed by Billy Joel's original bassist Larry Russell, who saw a YouTube video of the young Ingram performing. When Russell, Rhys Clark (Joel's original drummer), and Don Evans (a guitarist for Joel) decided to do a tribute to Joel ("Long Long Time: A tribute to Billy Joel by his original 1971-72 touring band") they called upon the then-15 year-old Ingram to sing with them. Ingram traveled to New York City and Philadelphia to contribute vocals for Joel's Got to Begin Again and Nocturne. The full story can be found HERE.
Ingram, who is known in the faculty for his kindness, critical thinking, and humble, collaborative spirit, has been making waves ever since, and his musical ability has only grown stronger.
A knack for collaboration
Growing up in West St. Paul, Manitoba, Ingram had an early interest in music, and began taking piano lessons when he was five years old. That early spark eventually led him to where he is today, where music is central to his life.
In his final year in the faculty, Ingram played in a small jazz ensemble that included the group's faculty leader, assistant professor of jazz drum set Fabio Ragnelli. The group's first performance of the year included a gorgeous rendition of the challenging, highly collaborative and improvisational African Market, by Abdullah Ibrahim, of which Ingram's syncopated piano performance played a central role.
In that same concert, Ingram set the tone for the group's performance of Duke Ellington's famous "Warm Valley," a soulful and dreamy standard which Ingram delivered beautifully.
"Kenny is a very insightful musician who brings the best out of his peers through his positive attitude and love of playing music," says Ragnelli.
"He is always willing to learn and push himself to his full potential," he adds.
Faculty mentors
"I would like to thank Will Bonness, my piano instructor of four years, for all of the help he gave me in learning the language of jazz," says Ingram.
"Kenny is a deeply devoted musician and a kind person," says Will Bonness, associate professor of Jazz Piano and Ingram's major practical study instructor.
"He has an open mind and a friendly spirit, though he was not afraid to have a strong opinion," adds Bonness.
"He will be greatly missed in the Desautels Faculty of Music and I wish him all the best in his career!" says Bonness of his student.
Credit Recital
Due to the disruption caused by COVID-19, the Desautels Faculty of Music had to cancel all of its remaining events for the 2019-2020 season. In addition to final ensemble performances, about 40 student credit recitals were cancelled, including those of graduating students, whose final credit recitals serve as a sort of capstone project showcasing what they have learned throughout their studies.
Unfortunately, Ingram's final credit recital was among the cancelled.
"I had planned to perform a combination of jazz and pop standards, along with lesser-known tunes from McCoy Tyner and Wes Montgomery," he says.
However, Ingram will not let the pandemic keep him from showing his polished work.
"I have been recording some of the music I had planned to perform, " he says.
That music can now be found on Ingram's SoundCloud account HERE.
His gorgeous, clear, and smooth tenor voice can be heard breathing new life into Antonio Carlos Jobim's "Looks like December." His arrangement and performance of the song brings a sweet optimism to the song's nostalgic themes.
Conversely, Ingram's arrangement and performance of Steve Eaton's "Where Do I Fit In," shifts the feel of the song from a bewildered shrug about a love's loss to one of pleading heartbreak.
Whatever comes next musically, we know that Ingram will continue to turn heads and bring passion to music. His strong voice, both in music and in life, adds greatly to the musical landscape. We think people will continue to sit up and notice him!
Congratulations, Kenny! We can't wait to see (and hear!) what you do next!