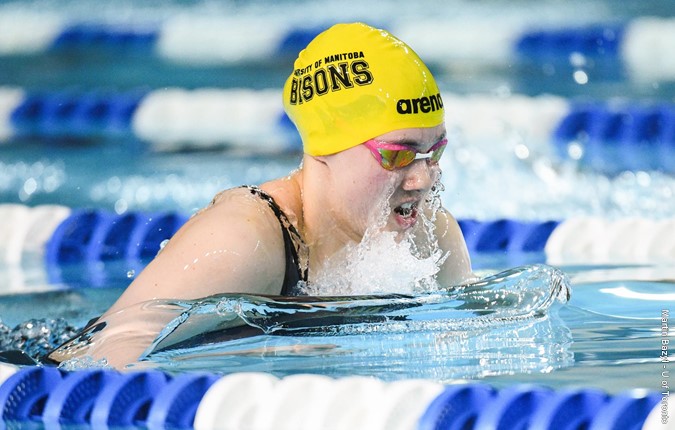 Kelsey Wog named finalist for national Athlete of the Year award
Cast your vote for Kelsey Wog today, until June 20.
June 15, 2020 —
Last month, University of Manitoba Bisons swim star and Agricultural and Food Sciences student-athlete, Kelsey Wog was announced as a finalist for the 2020 U SPORTS Athlete of the Year.
The award, now in its 28th year and known as the Lieutenant Governor Athletic Award is championed by His Honour Doug Mitchell and Her Honour, the Honourable Lois Mitchell, Lieutenant Governor of Alberta.
The winners will be determined by a combined vote of the Canadian Athletic Foundation – a not-for-profit board chaired by His Honour Doug Mitchell – and public voting that will contribute to 25% of the decision. Voting is open now on USPORTS.ca, with results announced on June 25 at 7 p.m.
By the time Kelsey Wog's record-setting career at the UM is complete, the hometown product's athletic résumé will undoubtedly go down as one of the greatest in school history.
The fourth-year women's swimmer continued to shine in the pool this season, winning four national gold medals (50m, 100m, 200m breaststroke & 200m individual medley), with her 200m breaststroke and 200m IM golds coming in U SPORTS record fashion. Wog's 2:22.42 in the 200 breast is the fastest time in the world in 2020, while her 100m breaststroke time of 1.06.44 was among the fastest in the last calendar year.
Wog's incredible performances in 2019-20 led her to the Bisons Athlete of the Year and Canada West Athlete of the Year honours before she was named the U SPORTS Female Swimmer of the Year. The latter follows four-time winner, former world record holder and 2016 Canadian Olympian Kylie Masse – who captured the Lieutenant Governor Athletic Award two months before competing in Rio.
"Kelsey's success comes from simple approach to improvement," said Bisons head coach Vlastik Cerny. "She sets goals, works hard to improve every day and competes. When she reaches her goal, she sets a new one and repeats the process again. But one of her biggest strengths as a competitor is her resilience in times of struggle. She looks at stumbles as opportunities to improve which ultimately make her a champion."
Despite having to reset after the cancellation of the Canadian Olympic Trials due to the ongoing COVID-19 pandemic, Kelsey Wog remains focussed on her next goal; to qualify for the Tokyo Olympics, now scheduled for July 2021.
Cast your vote for Kelsey as U SPORTS Athlete of the Year today.