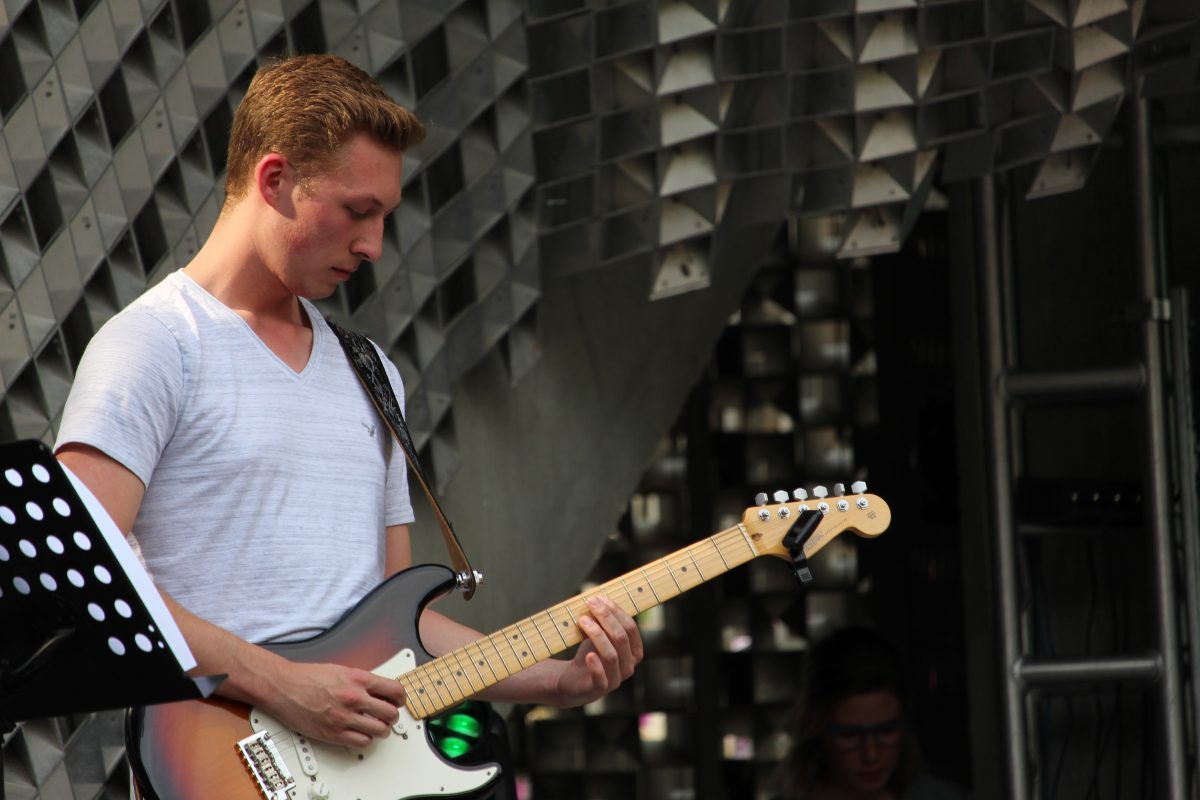 Kasey Kurtz's playing will hypnotize you
2020 DFOM graduate Kasey Kurtz's guitar playing is transcendent
June 29, 2020 —
NOTE: We in the Desautels Faculty of Music are incredibly proud of our students. While COVID-19 is sidelining in-person commencement ceremonies around the globe, we want to find alternate ways to celebrate our graduates and give them the recognition due to them. Until we can gather together to properly applaud the years of study and practice that have led to this milestone, please join us in congratulating our 2020 Desautels Faculty of Music graduates.
Today we celebrate Kasey Kurtz!
Kasey Kurtz has been playing music for his entire life, beginning piano at three and guitar at ten. However, it was a high school music workshop that shone a light on the path he was to follow.
"I think I really decided music was what I wanted to do in grade 10 or 11 after the[Desautels] jazz studies faculty brought Promise and UMJO [University of Manitoba Jazz Orchestra] to Sturgeon Heights for an outreach concert/workshop," he says.
"I hadn't heard jazz played live in that way before and I found it very inspiring. The complexity of the melodies, harmonies, improvisations were enough to make me say 'that's what I want to do!'" says Kurtz.
For some, it would be considered a jumping off point. Kurtz, however, positively launched.
In the faculty
From the moment he stepped into the Desautels Faculty of Music to study guitar, he was constantly finding ways to collaborate and perform, whether with small jazz ensembles, Promise, and UMJO, or with the many contacts he was making through his studies, like Sir Luc and the Dukes. It wasn't long before Kurtz had formed his own freelance trios, quartets, and quintets, and was regularly playing in the Winnipeg jazz scene.
It's easy to hear why Kurtz, who earned over $10,000 in scholarships during his time in the faculty, and who was on the dean's honour list for four of his five years, has become a staple for so many groups.
It's not just the intricate melodies he plays, some of which can be found on his Soundcloud, it's the evocative, dreamy, trance-inducing emotions he can convey through his music.
So it should come as no surprise that when Derrick Gardner was looking for a guitar player for his upcoming album, he went to Kurtz.
"Derrick Gardner asked me to be a part of his new Big dig! Band record this past winter," says Kurtz of his proudest moment in the faculty.
"The amount of talent from all across North America was stunning, and it was an honour to be invited to play amongst such esteemed musicians," says Kurtz.
The album, Still I Rise, was recorded in the Desautels Faculty of Music this past winter, and will be released July 10, 2020. Drawing its name from Maya Angelou's iconic poem about overcoming oppression, the album gives voice to African Americans who have been overlooked or snuffed out by brutality and racism. The Big dig! Band recently released videos for two of their songs ahead of the album's full release.
"Melody for Trayvon" is a eulogy for the Florida teenager gunned down while walking home from the store one night in 2012. Trayvon Martin's killer, who stalked him down the street, said Trayvon looked suspicious and appeared to be carrying a weapon, and that he fired his weapon at Trayvon in self defense. Martin was carrying only the pack of Skittles he had just bought. His killer was acquitted of the murder. The video for "Melody for Trayvon" can be seen HERE.
The album's titular track pays homage to Maya Angelou.
"This powerful poem basically describes the plight and resilience of African Americans, from the times of slavery through emancipation, Reconstruction, Jim Crow, the civil rights era, and up to today," says Gardner.
"When Angelou died in 2014, this melody popped into my head—it was as if her spirit sang this melody to me and took me to the piano to write the tune," he adds.
"Still I Rise" can be heard HERE.
"As a composer and a student of human history, I see my music as a kind of activism," says Gardner.
"I'm invoking sadness, solemnity, and anger in the minor tonality and the weight of the orchestration—I want to create an empathic response that will move us toward eliminating this kind of sanctioned brutality," he says.
Kurtz's playing will be showcased in a solo in "Soulful Brother Gelispie," a tribute to master jazz percussionist Randy Gelispie.
Choosing Kurtz to offer up the album's soulful guitar was an excellent choice. His playing sends listeners to a different dimension altogether.
Faculty Mentors
"Larry Roy has been a constant source of inspiration and has guided me since before I even came to the U of M," says Kurtz of his major practical study instructor, who is an instructor of guitar in the DFOM's Jazz Studies program
"He is also one of only a few professors that have been there with me for my full 5 years of study," he adds of the journey.
"What does one say about Kasey Kurtz, other than he is among the most talented students we've had in the Desautels Jazz Program," says Roy.
"A freakishly quick learner, very creative composer, with high level technique on the guitar, Kasey possesses the best combination of musicality and intellect," says Roy of his student.
Credit recital
Due to the disruption caused by COVID-19, the Desautels Faculty of Music had to cancel all of its remaining events for the 2019-2020 season. In addition to final ensemble performances, about 40 student credit recitals were cancelled, including those of graduating students, whose final credit recitals serve as a sort of capstone project showcasing what they have learned throughout their studies. Fortunately, Kurtz performed his final recital in 2019.
However, if he had it to do all over again, he would have loved to include any number of the pieces he has worked on this past year, including First Circle, by Pat Metheny; The South of Everywhere, by Jonathan Kreisberg; Mediterranean Sundance, by Al Di Meola; Chromazone, by Mike Stern; or Captain Marvel, by Chick Corea.
His own favourite piece learned in the faculty came from another DFOM graduate's credit recital, in which Kurtz played two years ago.
"'Lines of Oppression,' by Ari Hoenig, which I learned/performed for Max Osawa's 4th year jazz recital in 2018," he says.
Acknowledgements
Kurtz would like to offer the following thanks:
"I'd like to thank all the members of the jazz studies faculty, past and present, for helping me become the musician I am today, my high school band and choir teachers Jeff Johnson, Kathy Byrne, and Avonlea Armstrong for inspiring me to pursue music, and my parents for their unwavering support," he says.
Next Steps
Since his first day in the faculty, Kurtz has come full circle in his musical journey, and will follow the path of those who first inspired him.
"I'm pursuing a music education after-degree at U of M for senior years instrumental band!" he says of his plans for the upcoming year.
He already has some advice for incoming DFOM students.
"Listen to and write as much music as you can!" he says. In doing so he is not only talking the talk, but walking the walk. Kurtz' music can be found pouring out of many diverse venues in Winnipeg.
His plans for study and teaching will not, however, be taking him away from the stage as a performer.
"I lead a jazz/pop trio every Friday night – hopefully starting again soon – at the Cork and Flame restaurant on Portage Ave, so come on down!" he says.
"Also, watch for Derrick Gardner's new record!"
This is clearly only the beginning of Kasey Kurtz's musical career. His nimble, emotion-fueled playing is gorgeous, and will clearly be at the center of many jazz musicians' arrangements for years to come.
Congratulations, Kasey!