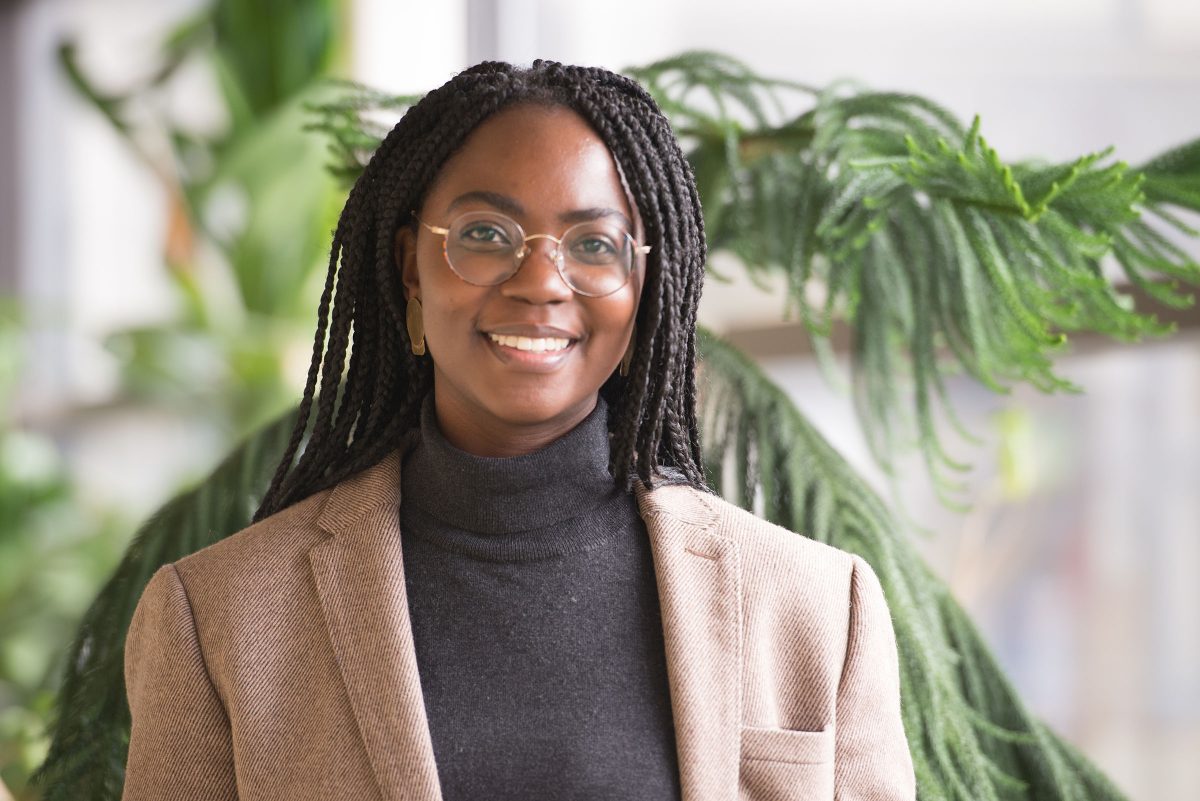 Juris Doctor Class of 2020
Count yourself in: Chimwemwe Undi
June 26, 2020 —
As Western Canada's oldest law school, the University of Manitoba's Faculty of Law has a 106-year tradition of providing quality legal education to students, many of whom have gone on to forge meaningful careers as change-makers, significantly impacting the Canadian legal system and improving justice for many. As an institution, the law school – housed at Robson Hall – is constantly growing and innovating with its students forming part of its living walls. We celebrate the graduating class of 2020 by highlighting a number of remarkable Robson Hall students.
Poetic beginnings
A self-described band geek, Chimwemwe Undi attended Acadia Junior High when her family first immigrated to Winnipeg. After graduating from Fort Richmond Collegiate where she first discovered writing and performing poetry in the school's slam poetry club, she got serious with the scientific study of language, completing a B.A. (Adv) in linguistics at the University of Manitoba, followed by an M.A. at York University in Toronto. During this time, however, a childhood interest in law grew. "I wanted to be a lawyer as a kid, because of lawyers on TV," she says, "and then thought I might work towards being a linguistics professor. However, my goals and interests in and out of school started to very clearly point back at law school."
Anticipating that law school would be challenging, and having already spent some time away from home at York, she made the decision to study law at Robson Hall to be close to family, friends and community. "Having a life outside of law school was necessary for my wellbeing. It kept me grounded and gave me perspective."
Extra-special curricular
A major part of that life outside of law was and continues to be writing, performing and publishing poetry at a professional level. An editor at the acclaimed CV2 (Contemporary Verse) magazine, her work has appeared in noted poetry magazines including Prairie Fire, Arc and Room, and at the Edinburgh International Book Festival. Throughout law school, she worked as a poet-in-residence for Poetry in Voice (a resource for Canadian educators to promote poetry in schools), and her debut chapbook The Habitual Be, published by Akashic Books in 2017 as part of a box set of New-Generation African Poets collection, was Shortlisted for the Brunel University African Poetry Prize.
"I credit so many of the best things in my life to this practice," she says of this essential aspect of her life. "I love reading poetry, and it's a great gift that people like to read the poetry I write enough to publish it, share it with loved ones, memorize and recite it or invite me to various places to read it aloud and talk about it."
Active and involved
Undi gained recognition for her activism and community involvement even before law school, when she was selected for a UM Emerging Leader Award in 2015 and received the Schwartz-Reisman Scholarship during her studies at Robson Hall, which recognizes community involvement, leadership and academic excellence.
Throughout law school, she was involved with student groups including the Feminist Legal Forum, of which she was Chair in her last year of law, and was on the executive of Outlaws, the 2SLGBTQ+ law student group. Together with friend and classmate Elsa Kaka, she co-founded – or resurrected – the long-defunct Black Law Students Association of Manitoba (BLSA). "I'm particularly proud of helping to organize See Yourself Here in February of this year, welcoming aspiring Black law students to Robson Hall for a day of panels, a lecture and a Q&A with students and practitioners," she says. "I'm sure the next generations of students will have their own ideas and aspirations. That said, I hope they will be similarly focussed on encouraging marginalized people to feel welcome at the law school and in the profession, and at naming the reasons they do not."
Learning and growing
Undi leaves Robson Hall with an appreciation for the legal education it provided her with, saying she was glad to have attended here. "I met some great people at Robson Hall, faculty, colleagues and practicing professionals alike. I had heard that Robson is collegial and collaborative, which I value greatly, and this proved to be largely true."
During her time at Robson Hall, she discovered opportunities and ways in which the law school and its living walls of students and educators could grow. "I wish there was more critical engagement with the facts and effects of race and racism throughout my law degree," she says, observing that, "Though occasional efforts [were] made to include marginalized perspectives, that inclusion was often sidelined to optional classes, where they are easy to avoid. Too often, issues of race and of Indigeneity were treated as political rather than legal and worthy of analysis, so that the only people paying attention were the people who always do."
"I'm sensitive to these omissions as a Black person, sure," she says, "but also as a person with a social science background, and a person aware of the importance of such analysis to the current moment. The law school is full of smart, hard-working people, and it frustrates me that so few of them thought of racism in the law as something worthy of discussing in the classroom. When we treat the writing, teaching, enforcement and practice of law as colour-blind, we miss patterns necessary to inform reform and revolution. I think there's a lot of work to be done in understanding this, and not only at Robson Hall."
Next steps
Undi will be articling at Thompson Dorfman Sweatman LLP over the next year. "I'm grateful to be able to serve clients here at home on Treaty One in any capacity," she says.
Among the things she has learned at law school and would pass on to the next crop of students, Undi says, "Don't do the selection committee's work for them. Apply for the scholarship, for the fellowship, for the job. This is especially true for people from oppressed communities. Put your best foot forward, but don't count yourself out."