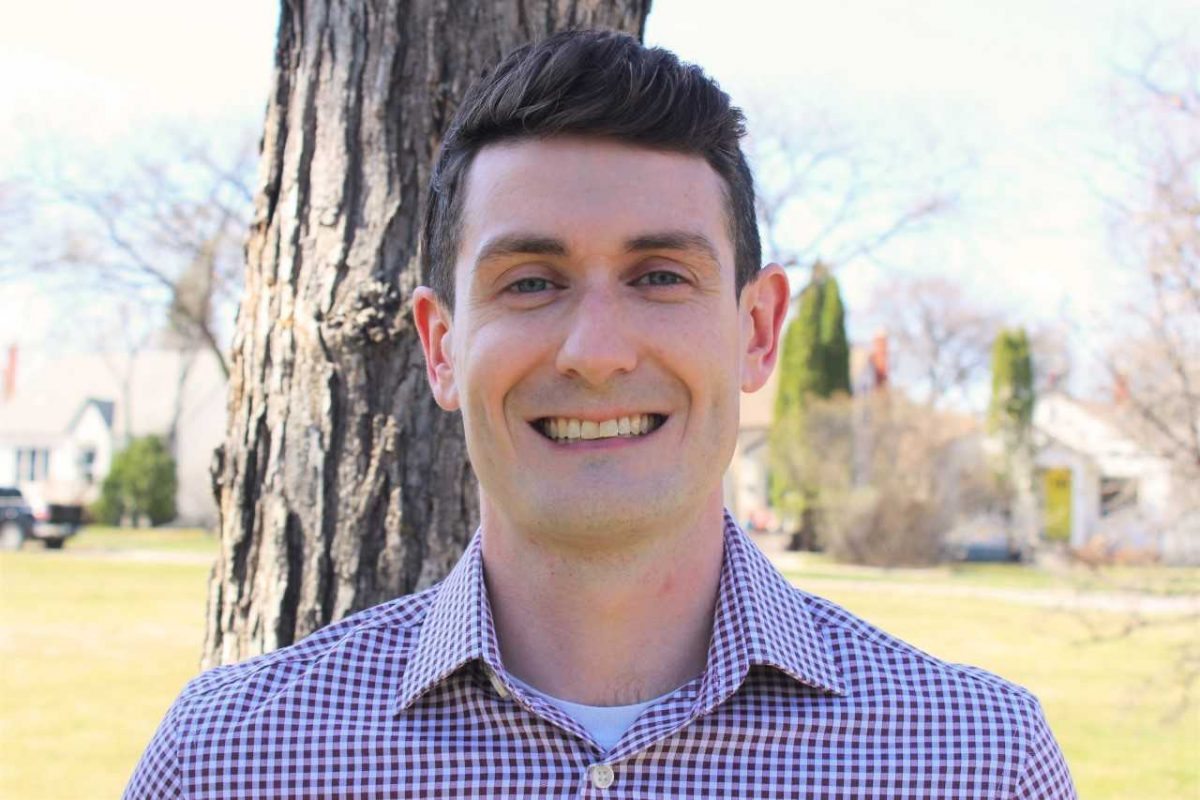 Juris Doctor Class of 2020
Find what inspires you: Keith McCullough
July 27, 2020 —
As Western Canada's oldest law school, the University of Manitoba's Faculty of Law has a 106-year tradition of providing quality legal education to students, many of whom have gone on to forge meaningful careers as change-makers, significantly impacting the Canadian legal system and improving justice for many. As an institution, the law school – housed at Robson Hall – is constantly growing and innovating with its students forming part of its living walls. We celebrate the graduating class of 2020 by highlighting a number of remarkable Robson Hall students. Keith McCullough is one of this year's top mooters and award-winning scholars.
Clear Connections
Connections between law and journalism are clear to see in the career path of former broadcast journalist Keith McCullough. Born and raised in Winnipeg, McCullough spent two years at the University of Winnipeg, before majoring in journalism at Red River College's Creative Communications program. Graduating in 2011, he worked in the broadcast industry for more than six years as a news and sports reporter/anchor/host with CJOB radio and its partner station Global Television in Winnipeg.
While he enjoyed working in journalism, he wanted a new and fulfilling challenge – and one that wasn't as fraught with job instability, he admitted. "I knew that I loved to communicate, both orally and in writing, and had an interest in law stemming from my love of politics and time spent covering trials at the courthouse while in the media," he said. "My hope was that many of my skills would transfer from journalism to law. Luckily, I was proven right."
Indeed, he was. Throughout his law school career, McCullough won the Dr. A.W. Hogg Undergraduate Scholarship for highest standing in the faculty after his first year, and was twice a Pitblado Scholar (Dean's List). He also won prizes for highest standing in several individual courses including Criminal Law & Procedure, Torts, Property Law, Administrative Law, and Civil Procedure. "I am very grateful for all these scholarships, and the financial support that comes with them," said McCullough. "I consider all of the awards a testament to my hard work and proof that you can excel academically even if you are returning to school after a long time away."
Moot Rewards
Besides scholarships, McCullough competed in several moot competitions, first in the Gale Cup in second year, later emerging as the faculty's top competitive advocate in his third year, winning Robson Hall's Solomon Greenberg Trial Moot. He went on to bring home the MacIntyre (Western) Cup with Greenberg runner-up and teammate Alyssa Cloutier. Together, they placed second in the national finals of the trial moot series, the Sopinka Cup.
"Taking part in the moots allowed me to see parts of Canada I had never been before and represent our province," McCullough said. "You get to meet other law students from across the country, and, most importantly, you get to work with incredible coaches who help you to improve your skills. Doing a moot will give you so much more confidence when you step into court "for real" during articling."
"Competing in these moots was my most rewarding and memorable experience of law school. The beauty of mooting is that it allows you to develop critical, practical skills which you simply cannot learn in the classroom. I certainly feel better prepared to begin my career having had the opportunity to learn from such wonderful coaches and judges, and to test myself against such talented colleagues from across Canada."
"I encourage all students with an interest in courtroom work to get involved in a moot next year. I look forward to hearing about Robson Hall's continued success on the national stage," McCullough added.
These achievements, however, would not have been possible without his fiancée, Karina Kachur, he said. "I can't imagine where I would be without her and the impact, she has had on my success is impossible to put into words. I know that my law school experience would not have been such a positive one without her constant love and support throughout the three-year journey. Simply put, I could not have done it without her."
Family, friends, and former media colleagues also helped McCullough get where he is today. "They were all incredibly supportive of my decision to take a risk and go back to school. I would not be here without them," he said.
Strength in Community
Speaking from experience, McCullough would encourage students returning to school for law as a different career, to believe in themselves. "I am proof that it can be worth it to bet on yourself and try something new," he said. "I consider going back to school to be one of the best decisions of my life."
"I would encourage students to be proactive in getting involved at school and seeking out opportunities they are passionate in. If you want to be in court, sign up for moot competitions. If you want to go into politics, run for a position on the Manitoba Law Students' Association executive. If you want to help people and change the world, there are countless volunteer opportunities out there. Law school is what you make it and it goes by fast. It is up to you to seize your chances to shine."
McCullough himself was involved with the MLSA, the law students' governing body that serves as the student voice, advocating on behalf of students before faculty and administration. He also volunteered with Pro Bono Students Canada, and the Legal Help Centre, gaining practical legal experience, helping Manitobans in need. With the latter, he said, "I was able to meet with real clients and provide them with legal information, under supervision of experienced lawyers. Things like that teach you what you cannot learn in the classroom."
Like Cloutier, McCullough also thrived in the tight-knit faculty at Robson Hall. "The smaller student body allows you to really get to know everyone in a way that wouldn't be possible at a larger school. I found all of the faculty and staff to be warm and helpful. I was able to build relationships with lawyers who served as sessional instructors that, I hope will last beyond my graduation and throughout my career," he said.
Opportunities Abound
McCullough also sees opportunities for Robson Hall to grow, especially in areas of inclusiveness, and commends it for already moving further forward. "I hope to see continued efforts to accept [and] accommodate all students, including those with disabilities, students who identify as LGBTTQ*, and students from minority groups," he said. "I believe this is more important now than ever, particularly given the political climate we see taking hold across the world. To be clear, I do not think Robson Hall is ignoring its responsibilities in this area. There are already a number of initiatives in place. I just think all of us must continue to grow and continue to do more."
Currently articling at the Winnipeg office of the Department of Justice Canada, McCullough is enjoying how many of the department's files "take on national significance and impact the day to day lives of Canadians."
If law school taught him anything, it is to make time for things that are truly important. "My priorities continue to be spending time with my family and staying active," he said. "We have a five-year-old rescue dog named Molly who continues to keep us busy and make us smile."
McCullough echoes his moot teammate Alyssa Cloutier's advice to follow one's own path in law. "I would encourage future students to keep an open mind about what they can do with their law degree. I think so many students come to law school thinking their only path is to become a lawyer who works downtown and wears a suit every day. There are so many more options out there. It is okay if that isn't what you see yourself doing."
"One thing I wish I knew going into law school was just how many different opportunities exist, in terms of employment and otherwise, for people with a law degree. There really is no other degree that opens as many different doors. You just have to be willing to look around, investigate and take opportunities when they come. "
"Stay true to yourself and find what inspires you."