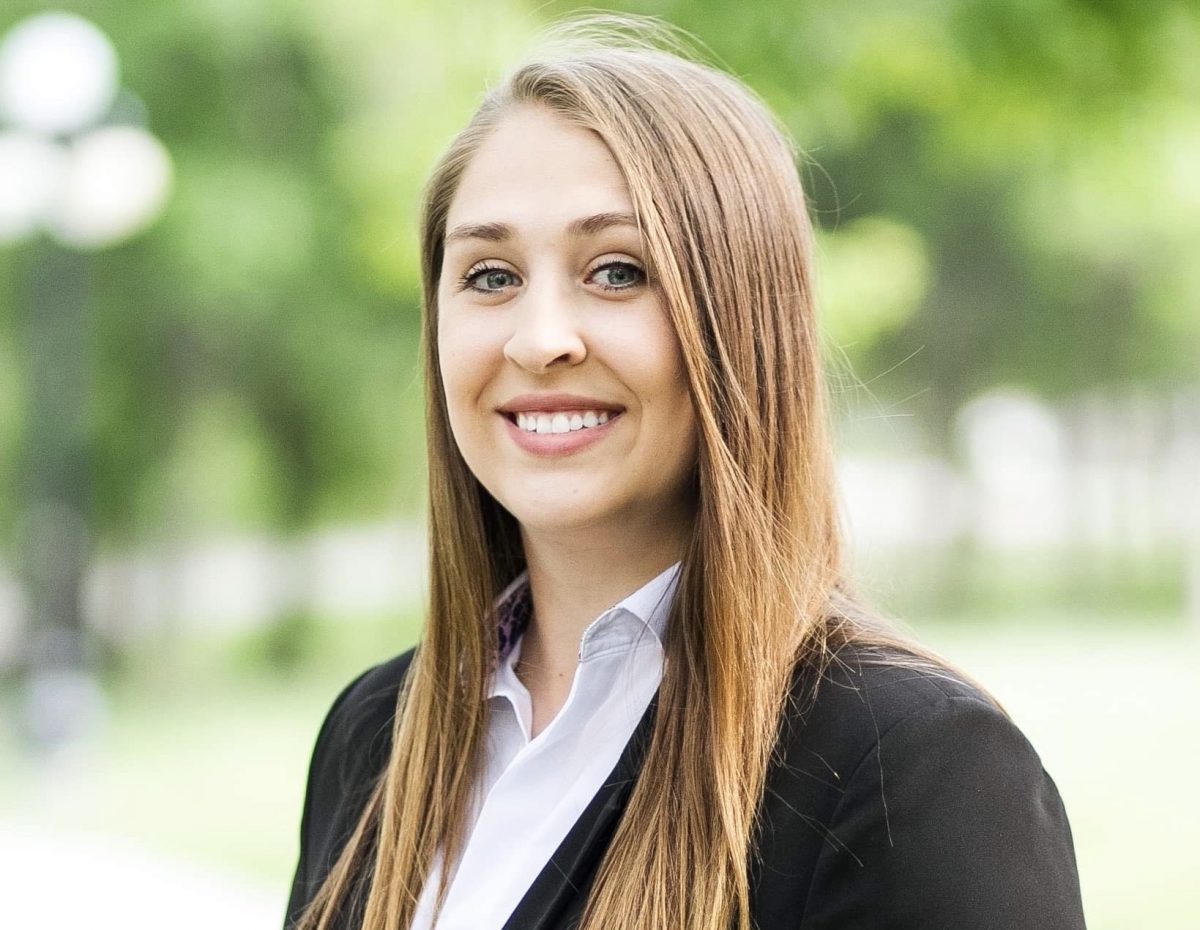 Juris Doctor Class of 2020
Strength in community: Genevieve Benoit
June 29, 2020 —
As Western Canada's oldest law school, the University of Manitoba's Faculty of Law has a 106-year tradition of providing quality legal education to students, many of whom have gone on to forge meaningful careers as change-makers, significantly impacting the Canadian legal system and improving justice for many. As an institution, the law school – housed at Robson Hall – is constantly growing and innovating with its students forming part of its living walls. We celebrate the graduating class of 2020 by highlighting a number of remarkable Robson Hall students. This is the story of Genevieve Benoit.
Home roots
"I am a proud Métis woman who was born and raised in Winnipeg, Manitoba, the birthplace of the Métis Nation and the heart of the Métis Nation Homeland," says Genevieve Benoit who attributes some amazing teachers and coaches at Vincent Massey Collegiate for encouraging her to set goals and work hard to reach them. She was an active member of the Alpha Gamma Delta women's fraternity while completing a Bachelor of Arts with a major in Psychology at UM (2017). She returned to UM to study Law at Robson Hall because it was close to home, and allowed her to maintain connections and relationships with community, friends, and family.
"Since I was quite young, I have known I wanted to go to law school and become a lawyer," she says. "I had amazing role models growing up such as my parents, who both attended post-secondary, as well as lawyers from my Métis community who spent a great deal of time with me when I was younger. They certainly helped pave the way for me to reach my goals and helped me along the way."
In particular, her father played a major role in her university studies, especially in law school. "He has always encouraged me to work hard and persevere. He frequently reminds me to enjoy my work and to be creative with my approach to various issues in the law. He has shown me how important it is to give back to our Métis community and how rewarding it can be."
A part of life

Throughout law school, Benoit continued involvement with Alpha Gamma Delta, acting as alumni advisor to the VP of Recruitment, mentoring and supporting her. "It's been very rewarding to be able to give back to an organization who allowed me to work on and grow my leadership and advocacy skills throughout my undergraduate degree."
Advocating for Indigenous rights and gender equality is a passion that has driven Benoit both within and outside of her legal path. She has been involved with her Métis community provincially and nationally, and has worked with Les Femmes Michif Otipemisiwak/Women of the Métis Nation on a variety of matters. Through them she was nominated for the National Youth Working Group on Gender Equality, a working group launched by the Department for Women and Gender Equality to address the needs and perspectives of young people. "We have been working to develop a strategy which will engage young Canadians on gender equality issues," she says.
Learning from all experiences
"All of my best experiences in law school have come with taking risks and getting out of my comfort zone," says Benoit. "The highlight of my legal education was attending the Osgoode Hall Intensive Program in Indigenous Lands, Resources and Governments for the Winter 2020 Term. As part of this program, I was given the unique opportunity to do an internship for 7 weeks and the Supreme Court of the Navajo Nation in Window Rock, Arizona. I learnt so much during my time there and it was great to be able to make connections with another Nation."
Benoit was involved with the Manitoba Indigenous Law Students' Association throughout law school, having held the offices of 1L Representative, President, and VP Finance. As she graduates, she says, "It's my hope that the next generation of students will continue the advocacy work to support Indigenous students within our faculty. I hope that they continue to engage with our Indigenous communities in order to understand how to better support them in their role as law students and eventually lawyers."
Benoit has appreciated seeing an increase in dialogue with Robson Hall staff and faculty over the concerns of Indigenous law students, saying, "It is my sincere hope that in the future the faculty expands its resources to support Indigenous students and that it continues to strive to provide a more holistic legal education to all its students by including more Indigenous content and courses."
What the future holds
During her first and second summers of law school, Benoit had the opportunity to work at a law firm in Toronto that specialized in Aboriginal law, and she will soon be articling under the supervision of Murray N. Trachtenberg in Winnipeg. "I am hopeful that my career path will allow me to work closely with my Métis community," she says. "Through my experience I discovered I really enjoyed working with Indigenous communities and I hope to be able to continue to advocate for Indigenous rights in my future career."
For future law students, Benoit has some sage words of advice: "If you're looking to effect change with your law degree, surround yourself with colleagues who will lift you up and support you in your work. Never forget your roots and where you come from. Remaining grounded in your community will help drive you and give you the strength to continue to advocate for change."