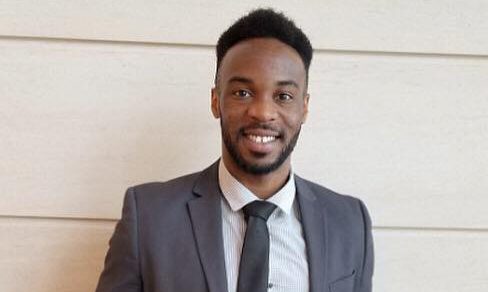 Juris Doctor Class of 2020
The rewards of going beyond the full distance: Michael Akins
July 10, 2020 —
As Western Canada's oldest law school, the University of Manitoba's Faculty of Law has a 106-year tradition of providing quality legal education to students, many of whom have gone on to forge meaningful careers as change-makers, significantly impacting the Canadian legal system and improving justice for many. As an institution, the law school – housed at Robson Hall – is constantly growing and innovating with its students forming part of its living walls. We celebrate the graduating class of 2020 by highlighting a number of remarkable Robson Hall students. This is Michael Akins' story.
Forging one's own path
Born in Nigeria and raised in Winnipeg, Michael Akins graduated from Oak Park High School and headed straight for the University of Manitoba on sports scholarships. Throughout his undergrad, where he completed a Bachelor of Recreation Management and Community Development (Gold Medalist), he was a dual-sport varsity athlete for the Bisons in Track and Field and Football, and obtained Academic All-Canadian honours as an athlete in each sport.
Akins transitioned from sports to law because of his older sister. "She was the smartest person I knew growing up and I was always inspired by her academic drive and leadership," he says, explaining that law was originally her idea. However, after completing her master's degree in Public Policy and Business Administration, she forged a career path with the Federal Government, doing policy work in Ottawa. Akins says, "The perspective she shared about law intrigued me and sparked my interest and motivation to see if it may be the right fit for me."
People meeting people
The first semester of first year law school fills Akins with memories of how exciting but uncomfortable, starting something new can be. As he worked through the stress of that first year, he found a lot of classmates were supportive when he needed help, and he thrived with the many networking opportunities he discovered. "All of them brought me to many new places, to meet many new and exciting people, and allowed a lot of interesting growth and connections to come to light within my life," he says.
Examples of how involved he was, include being the First-Year Representative for his class section, the Manitoba Bar Association and Canadian Bar Association Representative (MB Chapter) in his second year, and the Thomson Reuters Representative in his third year. Additionally, he filled several roles with the Manitoba Law Students' Association (MLSA), was a student representative to the faculty and volunteered at the Manitoba Interfaith Immigration Council (Welcome Place).
Being active and involved in student life really helped Akins appreciate meeting so many different people.
"Winnipeg is notorious for needing less than two degrees of separation to "know you know someone" – but I would say throughout law school, I met many different types of people I otherwise wouldn't have met from across the city and out of town," he says.
Akins remarks on the opportunities he had to discuss different world issues with faculty members, saying, "I really appreciate the open-minded and innovative thinkers that are there, led by the great leadership of Dean Black-Branch and Associate Dean Curran."
Including professors, administration and library staff, he adds, "I was always able to share some in-depth discussion with individuals who were very forward thinking and open-minded."
Practicing practicality
He especially appreciated the real-world experience and expertise shared by practicing professionals, lawyers, judges and legal professionals, who teach courses at Robson Hall as instructors. "They were able to keep things practical, where the minutia of theory can sometimes go beyond the necessary points of what we need to know and apply in practice," says Akins, adding that he would like to see more practicing professionals teaching, as well as changes to how courses are administered, along with more contemporary applications of law.
"I would like to see the Robson Hall community grow with more diverse thinkers/minds in every respect of what diversity includes," he says.
Coming from a law school experience rich in student life involvement and volunteering, Akins encourages future students to recognize that, "your law school experience will be as rich as you allow it to be – so get involved early and often. Theory from school isn't the end all be all, it's actually the minimum you should take away from law school because it is "expected" from everyone. Volunteer, contribute and get out of your comfort zones and bubbles. You'll be more grateful in the end for doing that instead of just doing the minimum."
Setting sights high
A corporate and commercial focused legal career awaits Akins when he heads to Burnet, Duckworth & Palmer LLP in Calgary, Alberta this summer, to begin his articling year. He is ready to embrace the challenges ahead as he is excited for what is next with his legal career. He plans to offset the busy-ness of large work demands by continuing with his athletic fitness regime. "I truly enjoy physical activity overall, from rigorous training regimens to recreational activities through sports and hiking," he says. "It provides balance to my day and an overall healthy habit to the lifestyle I aim to maintain, moving forward."
Given how close Calgary is to the mountains. Akins is headed to the right place.
Another healthy habit he would pass on to future law students is – step one – to talk to people with experience and wisdom – who are outside of one's "current bubble." "You don't know what you don't know, so utilize as many resources as you can," he says.
Step two is to consider a career outside of the traditional practice of law. "If you really want to "effect change" and "see change" in a particular way," he says, "there may be better avenues that are more applicable for you to take your legal education, post law school. The degree is the degree, but it can be applied in more ways than just legal practice. Go back and repeat step one, to see where that may take you."