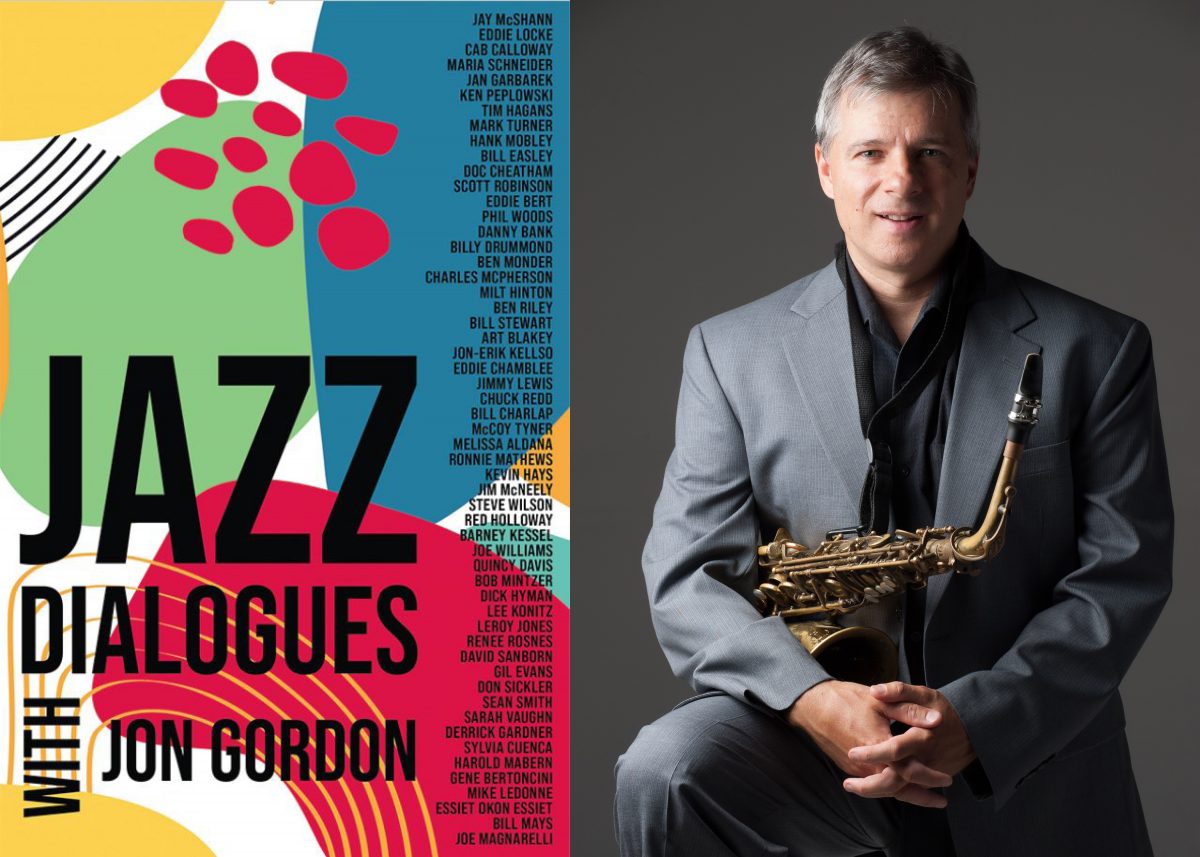 Jon Gordon is #1 with Jazz Dialogues
Desautels professor Jon Gordon's new book collects surprising stories and insightful conversations with jazz luminaries
October 21, 2020 —
Jon Gordon is known as many things. He is an incredible saxophonist, a winner of the Thelonious Monk International Jazz Saxophone competition, an inspiring teacher, and an all-around lovely person. Now, he is also #1 on Amazon!
Jazz Dialogues
Gordon's new book, Jazz Dialogues, published by Cymbal Press, is a collection of conversations and interviews with countless jazz luminaries across multiple generations, exploring the paths they took in becoming geniuses in their field.
Gordon didn't start out hoping to author a book. As with most things in his life, he followed his passion for music, which brought him to ArtistShare, one of the internet's first crowdfunding platforms for artists, which ending up serving as the blueprint for organizations such as KickStarter and IndieGoGo.
"When I began my ArtistShare website in late 2005-early 2006, I planned to release a series of CDs and live recordings," says Gordon, an associate professor of music in the Desautels Faculty of Music.
"Brian Camelio, who runs the company, asked about other content that I might want to add, and I thought to interview some of my friends and mentors over the years," says Gordon of the flash of inspiration that started his project.
"I didn't really think about a book at first, though I did look at putting the research towards a doctoral thesis. The couple of schools I looked at wanted me to pick a different focus – something much more granular, but less interesting to me," he says.
"Over time I decided to just continue the work, as I was passionate about it, and compiled the interviews, as well as several stories from musicians I'd met and worked with over the years."
An accomplished musician and writer
Though he is better known as a go-to musician who has performed with the likes of Aretha Franklin, Tony Bennett, Dave Brubeck, Slide Hampton, and Bruce Springsteen, Gordon is no stranger to writing.
In 2012, he released For Sue, published by Chimbarazu Press, a gorgeous memoir that paints an honest, self-reflective, and poignant portrait of his tough upbringing in Staten Island, his path into music – he lost his first saxophone when he was mugged at age 10 on his way home from school – and his mother's struggles with mental illness and addiction. For Sue was a finalist for the 2015 Indie Excellence Award.
He is also the author of Foundations for Improvisers and Further Concepts, published by Charles Colin Publications, which is a comprehensive book on technique for aspiring jazz musicians.
This time around, Gordon was more interested in telling other musicians' stories, and, in organizing Jazz Dialogues and its themes, a clear pattern emerged.
"The book starts with a conversation with the Kansas City Blues pianist, Jay McShann – most well-known for giving Charlie Parker his first major gig – about what it means to be a "Stylist", and finding your own sound and concept on your instrument and with jazz language," says Gordon.
"That process is an informal subtext to the many of the questions I asked musicians about their formative experiences." He says.
A must-read for jazz lovers
Far from a dry collection of lectures, the book is incredibly intimate, and readers will feel like they're eavesdropping on a private conversation. Jazz Dialogues also includes humorous quips and anecdotes from these musicians' lives in jazz.
"The stories that Milt Hinton told me, Jackie and Dollie MacLean, and Ben and Inez Riley, on a jazz cruise in 1991, which involved Al Capone and Jackie Gleason playing pivotal roles in his life were quite surprising!" says Gordon of one of the more salacious stories he recorded in Jazz Dialogues.
In one reminiscence, Gordon recalls the jazz cruise gig he had in 1991, where he met famed jazz musicians Jackie McLean (saxophone), Milt Hinton (double bass), and Ben Riley (drums).
"When we arrived at the airport in Miami, I saw Jackie McLean waiting at the baggage carousel and introduced myself. He couldn't have been nicer! But he told me he was a bit torn about the week, because he and his wife Dolly were 'Invited Guests' of the cruise, as opposed to being hired. So, it was a nice vacation for them, but the implication was, 'Hey, bring your horn, make the jam sessions!' Jackie told me, 'Man, I'm sixty years old. I can't be comin' out here and playin' for free! So, I didn't bring my horn, but I really miss it!'"
Gordon offered to lend McLean his own saxophone whenever he wanted to play, and, in return, McLean invited Gordon and his girlfriend to sit with them at the cruise's dinners, where Gordon ended up seated next to Milt Hinton and Ben Riley for the duration of the cruise.
Later on that same trip, Gordon and Hinton had had a conversation about Hinton's family history. Hinton's family had been part of the Great Migration in the early 20th century, in which six million African Americans moved from the southern United States – where racial segregation made it difficult for African Americans to find work – to the North and Midwest, which were marginally less racist.
In 1923, the United States was a few years into the Prohibition era, in which a constitutional ban had been placed on the production, importation, transportation, and sale of alcohol. This time period proved to be lucrative for the young Hinton, who, at 13, secured himself a job with a bootlegger, helping to transport liquor to speakeasies before school.
It was during this job that Hinton's musical life was forever changed through a series of interconnected happenings:
(a) King Oliver and Louis Armstrong playing at one of the speakeasies to which Hinton delivered
(b) a serious bootlegging accident
(c) an incidence of racism
(d) and a helpful medical intervention by Al Capone's gang of bootleggers.
You'll have to read the book to find out how Al Capone inadvertently became Hinton's musical saviour!
The full list of musicians whose stories Gordon tells in his book is as follows:
Jay McShann, Eddie Locke, Cab Calloway, Maria Schneider, Jan Garbarek, Ken Peplowski, Tim Hagans, Mark Turner, Hank Mobley, Bill Easley, Doc Cheatham, Scott Robinson, Eddie Bert, Phil Woods, Danny Bank, Billy Drummond, Ben Monder, Charles McPherson, Milt Hinton, Ben Riley, Bill Stewart, Art Blakey, Jon-Erik Kellso, Eddie Chamblee, Jimmy Lewis, Chuck Redd, Bill Charlap, McCoy Tyner, Melissa Aldana, Ronnie Mathews, Kevin Hays, Jim McNeely, Steve Wilson, Red Holloway, Barney Kessel, Joe Williams, Quincy Davis, Bob Mintzer, Dick Hyman, Lee Konitz, Leroy Jones, Renee Rosnes, David Sanborn, Gil Evans, Don Sickler, Sean Smith, Sarah Vaughn, Derrick Gardner, Sylvia Cuenca, Harold Mabern, Gene Bertoncini, Mike LeDonne, Essiet Okon Essiet, Bill Mays, and Joe Magnarelli.
A happy surprise
Shortly after Jazz Dialogues was released, Gordon's agent emailed him with some unexpected news: the book had debuted at #1 on Amazon's list of "New Jazz Releases."
"[I was] shocked, but very thankful!" exclaims Gordon.
Gordon enjoyed the experience of collecting this trove of stories and interviews, and he hopes that readers will gain as much as he did for from.
"I hope they will have a deeper appreciation for jazz, its history, and the artists that created it."
Jon Gordon's Jazz Dialogues can be found online on Amazon. You can find more information about the book at Cymbal Press. More information about Gordon's work can be found on his professional website, and also in his Desautels Faculty of Music faculty bio.