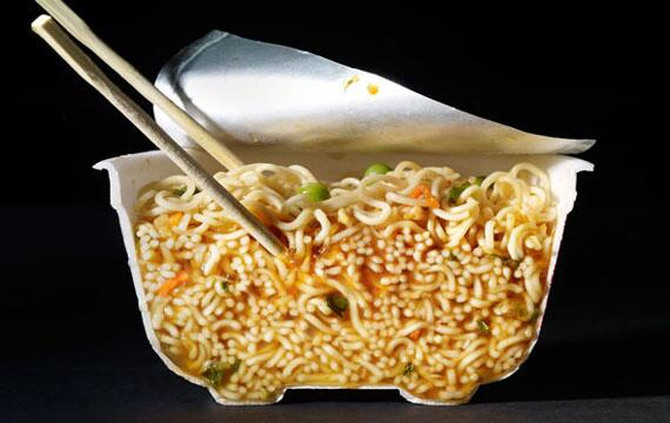 John Page's Recipe for Good Ramen Calls for a Serving of Science
The physics of ultrasound can be applied to improve noodle quality
September 2, 2016 —
John Page is a Distinguished Professor Emeritus in Physics at the University of Manitoba, but you may come to know his work at the bottom of your next bowl of noodle soup.
You may not associate the physics of ultrasound with a better bowl of noodles, but Page says, "I have been working with Martin Scanlon in the Department of Food Science for almost 20 years, taking the ultrasonic techniques that my group in physics has developed over the years to the characterization of soft food biomaterials such as dough."
"More recently, we have joined forces with Dave Hatcher at the Grain Research Lab downtown to study the mechanical properties of Asian noodles using ultrasound."
"My interest is partly fueled because these complex materials have interesting physical properties that we can investigate with ultrasound and I also enjoy the potential relevance of what we are learning for quality control during food processing."
Page says, "We focus on Asian noodles because of Canada's very significant wheat export market to Asia for noodle production."
But what can the scientific properties of ultrasound – high frequency sound waves, at frequencies around 200 kHz, above the range of human hearing – do to help a product you encounter through your sense of taste?
"The techniques that we are developing in this collaborative project use non-contact ultrasonic techniques to measure the mechanical properties of noodle dough during the sheeting process," which allows for control and optimization of the automated dough production without having to shut down the equipment to make adjustments.
"We measure the speed at which ultrasound travels through the noodle dough, as well as how much the ultrasonic signal is attenuated as it travels through."
This allows them to measure the texture of the material and look for consistency across the dough during production.
"We can also investigate if the firmness of the dough varies across the noodle sheet at a given stage in the production – such inconsistencies are bad for quality." The equipment can also measure what influence the number of times it has passed through the rollers during the sheeting process has.
"Flour type and other ingredients that are added to the dough during mixing are also quantities that influence what we can measure, and which are also important for determining noodle quality."
"The key idea is to measure these mechanical properties at early stages of the production process in order to efficiently monitor and potentially optimize production before the final product has emerged."
So next time you are slurping your ramen, see if you can taste the physics.