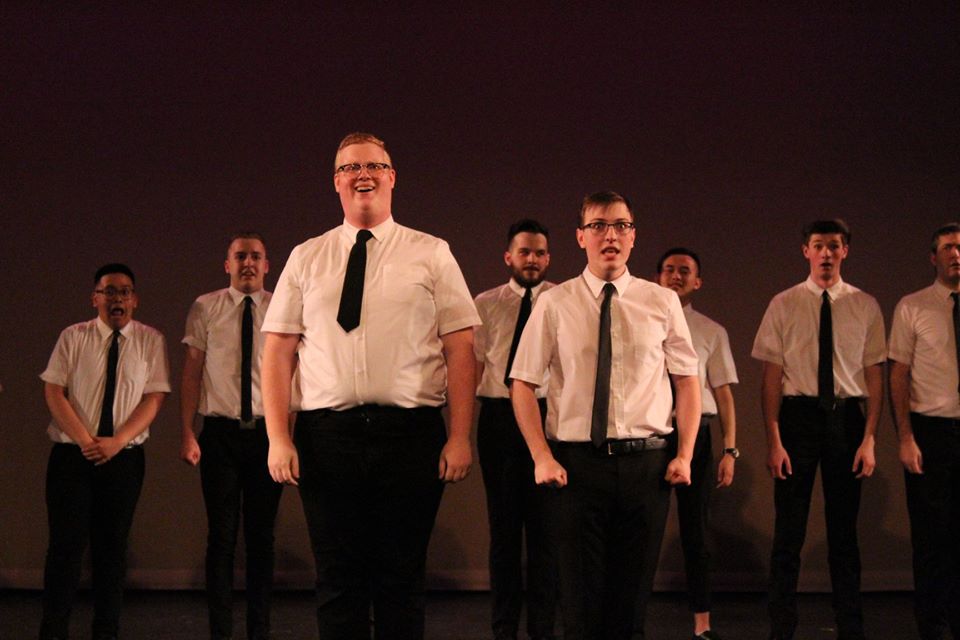 Jack Roeder is joy personified
2020 DFOM graduate Jack Roeder will be inspiring joy in the next generation of music students
June 9, 2020 —
NOTE: We in the Desautels Faculty of Music are incredibly proud of our students. While COVID-19 is sidelining in-person commencement ceremonies around the globe, we want to find alternate ways to celebrate our graduates and give them the recognition due to them. Until we can gather together to properly applaud the years of study and practice that have led to this milestone, please join us in congratulating our 2020 Desautels Faculty of Music graduates.
Today we celebrate Jack Roeder!
For Jack Roeder, the road to music was a winding one. While he began singing in choirs in elementary school, it didn't leave much of a mark, at first.
"I didn't take it seriously," he says.
It was when he began playing handbells and the recorder in grade 6 that he began to really enjoy music, the harmonies that were produced, and the community fostered by music. He then became heavily involved in music, playing trumpet in grade 7, an instrument he would continue to play throughout high school, and participated in two separate choirs from grade 9 onward. However, it wasn't until grade 11 when something about music as a career clicked in his brain.
The deciding moment
"In grade 11 I went on a governmentally sponsored trip through an organization called Encounters with Canada," he says.
"It was a week-long trip where I learned the ins and outs of different careers in the medical field. At the time I was deciding between going into medicine or music, but after that trip I realized medicine was not for me," he laughs.
Music, though, clearly was.
A leader in the faculty
Shortly after that trip, he had a successful audition for the Desautels Faculty of Music. His audition performance garnered him three scholarships: the Andrew Kuryk Memorial Scholarship, the Wilson and Day Prize, and the Margaret H. Tyler Award in Music.
Upon entry to the faculty, Roeder threw himself into ensemble work with both the University Singers and the Musical Theatre Ensemble, where he fast became an integral member of both, even serving as a leader in the University Singers.
"It has been great having Jack's skills and musicianship in the University Singers baritone section for the last few years," says Elroy Friesen, associate professor of music education, head of choirs, and director of University Singers.
"He was such a positive leader as president of the University Singers council. There were many crunch times this year where he showed his determination and really made things work," adds Friesen of the hardworking Roeder.
At the very centre of Roeder's education has been his love of collaboration and performance.
"My proudest moment as a DFOM student was after every musical theatre show," he says.
"It felt so amazing knowing that I had helped put on a great show," he adds about the ensemble's many varied performances.
His gorgeous, shining, and high-lyric Baritone voice, theatricality and expressiveness have made him a highlight of every performance. His attitude towards practice, performance, and collaboration also made him a highlight among his peers and instructors.
"Jack is one of the most generous people that I know, and having him as a student has been a privilege," says David Klassen, Roeder's major practical study instructor.
"He's musical, intelligent, and a highlight within my voice studio. He makes those around him feel appreciated and valued, including me as a teacher," adds Klassen.
Roeder's favourite pieces of music have come out of his study within University Singers.
"Les Noces by Igor Stravinsky is probably my favourite, followed by 'Song of the Cherubim' by Krzysztif Penderecki which we learned but never performed," he says.
Faculty mentors
"I've had great experiences with all the faculty members I've interacted with and they've all been very valuable to me," says Roeder of his time in the faculty.
"I would like to especially thank Jody Stark, Catherine Robbins, Elroy Friesen and David Klassen for always inspiring me to do my best to be a better educator, conductor and singer," he says of the faculty members who have guided him.
Jury
Due to the disruption caused by COVID-19, the Desautels Faculty of Music had to cancel all of its remaining events for the 2019-2020 season. In addition to final ensemble performances, about 40 student credit recitals were cancelled, including those of graduating students, whose final credit recitals serve as a sort of capstone project showcasing what they have learned throughout their studies. Music Education students perform a jury in lieu of a credit recital, and, unfortunately, Roeder's was among the cancelled.
"For my jury I would have performed 'Ô vin, dissipe la tristesse' from Amroise Thomas' Hamlet, 'The people that walked in darkness' from Handel's Messiah, 'O Mistress Mine' from Finzi's Let Us Garlands Bring, 'Verborhenheit' from Wolf's Mörike-Lieder and 'Questo amor, vergogna mia' from Puccini's Edgar," says Roeder of the repertoire he had prepared.
Music Education
Roeder's experience with music education in junior high and high school led him to pursue the music education track within the Desautels Faculty of Music, and he has now earned his Bachelor of Music in Music Education.
"This degree has been a whirlwind, but for me it was always about making music and creating joy with others," he says.
"I hope to continue that with my future friends, coworkers and students," Roeder adds.
He definitely will. This fall, he will be joining the University of Manitoba's Faculty of Education to pursue a degree in education and become a choir teacher. The gentle teacher in him already has advice for incoming DFOM students.
"Practice lots and don't be so hard on yourself," he says.
"The criticism you will receive is about making you better, not making you feel bad about where you are now."
"It has been such a pleasure to watch Jack grow in his time in the Faculty. He has contributed greatly to our community through his involvement in the FMSA and has been a thoughtful participant in class and on DFOM committees representing students," says Jody Stark, associate professor of Music Education in the Desautels Faculty of Music, and the music education area head.
"I am excited to see where Jack's path takes him as he moves on into the Faculty of Education this fall," she adds.
"Congratulations, Jack. We are proud of you and we wish you the best!" Starks says.
The Desautels Faculty of Music echoes Stark's sentiments! We are incredibly fortunate that Roeder will be a pillar in educating the next generation of musicians, and we look forward to seeing and hearing the stellar students his guidance produces! Congratulations, Jack!