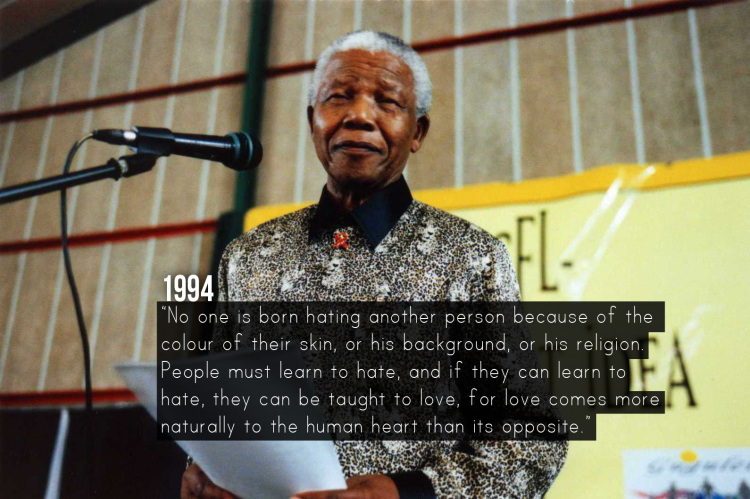 'It's about the human race' — a day for the elimination of racism
March 21, 2014 —
Today we celebrate the International Day for the Elimination of Racial Discrimination at the U of M. It's a day to encourage people to remember their obligation and determination to combat racial discrimination. We can all take this opportunity to reflect on the never-ending struggle to affirm dignity and rights of all human beings.
One related event at U of M takes place at Migizii Agamik – Bald Eagle Lodge, which houses the Aboriginal Student Centre, and features two guest speakers and opening remarks by Ovide Mercredi, senior advisor to the U of M and former National Chief of the Assembly of First
Nations. Plan to attend!
Guest speaker: ALTHEA GUIBOCHE  @ 12 Noon at Migizii Agamik
Althea Guiboche is known as the 'Bannock Lady' of Winnipeg and has delivered more than 10,000 servings of bannock and other food to the homeless. "We need to have more compassion and more understanding … to look for that selfless side within ourselves…race, religion and our differences don't matter. It's about the human race."
Guest speaker: ARVOL LOOKING HORSE @ 1 pm at Migizii Agamik — with Opening Remarks by Ovide Mercredi, senior advisor to the U of M and former National Chief of the Assembly of First Nations
Born on the Cheyenne River Reservation in South Dakota, Arvol Looking Horse was raised by his grandparents and learned the culture and spiritual ways of the Lakota. At age twelve, he was given the enormous responsibility of becoming the 19th generation Keeper of the Sacred White Buffalo Calf Pipe, the youngest in history. He decided to "work for change and let the world know how beautiful our way of life is, so the Seventh Generation can have a better life."
*This lecture series has been organized by the Respect Campaign Collective to mark the International Day for the Elimination of Racism. The RCC has been in existence since 2012 and consists of a wide range of University of Manitoba student and staff members.  The purpose of the RCC is to coordinate and share information about university initiatives addressing diversity on campus. Membership includes several student groups (Graduate Student Association, Rainbow Pride Mosaic, University of Manitoba Student Union, Womyn's Centre), university departments (Aboriginal Student Centre , Equity and Human Rights and Advisory Services, Executive Lead, Indigenous Achievement, Human Resources, International Student Centre, International Relation, Learning and Development Services, Student Affairs, Student Life, Office of International Relations), and faculty members (Arts, Peace and Conflict Studies, Social Work and University 1).
***
VISIONARY CONVERSATIONS:
"After Nelson Mandela: What have we learned?"
At a recent Visionary Conversations event that took place on March 12, the university community came together to discuss the legacy of Nelson Mandela.
Three panelists — Joy Chadya, assistant professor, department of history, Diana Brydon, professor, department of English, film and theatre and Canada Research Chair in Globalization and Cultural Studies, and Ry Moran, recently appointed director of the National Research Centre for Truth and Reconciliation at U of M — were joined by President David Barnard in a session entitled "After Mandela: What have we learned? Race and Ethnic Relations Around the World and Here at Home."
***
Joy Chadya opened the discussion with two quotes from Mandela about justice — and pointed out that his struggle in South Africa was both to ensure equality and dignity for black South Africans and to free white South Africans from fear. "Anti apartheid was a policy of fear," she emphasized. Inequalities must be addressed going forward, she continued, adding that "a new dimension to this inequality is that it is no longer just a black and white matter — but rather, it is a class issue."
What we have learned from Mandela can be summarized in a few words, she said:  "equality, justice, courage, fearlessness, humility, perseverance, compassion, empathy, the importance of fighting or negotiating for a good cause, forgiveness, openness, reconciliation, pragmatism and unity." She also included his "gift of smiling and laughter that he is known for."
***
Diana Brydon added that "how we talk about race matters," suggesting "we need to remember that racism is a system used to manage populations and to make sense of the world."
Remembering this, she said, can help us to "resist claims that locate racism in the individual or in nature alone."
Naturalizing race can also be deceiving, she said. In North America, "groups once considered 'black' are now categorized as 'white' … the Irish and the Ukrainians, for example." Too often, in this kind of racialized thinking, white is seen as the norm for 'just human,' while people from other places are categorized according to race," she pointed out.
"National community needs to be re-imagined beyond defensive reactions against others — Mandela started to show us how," she said.
Brydon: 'National community needs to be re-imagined beyond defensive reactions against others — Mandela started to show us how'

***
Ry Moran pointed out that Nelson Mandela is "perhaps best known for embracing dialogue." Mandela followed three simple rules, he continued: "Free yourself; free others; and serve every day.
"Mandela had the ability to create a space for conversation between parties of deeply divergent opinion," he continued.
"The Nelson Mandela Foundation — one of the many international supporters of the university's National Research Centre for Truth and Reconciliation — continues on in this work, stating that, 'Dialogue is at once a vital instrument for addressing critical social issues, as is the most effective vehicle for sharing memory, for growing it, and for engaging in the promotion of justice and social cohesion,'" he said.
Mandela's three simple rules: Free yourself; free others; and serve every day
Moran also asserted that "we in Canada now live in an era of reconciliation — an era that commenced with the public apology made [to former residential school students] by the federal government in 2008….
"We are a nation of recovering colonialists…. We have a TRC in this country for real and legitimate reasons … [and] the symptoms of this colonial binge remain everywhere….
In order to truly embrace Mandela's lessons, he said, "and free Canada from its colonial past, we have to be open to the truth: to the history of this country, to the reality of the lives of Aboriginal people within this country…. We have to challenge ourselves to release old myths dominant in this society and accept new traditions and new perspectives.
"If we are to embrace Mandela's teaching, we must create a new, shared history."
***
See the "Visionary Conversations: After the Conversation" page for more resources and information about the topic, "After Mandela: What have we learned? Race and Ethnic Relations Around the World and Here at Home."
>> Watch the Visionary Conversation session and Q + A with the audience: