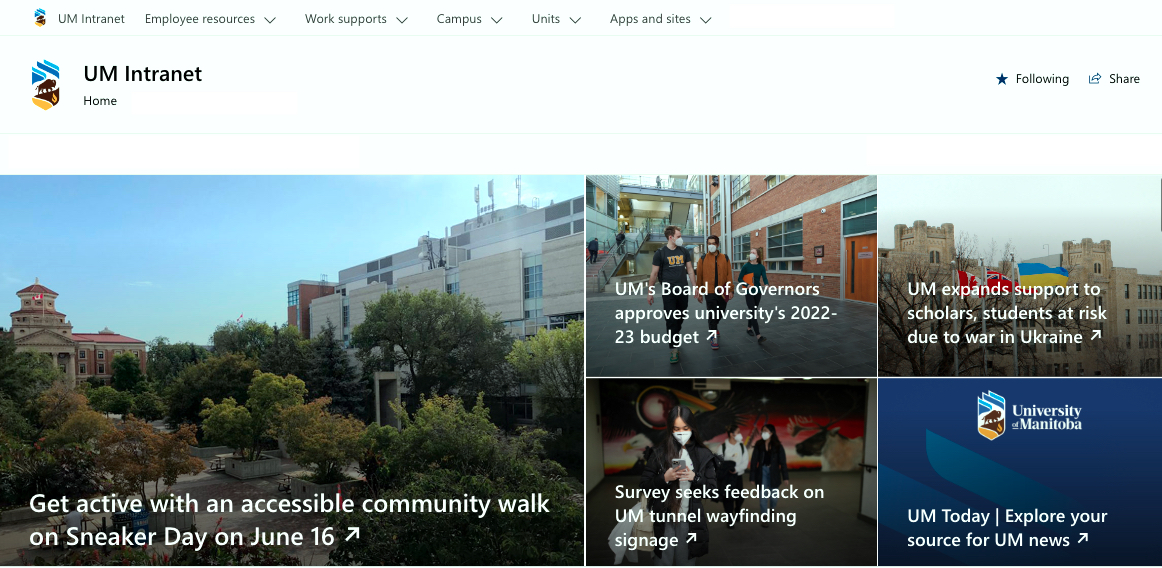 It's a wrap! UM Intranet content migration complete
Two-year-long project 'a remarkable example of sustained, university-wide collaboration'
June 14, 2022 —
One year after its launch on the SharePoint platform in May 2021, UM Intranet has become home to a wide variety of resources, forms and processes important in the daily work of UM staff and faculty.
June 30 will mark the official end of the two-year-long project. The SharePoint team that spearheaded it will disband, with the Marketing Communications Office (MCO) to coordinate the migration of any remaining content from the university's old RedDot site to the new platform.
What we've accomplished
Our secure employee website now contains a main hub and more than 80 communications sites, representing dozens of tasks, topics and university units. Nearly 200 staff have been trained as website editors and are creating robust, content-optimized pages for our broad university audience. In May 2022 alone, the UM Intranet hub received more than 68,000 visits.
The benefits are vast. Removing internal content from umanitoba.ca has streamlined our public-facing content and improved public search results. For employees, UM Intranet provides a focused, user-centred location for work and career information, which can be easily stored and shared securely.
UM Intranet is accessible to all university employees. To access, use your @umanitoba.ca email address. Learn more about accessing UM intranet in this UM Today story from May 2021.
A major project completed, thanks to comprehensive collaboration
Spanning two years and forging ahead through the challenges of COVID, the project brought together a wide range of subject matter experts with communications and core project teams, guided by a cross-campus project leadership team. Their cooperative efforts have produced an inviting and comprehensive employee resource that will continue to evolve and improve.
"The UM Intranet project has been a remarkable example of sustained, university-wide collaboration," says Mark Torchia, Vice-Provost (Teaching and Learning) and co-chair of the project.
"UM Intranet is a new and exciting shared space that's helping us to connect with each other and enhance our workplace culture," adds Darlene Smith, Associate Vice-President (Administration), Human Resources, who was the project's other co-chair.
"This digital workspace unifies our work processes on one easy, convenient and secure platform."
Find the supports you need when you need them
If you aren't best friends yet with UM Intranet, you can find a wide range of help on our support site. Remember to use your umanitoba.ca email address to access the supports below.
A platform overview describes the site's task-based navigation and organization, and its design and capabilities, including its focus on accessibility. Visit Introduction to UM Intranet.
Orientation tours are live, online sessions that help you better understand and navigate specific communications sites on UM Intranet. Watch past sessions or find any upcoming live sessions. Check UM Intranet orientation tours.
Search tips help you optimize your search on the main hub and communication sites, including how to distinguish between the two. Visit How to search on UM Intranet.
How-to documentation and videos help site owners and editors plan their site and follow best practices for building pages and sections. Visit the UM Intranet support home page for comprehensive help.
For questions about the UM Intranet project, contact Heather Saxton.
For questions related to how to evolve or structure your site, contact your Communications Officer in MCO.
For technical issues following your migration, please contact the service desk at 204-474-8600 or servicedesk [at] umanitoba [dot] ca
For more information about the RedDot retirement plan, please visit the RedDot retirement support page. You will be prompted to enter your umanitoba.ca email address and password.