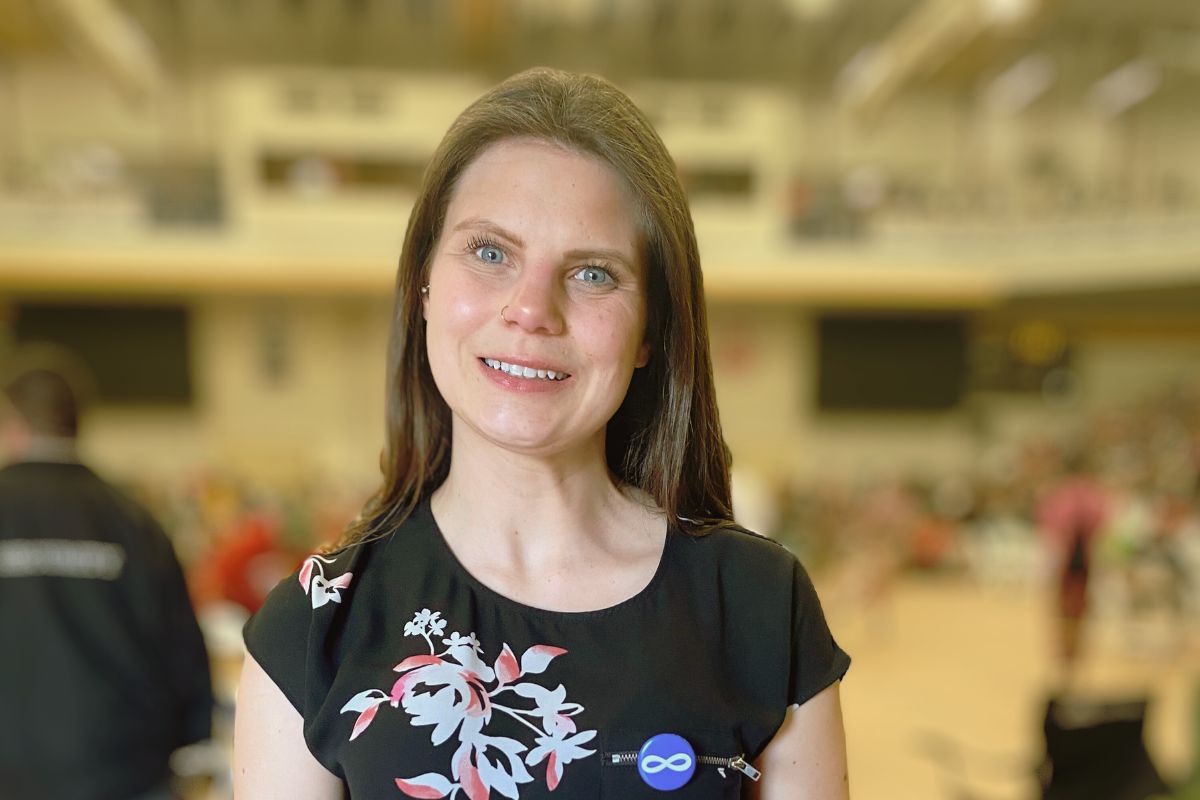 Investing in student success
Asper BComm student persists with support of Indigenous campus communities
September 5, 2023 —
"My university journey started about eight years ago when I first enrolled at UM. I had no idea what I was doing—not a clue. I just knew that I needed to go to university and get a business degree, but I struggled for years."
Nicole MacIntosh will soon graduate with a Bachelor of Commerce (BComm) degree from the Asper School of Business after these years of struggle.
MacIntosh is also a member of Indigenous Business Education Partners (IBEP) at Asper, which provides a welcoming community and services—tutoring, scholarships, networking opportunities—to First Nation, Inuit and Métis students studying commerce at Asper. IBEP also supports students who intend to pursue a degree at Asper.
It was through IBEP that MacIntosh was eventually able to enroll in the BComm program. The additional support and guidance from IBEP helped her understand and meet her degree requirements, all while connecting her to other Indigenous business students.
As she worked toward acceptance in the program, she still struggled and was eventually diagnosed with ADHD—suddenly her years of academic difficulty had an explanation.
"My whole life makes sense now," she says. "For 27 years, I was struggling and didn't know why. I hated school my entire life, but I knew it was where I needed to be. Suddenly, I had an explanation for why I felt this way, and I could access resources to address these difficulties and enjoy learning."
With these resources and a better understanding of herself, MacIntosh went to Riley Proulx [BComm(Hons)/19], IBEP program recruiter and advisor, to ask how she could improve her GPA to finally get into Asper. Proulx suggested the Blankstein Momentum Program, held at Migizii Agamik (Bald Eagle Lodge), home to the UM Indigenous Student Centre.
MacIntosh applied and quickly fell in love with the program, cherishing the biweekly meetings and workshops and feeling bolstered by the community and sense of belonging she found there.
After officially enrolling in the Asper BComm program in fall 2022, she began to feel that she could achieve more and that she had the security to engage in Asper beyond her classes.
"I realized I had a great support system, so I thought maybe this is a good time to get more involved with the Indigenous Asper community," she says. "I also felt that I needed more experience in business to develop more of that skillset."
She joined University of Manitoba Indigenous Commerce Students (UMICS) as an executive assistant and events coordinator and became a peer mentor at the Neechiwaken Indigenous Peer Mentor Program.
MacIntosh's success and persistence through her undergraduate degree had a lot to do with community. At IBEP and in the Momentum program, it was the reminder that people at UM, at Asper and within Indigenous communities across campus were invested in her success.
"At Momentum, they held me accountable—I had to care about school because I had people who wanted to hear about my classes and academic life," she says. "At IBEP, the team is there for you when you need. Sometimes that means you just want the check-in every six months or so, which is part of the membership; sometimes you reach out for more help, and they are there for you 100%.
"Meaghan [McNeill [BComm(Hons)/19], IBEP program support and engagement] would make me a coffee if I asked and gave me a notebook once when I realized right before class that I'd forgotten mine. They are a safety net. They're there for us."
Today, MacIntosh works for the Government of Canada and hopes to advocate for Indigenous communities and pursue work that helps others in the future. She always knew that education was important to her—that it was something she wanted and something she was willing to work for. The resources she accessed and the communities at Asper and UM that welcomed her provided her with what she needed to be resilient, work hard and succeed.
Investing in student success involves resources, workshops, tutoring, funding opportunities and the like. But often the first step is creating communities where students know that there are other people who see their potential and their struggles and truly care about their success.