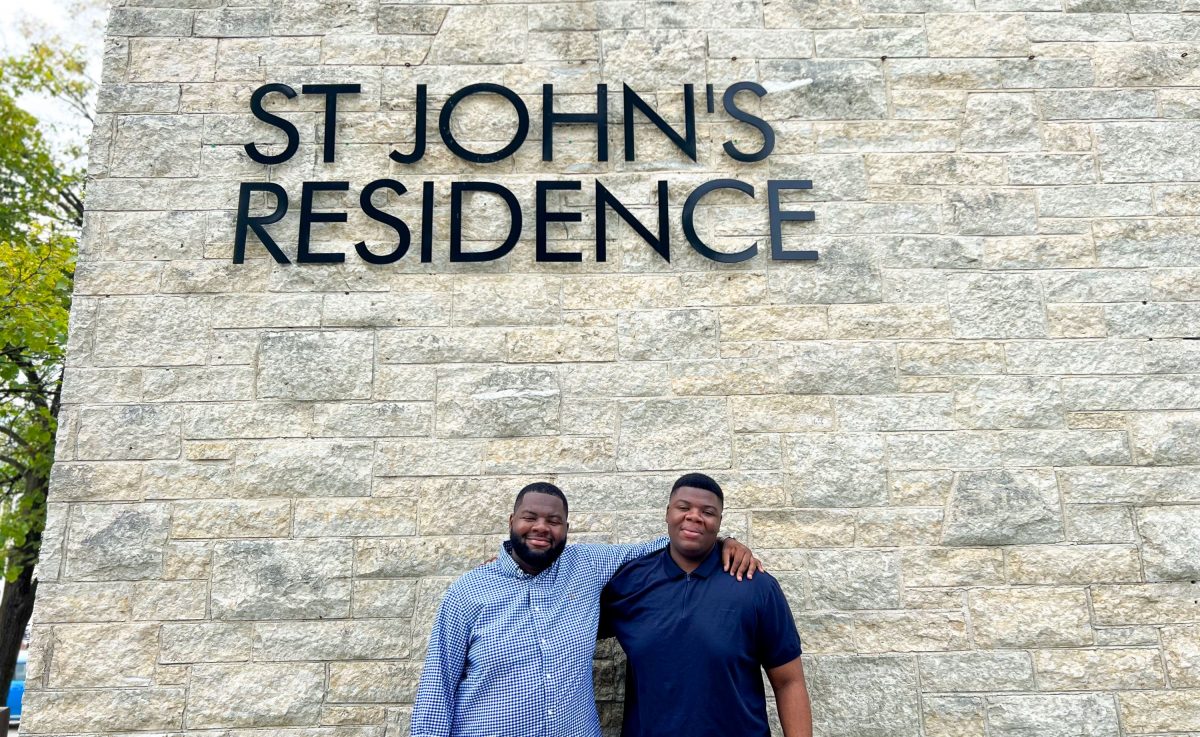 International students find their home away from home
Resident life becomes more than just a place to stay for these international students.
August 23, 2023 —
From South Africa to Asia, our residence students come from all over the world as they call St John's College home when studying as University of Manitoba students. Whether they are studying to become nurses, economists, engineers, or other professionals, the small size of St John's Residence (at only 100 beds) fosters a tight-knit community that caters to residents making lasting friendships and residence becoming not simply a place to live but a home away from home.
We recently spoke with Tawana, who has lived at St John's since 2019, serving as a Senior Don (RA) since Fall 2022. She moved from Zimbabwe to study psychology and learned about the residence through people from her program. In our conversation, Tawana recounted how from the moment she walked into the residence for the first time, she knew it felt like home. Tawana is one of several students who lived at St John's during the ups and downs of the pandemic: navigating virtual classes, quarantines, and lockdown restrictions, and helping keep fellow residents safe as part of her role as Senior Don, all the while building close friendships that will last a lifetime.
Brothers Bryan and Neil have likewise lived at St John's through the pandemic, with Bryan having called St John's College home for the past three years and Neil joining him in Winnipeg in January 2022. Coming from a small Ghanaian community, these two weren't sure what to expect when they moved to Canada; however, it didn't take long for both to jump headfirst into College culture by attending sporting events, getting involved in Residence and Student Councils, applying for scholarships and bursaries, volunteering to enhance their professional development, and enjoying delicious food.
As residence Council Co-Presidents for 2023-2024, both Bryan and Neil are excited for the opportunity to put their own mark on this year's St John's Residence experience through organizing residence banquets and other social and community-building events and experiences.  
Speaking of delicious food and events, here are a variety of benefits residence students get as part of life at St John's:
Our comprehensive all-you-care-to-eat meal plan offering 19 meals per week.

Access to residence common rooms including our recently refreshed TV lounge and games room.

Access to scholarships and bursaries available only to College members. Last year St John's gave out nearly $200,000 in awards.

Opportunities to help shape residence life by getting involved with the residence council. 

Academic support, including advisory help and access to a dedicated residence study lounge.   

24-hour access to the College campus, including after-hours access to classrooms and meeting rooms for studying or working on group projects.  

Spiritual and wellness support through the College Chaplain and Spiritual Advisor, including quiet reflective/prayer space in the College chapel. 

24/7/365 interpersonal support and referral from a committed team of Dons.  
If you are looking for a place to call home as you study at the University of Manitoba, consider St John's College. From residence to getting involved with student council, scholarship opportunities, and delicious food, it's a place for everyone on campus!   
APPLY BELOW
2023 Application for residence accommodation at St John's College | St John's College | University of Manitoba (umanitoba.ca)