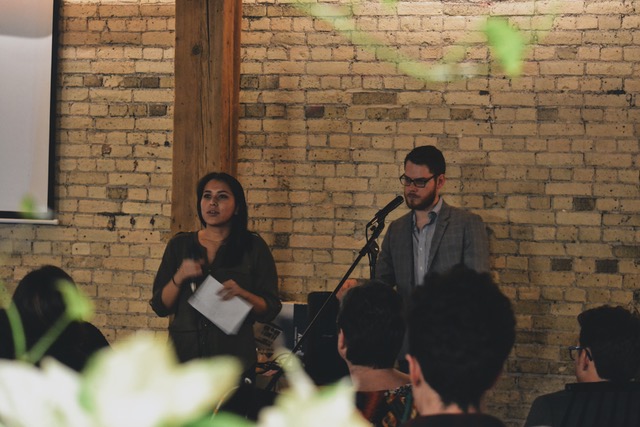 Integrating Indigenous stories into the classroom
December 6, 2017 —
University of Manitoba alumnus Andrew George [B.Ed./17] will be the first to tell you that growing up, he wasn't as connected to his Indigenous roots as he would've liked to have been. But now – as a teacher in Steinbach – he's not only rooted in his culture, he's also sharing ways to integrate Indigenous stories into curriculum.
"I was curious as a kid [about Indigenous culture] and I think being non-status and being visibly white, I kind of started to want to figure out who I was a little bit more," he says.
When George was a student at the U of M, he started to become more involved within the Indigenous community, while also producing films that explored Indigenous topics in Canada.
"I got into it [Indigenous culture] kind of on the political side and legal side with land claims," he says.
"That peaked my interest. Why I couldn't get a status card, and things like that. That was the first thing I did, and it was kind of important that way to grow as a person in terms of being Indigenous, and understanding a bit more about myself."
In 2015 he was asked to create tutorial videos for Manitobah Mukluks, an Indigenous-owned footwear company that was co-founded by U of M Indigenous alumna Heather McCormick.
"As an Indigenous person, I didn't know why moccasins were culturally important. I knew that they were, but I didn't really have an answer for that," George says. "It was kind of one of the first times in my life that I had explored my own culture.
And with that, the idea for Moccasin Stories – a documentary illustrating the power of Indigenous cultures – was born.
George partnered with Charlene Moore, a fellow filmmaker currently studying in the Indigenous governance masters program at the University of Winnipeg. With the rest of their team, they interviewed over two dozen people from Manitoba, including Elders, as well as individuals who make and sell moccasins out of their houses.
"There's not a document out there saying why moccasins are culturally significant. And everyone kind of has a different take on why they are, from professors, to Elders, to people who got into it later on in their lives. We learned a lot from all of them," says George.
"What we did with the documentary was we took all of those, we took the common themes, and we shared everyone's stories."
Some of the themes discussed were patience, healing, as well as creation – the latter of which was emphasized by Niigaan Sinclair, an associate professor in the department of Native studies at the U of M.
"Within the moccasin is a story about life, and a story that can be dated back all the way to the beginning of time," says Sinclair.
"Moccasins are about an inherent relationship that you share with the world around you. You're literally connected to the world around you via it. And so, to understand moccasins is not just to understand a physical, textual object, but is also to understand a method for life."
After compiling and producing all of their findings, George, Moore and the production team presented their piece to Bell MTS's Stories From Home – a collection of original, made-in-Manitoba programming available to Bell MTS customers. It was accepted on a six-month window, and was also made available for customers to view on demand after that.
George's hope for the project is that it will become more than a film
"When you talk about moccasins, you can talk about making something, so you can. bring that into the classroom," George says.
"Or you can talk about the teachings, and getting to know your classmates better. You can start by talking about a student's journey in your classroom, and some different activities and things you can do that way."
"I want to help foster and create a community that takes on a life of its own, with our project merely being a member of something much bigger."