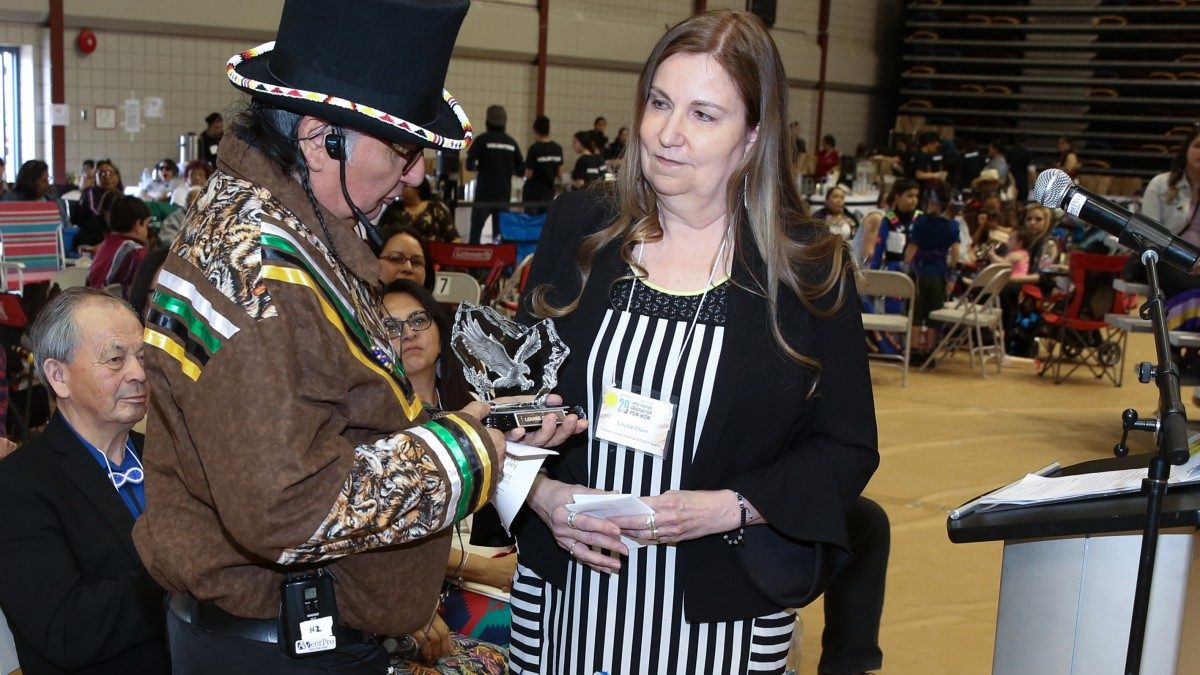 Instructor Louise Olson Honoured at Graduation Pow Wow
May 8, 2018 —
Louise Olson's first exposure to teaching was rather unique, but it's sent her along a path from which she hasn't looked back.
In the late 70s, she was offered a position with the provincial government teaching and working with a small group of Indigenous boys between the ages of 16 and 17, who were on parole during the summer. Their schools had agreed to let them work on a course, which is where Olson lent her expertise.
"We worked with them over the summer months to complete one of their courses from school, and also on life skills. We had a lot of fun," Olson says.
"The first night, we went with them to the Red River Exhibition, and I remember being in the seat of the Ferris wheel with two of the boys, and the Ferris wheel got stuck! But that really got my interest [in teaching]."
That initial interest led to a lifetime of teaching and eventually, recognition at this year's Graduation Pow Wow, where Olson was honoured with the Migizii Award for her decades of service. The award is given to a University of Manitoba faculty or staff member who has gone above and beyond to make a significant impact on Indigenous students.
After her first teaching position, Olson went on to complete an English literature degree from the University of Winnipeg, and then headed to Western University to finish her next two degrees. While in grad school, she taught as part of her degree requirement, which reaffirmed how much she loved to "share the exquisiteness of language" with others.
After spending time in Toronto as a vocal music teacher – and Calgary as a language arts, music and French teacher – she eventually returned to Winnipeg, as her eldest child was starting grade one and she wanted to be close to family. Upon returning home, she worked a variety of teaching jobs and government-funded projects to support her three kids.
In 1998, while Olson was working on these short-term projects, she received an offer from the U of M to work for its Access program.
Hired partly to work on a book with a colleague and partly to work with students on writing, Olson also used her experience in program development to set up writing programs.
While she only intended to work there for a few years before returning to government-funded projects and classroom teaching, she's still here and loving it – 20 years later.
"I'd never attended U of M myself, and I've just enjoyed it so much," she says. "I've enjoyed the students in particular so much, and I just stayed. I've just been very grateful for the opportunity to teach here."
Olson has worn many hats during her time with the Access program, but particularly special memories include working with students in the Aboriginal Focus Programs' Transition Year Program, flying back and forth to teach at Nelson House (Nisichawayasihk Cree Nation), and most recently, creating and teaching an Indigenous Canadian Literature course.
Regardless of role, Olson has never forgotten the impact the students have had on her, and vice-versa.
"Working with the Access and Aboriginal Focus Programs for the past 20 years is not just about classroom teaching. It is also about sharing lives and supporting one another through joys and triumphs as well as loss and despair," she says. "Access also means truly knowing your students, their families, their histories and their goals, sharing so much laughter and so many tears."
It's that passion for her job and support for her students that led Ashley Harris [BA/18] to nominate Olson for this year's Migizii Award.
"When I started university in September 2014, Louise was always one of my biggest supporters," Harris says. "She has always made time to meet with me, ask how I am doing and provide her services whenever I needed support."
And Olson remains grateful for students like Harris who have enriched her life in so many ways.
"I'm especially grateful to the generations of kind, determined students who have welcomed me into their lives and taught me so much about the power of love, respect, courage, honesty, wisdom, humility and truth," she says.
"It's been an honour and a privilege."