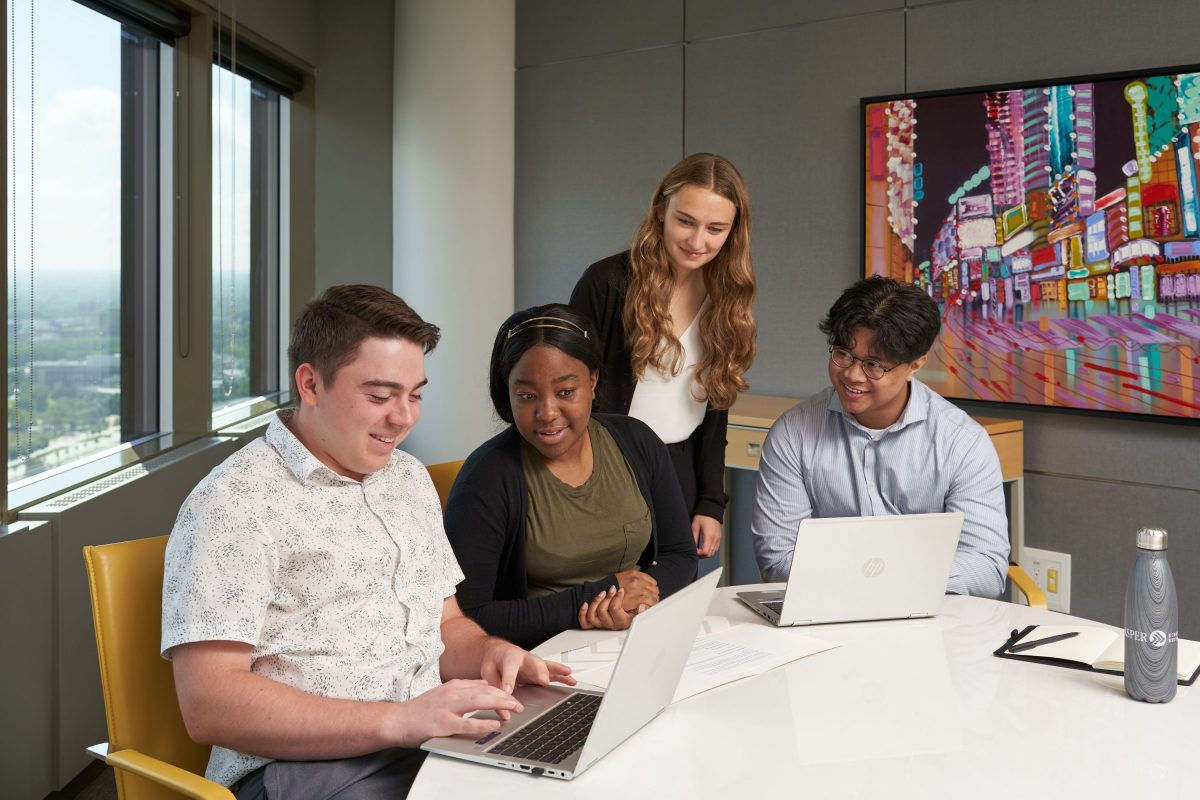 Asper Co-op program receives international recognition for sustainability initiative
One of only 25 schools globally to be recognized
April 17, 2023 —
The Asper School of Business has received recognition as a business school of tomorrow from the Association to Advance Collegiate Schools of Business AACSB International, the world's largest business education alliance.
This year, Asper is among 25 business schools highlighted in AACSB's Innovations That Inspire member spotlight program. Since 2016, out of 214 schools recognized around the world, only 10 other Canadian schools have received this honour.
"We are incredibly proud of this recognition from AACSB. At Asper, we pride ourselves on revolutionizing business education through innovative experiential learning opportunities," says Dr. Bruno Silvestre, Dean of the Asper School of Business. "This achievement highlights the impact of our Co-op program and Career Development Centre and reflects our commitment to training socially minded, active and ethical leaders of tomorrow."
In 2021 the Asper Career Development Centre (CDC) launched an initiative to incorporate the UN Sustainable Development Goals (SDGs) into their Co-op curriculum.
Co-op students learn about, set learning objectives related to, reflect on, and take action to advance the UN SDGs, as part of the program's for-credit course. They are coached to engage with colleagues and leaders about their organization's sustainability practices and policies to identify where they can make an impact.
When attending a conference in 2021, former Asper Co-op Coordinator Holly Klann, now the Experiential Learning & Co-op Education Coordinator at the Faculty of Agricultural and Food Sciences, connected with the University of Waterloo's Director of International Strategic Initiatives, Shabnam Ivkovic. In their discussion, Klann learned about how Ivkovic had focused a student's international co-op placement around the UN SDG goal of clean water and sanitation.
Klann admired how this approach to work-integrated learning offered both a unique career development opportunity and an avenue to create positive social impact, something she knew would appeal to students.
"Many students voiced to me that they wanted to make a positive change in their career, but they felt they couldn't do so in large, corporate organizations. I wanted to show students that no matter where they work, they can make an impact," says Klann.
Klann recalls students leading change in various organizations from improving webpage accessibility for the visually impaired, to encouraging everyday changes in culture to prioritize employees' mental health.
2022 Asper Co-op Student of the Year Jacinda Flores even received recognition for her implementation of a recycling program in her co-op term at Wawanesa Insurance.
"The incorporation of the SDGs into my learning objectives gave me a new perspective. It allowed me to connect my values and my passion for sustainability with my role in the workplace. It pushed me to take the first step and take action, which was as simple as having conversations with people about these topics," says Flores.
Flores says her initiative even caught the attention of a Wawanesa executive.
"That was very rewarding; it bolstered my desire to bring my authentic self to work every day, and when we do that, change happens."
For Flores, the program helped her set goals not as an ideal candidate, but as an ideal version of herself.
Sean MacDonald, an instructor in the Department of Business Administration at Asper and faculty advisor for the Co-op Program, has seen this impact in the for-credit course that Co-op students complete, reflecting on how this initiative helped students set more engaging goals for their learning.
"We recognized that the goals students had been setting were, at times, usable, but not inspiring. This initiative changed that; it has pumped life into the program and energized it in a very meaningful way."
With the support of the Asper CDC and faculty, Klann created a program that emphasized taking action at every stage of professional development. Students don't have to wait until they are mid-career or in senior roles to advance the SDGs—they can find ways to do so in their very first work placements.
They can even create change that flourishes well beyond their work term.
"Part of implementing this initiative was to help students learn how they could engage with their colleagues in a positive way, to influence their environment in small ways," says Klann. "Even if you can't make a complete change in four months, you can leave an idea behind."
This sentiment rings true for Klann, who has made her mark at Asper and is now building a strong co-op program in UM's Faculty of Agricultural and Food Sciences.
Kelly Mahoney, Director of the Asper CDC is quick to credit Klann's role in this achievement while noting the team's enthusiasm in sustaining the project after Klann's departure.
"As a team, we embrace the integration of EDI perspectives, and these are part of the SDGs. When Holly brought the idea forward, there was support from both the career development and academic sides of co-op," says Mahoney.
"The reflection that Co-op students do as part of their learning objectives and work-term report becomes quite powerful. It is a way for them to make informed decisions about their career pathways—identifying their values and motivations and learning who they want to work for and what they want to build their career into. This award is an excellent recognition of that innovative practice. "
Incorporating the SDGs into the Co-op curriculum aligns with UM's commitment to sustainability, and with Asper's mission, strategic priorities, and core values.
More importantly, it creates an experiential learning opportunity for students to live out those values, and a way for students to make their first commitment to sustainability as a career-long habit.