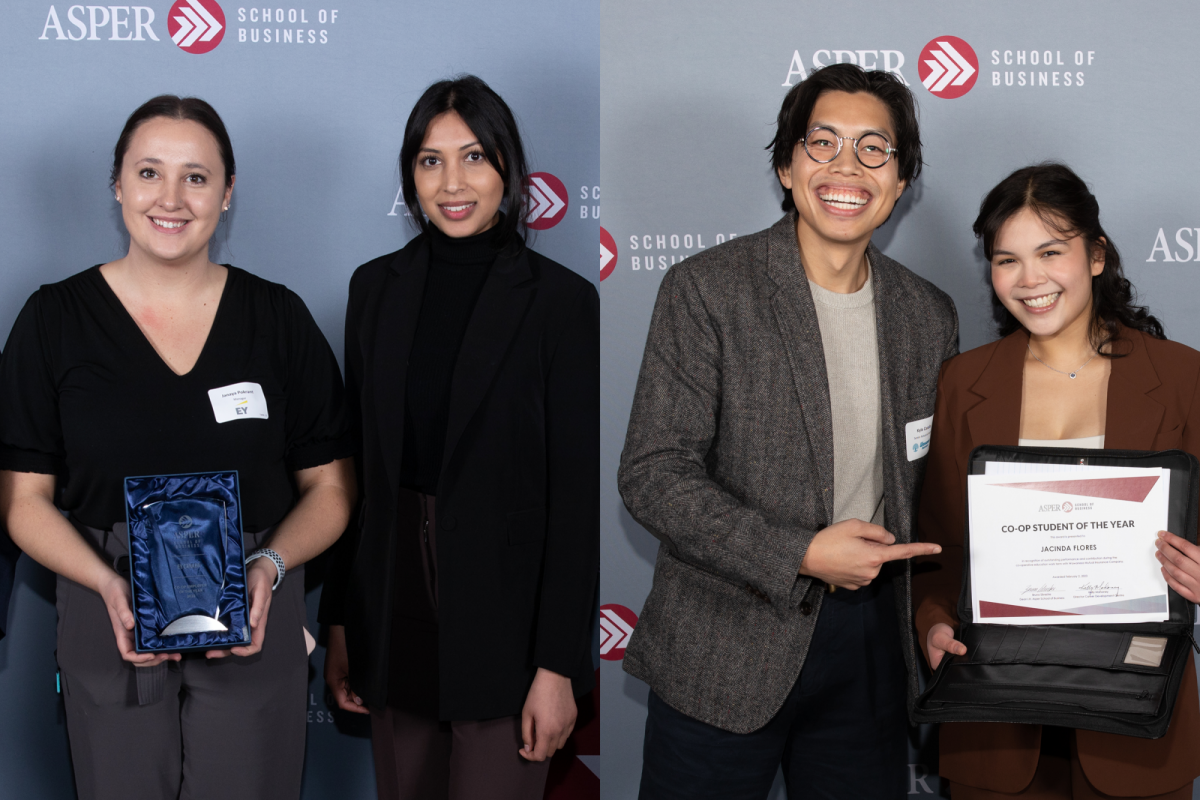 Reconnecting at 2022 Celebrating Co-op Awards
Asper School of Business 2022 Co-op Student of the Year and Employer of the Year announced
February 3, 2023 —
On February 2, the 2022 Celebrating Co-op Awards welcomed over 300 co-op students and employers to mark another successful year of co-op education. This annual event is sponsored by The Associates and highlights the business community's dedication to educating Manitoba's future workforce.
Proudly accredited by CEWIL Canada, the I. H. Asper School of Business Co-op Program is one of the largest co-op programs at the University of Manitoba. This experiential learning program provides students with skills and knowledge that set them apart in the workforce. Asper's 2021 Employment Report notes that 99% of co-op students find full-time employment within three months of graduation. The program also builds lasting relationships between students and employers: on average 80% of Asper Bachelor of Commerce (BComm) Co-op students go on to work for their co-op employers after graduation.
This year's ceremony is the first to welcome co-op students from the Master's Co-op Program, which launched in 2022. Stu Clark Graduate School students from the Master of Business Administration (MBA) and Master of Finance (MFin) programs are furthering their professional development and connecting with employers through co-op education and will soon be joined by students in the Master of Supply Chain Management and Logistics (MSCM) program. Beginning last summer with one MBA co-op student placement, the program grew to place 14 MBA and MFin students last fall and will welcome its first cohort of MSCM students in Summer 2023.
Above all, the program is committed to connecting talented Asper Co-op students and employers in Manitoba, Canada and around the world. The 2022 Celebrating Co-op Awards is an opportunity to renew this commitment and honour these connections.
2022 Student of the Year: Jacinda Flores
Congratulations to Jacinda Flores, an Actuarial Mathematics major who was nominated by her co-op employer, Wawanesa Mutual Insurance Company.
As an actuarial intern on the Actuarial Pricing team, Flores exceeded expectations in her primary duties. Using actuarial pricing software and market quote data, she developed new reporting methodologies for measuring changes relevant to Wawanesa homeowner product in Western Canada.
Beyond excelling in her primary tasks, Flores stood out with her proactive approach on the team and within the company.
"Jacinda set herself apart from her fellow interns and co-op students with her willingness to take on responsibilities and initiatives beyond the scope of her internship to support causes that were important to her and causes that aligned with Wawanesa's values," said Senior Actuarial Analyst Kyle Casalla [BComm(Hons)/18] and Manager Felix Chan.
Flores created a recycling program at the office for used office supplies and small electronics. She also aimed to advance equity, diversity and inclusion at Wawanesa by researching equitable recruitment and onboarding practices for the actuarial teams.
Her achievement also highlights the success of the co-op program and its legacy. Casalla, who supported her nomination, is a former co-op student himself. For Casalla and Chan, Flores' initiative demonstrates the high standard of the co-op program and the contributions of Asper Co-op students.
"She has truly gone above and beyond what is expected and exemplifies the types of contributions that co-op students should strive to make at any organization they have the opportunity to work for."
2022 Employer of the Year: EY
EY, one of the top accounting firms in the world, received the 2022 Employer of the Year award for their commitment to experiential education and to supporting their co-op students. EY hosted 13 student placements this year as part of the Asper Co-op program.
Asper Co-op student Keshav Kaushal completed all three work terms at EY as a CPA Staff Accountant and nominated EY to recognize their mentorship. Kaushal recounts the support, patience and positive feedback that was offered on new assignments. He also describes how mentorship at EY operated across all levels of the organization.
"Everyone at EY has acted as a mentor towards me in different capacities. From partners to seniors, all individuals provided me with quality advice about client files, audits, the CPA program and how to handle work and life simultaneously."
Kaushal also highlighted EY's involvement in the business community and dedication to business education.
"EY is very committed to the students at the Asper School of Business, the co-op program office, the community as a whole and the co-op students at a personal level," said Kaushal. "They take care of their co-op students and go above and beyond for them as they did for me."
EY's support of Kaushal and co-op students reflects the purpose of the co-op program. Kaushal, describing the impact of his experience as co-op student at EY, said, "I have been a confident student, but they helped me become a confident accountant."
In helping participants to imagine this transition, from student to professional or from student to mentor, the co-op program enriches the Asper experience. The Celebrating Co-op 2022 Awards marks a fitting conclusion to another year of co-op success.
Summer recruitment for 2023 Co-op Program begins soon! Visit the program webpage to apply before the deadline on February 15, 2023.