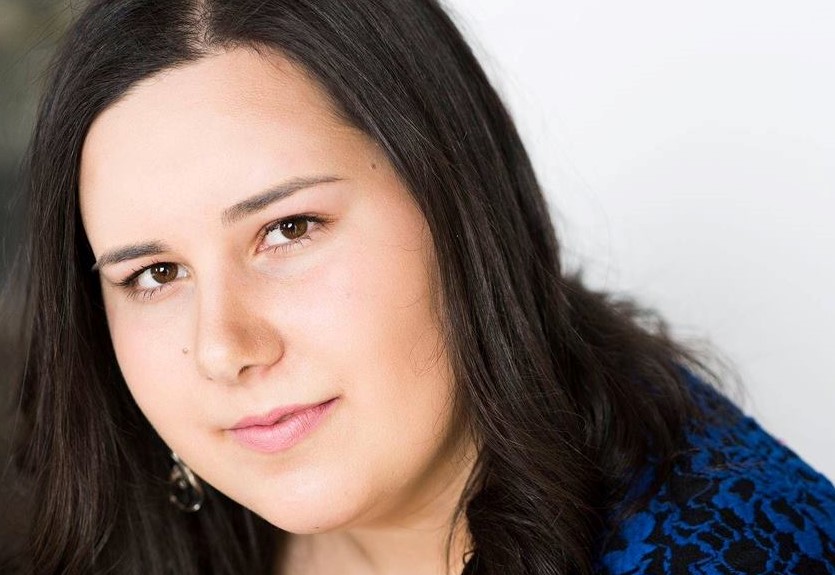 Indra Egan is Unshakeable
Indra Egan uses her music to raise awareness about living with epilepsy
February 6, 2020 —
You would be hard-pressed to find a person in the Desautels Faculty of Music who doesn't know and love Indra Egan. She has an infectious smile, an irrepressible spirit, and a love of musical collaboration. It's hard not to be moved by Indra's inspired and emotive performance of piano, and the warmth she brings to every room. However, the positivity that Indra exudes belies a painful and sometimes frightening reality in her life.
The first time I met Indra, I was new to the Desautels Faculty of Music, and was sitting in on a song interpretation class in order to better understand how music is taught. Indra walked into the classroom, and within seconds, experienced a grand mal seizure.
As she hit the wall, I grabbed her and lowered her to the floor. Several students in the class stepped in to put a jacket under her head and move objects out of her way, and calmly explained to me how best to help Indra in these sorts of situations. Desautels voice instructor Mel Braun moved the class to the vacant room next door to give Indra privacy and quiet as she recovered.
These moments have become a part of Indra's routine day-to-day life.
Living with epilepsy
"I was diagnosed with epilepsy at age 11, and the frequency and intensity of my drug-resistant seizures drastically increased during the second year of my degree," Indra says.
She now experiences a tonic-clonic (grand mal) seizure roughly every one to two weeks. Medical intervention has not controlled Indra's seizures, and exploratory testing at Canada's premiere epilepsy clinic in fall 2019 revealed she was not a candidate for corrective epilepsy brain surgery.
That said, Indra was determined to complete her undergraduate degree in Piano Performance, and did so in 2019, before immediately moving on to study for a Post-Baccalaureate Diploma in Jazz Piano in the fall of 2019. She is currently auditioning for Masters in Collaborative Piano programs in Toronto and Montreal. "All I can do now is continue to work on moving forward and not letting my epilepsy stop me from becoming the person I want to be," she added.
Moving forward
Despite the hurdles life has thrown at her, Indra remains undeterred. She is optimistic about the future, and radiates warmth and friendship.
"Indra is a phenomenally talented, rare person," says Laura Loewen, an associate professor of collaborative piano in the Desautels Faculty of Music.
"She has this light in her, and the colours she can create with music are amazing," she adds.
"She has this strong vision of what it means to live and make music, and how to collaborate," says Loewen.
Indra also has a self-deprecating wit that refuses to let people feel sorry for her. The Instagram channel she made to follow her potential surgery journey was @Indracranial, where she posted epilepsy surgery-inspired memes and "Indracranial One-Liners" like these:
"Are you quick to pass judgement? … Because we're going to need you to keep an open mind."
Or:
"Is your skull a Baroque opera? …Cuz we're gonna have to make some cuts."
Indra says she received comments from people living with epilepsy across the world who loved her humour about her situation. One Missouri commenter, who decided to look up seizure memes after she woke up in the emergency room after another seizure, told her: "I swear I was sitting there laughing for so long. It really made me feel better."
That's what Indra does for people. She makes them feel better, and helps them laugh at the darker parts of life.
So why not shine a light on epilepsy? Why not open up a conversation about invisible illness? Why not put on a concert?
An epilepsy awareness concert

"I hesitated to produce an epilepsy awareness concert earlier in my degree out of concern for the stigma I might be exposed to in making my chronic illness public," says Indra.
"Last year, I realized that the first step toward eliminating that stigma for myself and others was hosting public events such as this concert, and that as a pianist with epilepsy, I was uniquely positioned to advocate and raise awareness for this cause through music," she continues. "So I produced the first epilepsy awareness midday concert at the Desautels Faculty of Music: 'Seize the Day.'"
The Desautels Faculty of Music is an incredibly tight-knit family of musicians who support and lift each other up, and when Indra asked members of the faculty if they would be willing to take part in an epilepsy awareness concert, she received an overwhelming response, so much so that she was inspired to organize another concert supporting the same cause.
Indra's free concert, which celebrated International Epilepsy Day, aims to increase awareness about epilepsy and the people who live with it.
"Over 50 million globally have epilepsy, and because of the stigma, people are often reluctant to acknowledge they have epilepsy or seek treatment for it, so it's estimated that the prevalence of epilepsy is actually much higher," explains Indra.
"It's crazy to think about, but in many first-world countries, until the 1970's, it was legal to prohibit or annul marriages on the grounds of epilepsy and deny people with seizures entry to public places," she says.
"That is far too recent. We've come a long way since then, but I want to open up discussions that will pave the way for future U of M students living with epilepsy, so that they feel much more comfortable than I did in sharing their condition with their colleagues and seeking help to achieve their academic goals while living with seizures. Stigma is rooted in fear and lack of information – I hope that by talking about epilepsy, raising awareness, and accepting that seizures are scary, we can erase discriminatory mentalities and, in doing so, improve the quality of life for all those living with epilepsy," Indra says.
The Power of Music
A total of thirty music students, alumni, and faculty members accepted Indra's invitation to collaborate in this year's concert, which was performed on Friday, February 7, 2020, at 12:30pm in the University of Manitoba's Eva Clare Hall (65 Dafoe Road).
Desautels Faculty of Music voice instructor Tracy Dahl, a world-renowned coloratura soprano, gave a guest performance, with Indra performing alongside her on piano.
"Tracy has inspired me ever since I heard her sing at a U of M faculty concert during the first year of my bachelor's," Indra shared before the concert. "I've learned so much from her while collaborating with singers in her lessons and masterclasses, and she has been so supportive throughout my health journey and musical endeavours. I'm honoured to be making music with her!"
The complete list of performers included: Andrew Purdy, Cole Hennigar, Elena Howard-Scott, Erica Wiebe, Erika Olson, Eugene Salvador, Fred Warner, Indra Egan, Jack Roeder, Jacqueline Dawson, Jane Petroff, Josh Bellan, Josh Bonneteau, Joshua Dyck, Joyce German, Julia Davis, Kacy Tkachuk, Keely McPeek, Lukas Schmidt, Megan Dufrat, Miguel Carlos, Nada Hajin, Novo Vuksanovic, Paul Forget, Pierre Todary, Rose Sanders, Sam Ripat, Sven Buller, Tracy Dahl, Wes Rambo, and Zachary Rushing.
The concert was an eclectic one, with performances ranging from opera to jazz, from classical to musical theatre. In her typically quick-witted, tongue-in-cheek style, Indra chose to name her epilepsy awareness concert "Seize the Day, the Sequel: Unshakeable." While the performers came from all areas of music, they were united by their love for Indra and support for her cause.
Indra continues to wait for the advances in neurology that will help her control the symptoms of her chronic illness, but she refuses to put her life on pause or recess into the shadows. She puts herself out on stage, in the spotlight, and shows us all what is possible when we stand up for what we believe in, reach out to help others, and refuse to back down. We in the Desautels Faculty of Music will always be the first to give her a standing ovation for all that she continues to accomplish every day.