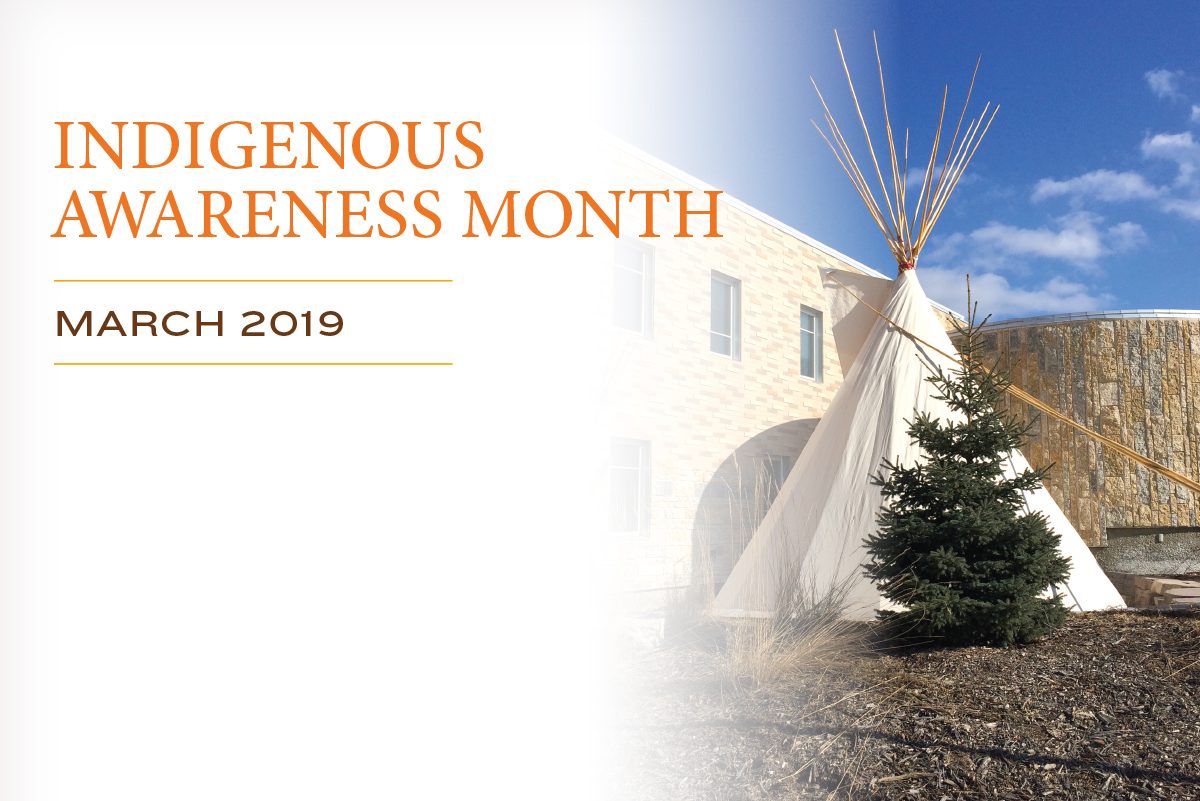 Indigenous students, staff and faculty invite U of M community to participate in Indigenous Awareness Month
March 4, 2019 —
Indigenous Awareness Month is back this March, offering everything from language lessons to a conference on Indigenous knowledge and research to cultural events and celebrations.
The month kicks off with a workshop on lateral kindness, which offers participants tools to combat lateral violence and nurture a softening and creation of kindness in groups that they are involved in. On March 4, a panel discussion will explore the significance of territorial and land acknowledgements and what kind of actions can support them. March 6 features the Marjorie Ward Lecture with award-winning author Katherena Vermette.
"I'd like to acknowledge the Indigenous community members on campus who have organized all of the learning opportunities and celebrations taking place throughout the month," says Ruth Shead, coordinator of Indigenous Achievement in the Office of Indigenous Engagement. "And, I want to invite every single person who is part of the U of M to join us.
Learning about Indigenous peoples' diverse experiences and perspectives, getting to know us, and building relationships with us is one step in walking with us as we continue to confront anti-Indigenous racism and the systemic barriers that exist in institutional settings and society in general."
One opportunity to learn how other organizations are building respectful relationships with Indigenous peoples will be at the video screening of Overdue Diligence: Business & Reconciliation.
Hosted by the Indigenous Business Education Partners (IBEP) in the Asper School of Business, this event will feature Winnipeg leaders who are currently responding to the Truth and Reconciliation Commission of Canada's Call to Action 92, which calls on the corporate sector to provide education for management and staff on the history of Indigenous peoples and to adopt the United Nations Declaration on the Rights of Indigenous Peoples as a reconciliation framework.
"We hope participants will walk away understanding the importance and urgency to implement Call to Action 92," says Katherine Davis, the student engagement and program support coordinator for IBEP.
What: Indigenous Awareness Month
When: March 1-29
Where: Various locations, visit umanitoba.ca/indigenous for event information and join the conversation with #umindigenous
A number of events have also been planned for the Bannatyne campus, including a presentation on Traditional Healing for Indigenous Patients with Dr. Marlyn Cook; stand-up comedy with Florence Spence; and a youth-led, culture-based harm reduction workshop.
Celebrations include an event honouring recipients of the Indigenous Awards of Excellence, as well as the Engineering Access Program (ENGAP) graduation.
While the second year of Indigenous Awareness Month offers many new opportunities, regular programming such as the Pow Wow Practice Group, Fireside Chats, Native Studies Colloquium Series and Indigenous Scholars Speaker Series will maintain their regular schedules throughout the month.
To keep up-to-date with various events on campus, please follow our events calendar, like our Facebook page and follow us on Instagram. We invite you to share your Indigenous Awareness Month experiences using the hashtag #umindigenous!