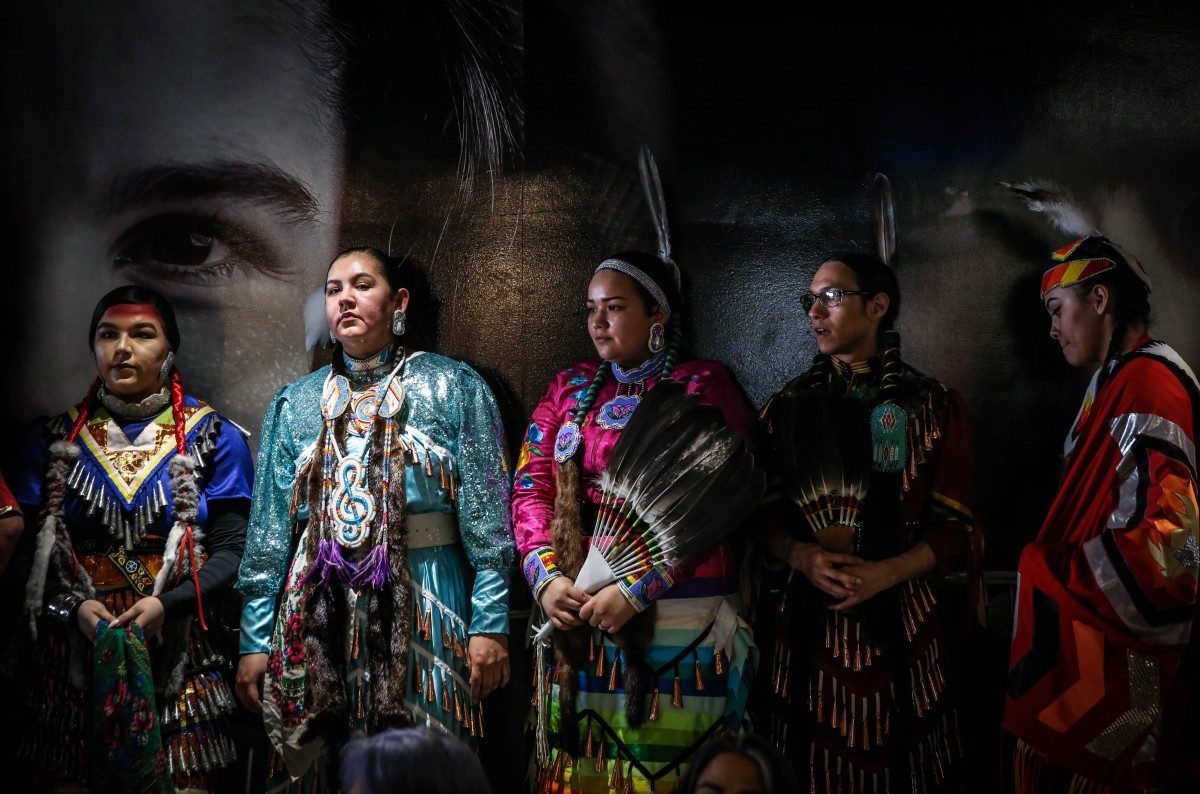 Indigenous knowledges, history celebrated during first-ever Indigenous Awareness Month
April 6, 2018 —
Indigenous history, knowledges, cultures, languages and traditions were celebrated this past March, as Indigenous Awareness Week expanded to Indigenous Awareness Month for 2018.
In total, more than 30 events were held, with collaboration from several faculties and student groups on campus.
The month began with an exploration of Métis identity, with special guests Fred Shore, Jean Teillet and Jason Madden sharing their perspectives.
Laura Forsythe, Métis Inclusion Coordinator at the U of M, helped facilitate the three discussions, which included the history of the Métis people, information regarding Louis Riel family documents and recent developments in Métis law.
"Our Métis centered week was an incredible success and fuels our commitment to continue providing Métis programming in the months to come," she said.
"Students, staff, faculty and community members braved a snowstorm to attend our first event of the series. There was standing room only at our second event, and the third event was recorded by the Manitoba Metis Federation for the entire Nation to witness. The weekend keynotes were also well received from scholars all over the world."
Other highlights during the month included the Indigenous Awards of Excellence, 15th annual Elders and Traditional Peoples Gathering and weekly Fireside Chats, which involved talks on Indigenous knowledges from various special guests such as Dr. Frank Deer and Dr. Cary Miller.
The Chats were particularly well attended, with standing room only available each week. Discussions revolved around Canadian Indigenous relations compared to American relations, as well as navigating Indigenous spirituality, language and religion.
"We had a lot of support and a lot of people showed up. We did a count, and there was standing room only, with 62 people packed into the circle room [of Migizii Agamik – Bald Eagle Lodge] for both weeks," said Carl Stone, an Indigenous student advisor at the U of M, and coordinator of Fireside Chats.
"Some professors at the U of M brought their students, and Southeast College brought their students at one point. We had a really good speaker line-up, and I hope it's just as successful next year."
The month concluded with the launch of the ReconciliACTION campaign, which was started by University of Manitoba Aboriginal Students Association male co-president Noah Wilson, along with his colleagues.
The campaign is centred around the revitalization of Indigenous languages in Manitoba and across Canada. It aligns itself with the Truth and Reconciliation Commission's 94 calls to action, and specifically brings to light call to action #16, which calls on post-secondary institutions to implement Indigenous language degrees and diplomas, and make them available to students.
"I think it's important that Indigenous languages are revitalized, because if you talk to language speakers, languages carry cultures forward, and they're at the core of every culture," Wilson, who attended multiple events during the month, said.
"For language to die is almost like a culture dying in a sense, so it's important that we have a sense of urgency, because our language speakers aren't always going to be around."
Valerie Williams, Diversity and Inclusion Coordinator at the U of M, was also present at many of the events, and was "privileged" to celebrate the month with her brothers and sisters on campus.
"Indigenous voices have been silenced for way too long, and Indigenous Awareness Month was an opportunity to celebrate the cultures, history and the rich contributions of Indigenous Peoples," she says. "We have strong leaders in our community and I was thrilled to see some recognized at the Indigenous Awards of Excellence. The Elders Gathering is also one of my favourite events, as I always find hope in the teachings."