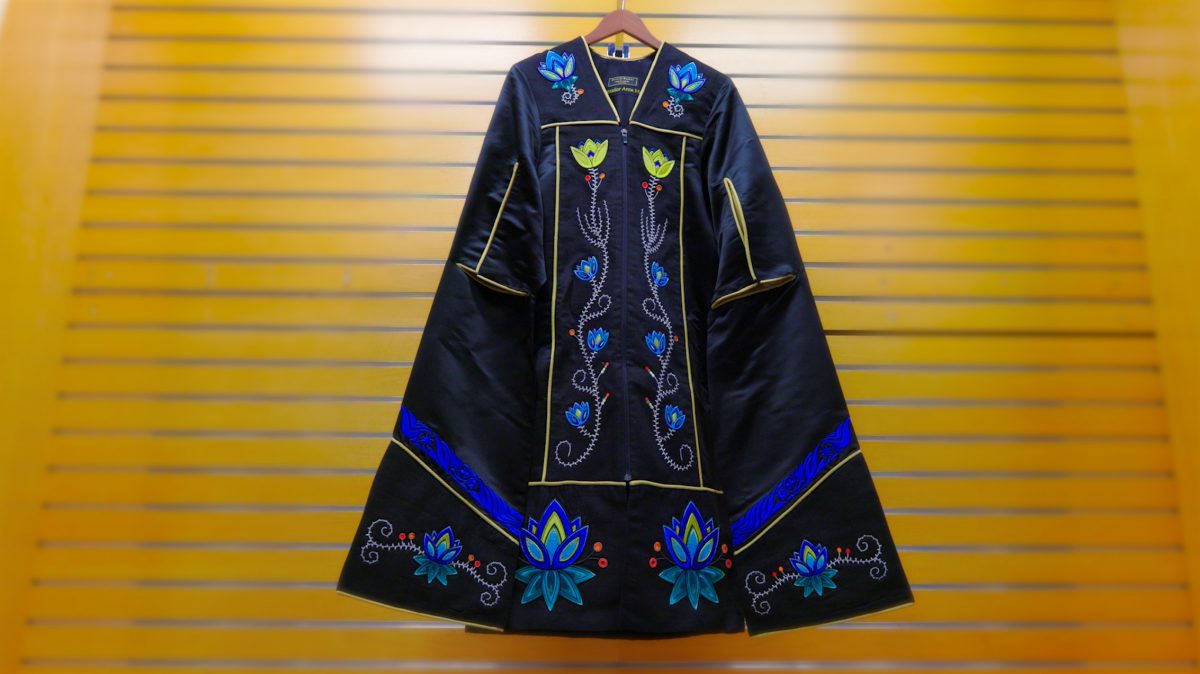 Indigenous artists re-imagine convocation regalia
June 5, 2023 —
Indigenous ways of knowing, being and doing will now be better reflected at UM's convocation ceremonies.
The University of Manitoba engaged Indigenous artists to update the Chancellor's and President's convocation regalia, altering one of the institute's oldest traditions to serve as a visual demonstration of UM's commitment to reconciliation.
The new robes were designed by Beverli Barnes with artist Jackie Traverse [BFA/09], an Ojibwe woman from the Lake St. Martin First Nation, designing the floral motifs. Barnes then sewed the robes, including the embroidery of Traverse's motifs, after which the robes were beaded by a third artist, Shannon Denney-Edwards, a Canadian of Métis, French and Islandic decent.
"I graduated in 2009 and never did I ever imagine that I would be asked to design the President's and the Chancellor's convocation robes," Traverse says. "I think that it shows the willingness to learn, make changes and to be open to dialogue and creating changes for everybody….Indigenous artists really need to be represented and more included in all institutions, all places across the country, because we are on native land, right? So we should be represented and we should be included. And it's the artists that will do that for the people."
The new black silk robes employ gold piping as a nod to the design the President and Chancellor have worn to date, and they feature new motifs. Of her design, Traverse explains that the crocuses represent Manitoba and give a sense of place while the white, yellow, black and red represent the four symbolic nations of the medicine wheel. The use of red and orange represent missing Indigenous women and children and the roots symbolize our connections to this institution and to one another.
"Convocation is a time for celebration and symbolism and it's so important that we have this new symbol of what our university represents," says Dr. Catherine Cook, Vice-President
(Indigenous). "We are creating meaningful connections with Indigenous communities by embedding Indigenous ways of knowing, being and doing into this important event, and I am so thankful and impressed by the thoughtful, beautiful ideas that were captured in this stunning design and artisanship."
To amend the academic dress took much consultation, reflection and ceremony and this process began in late 2022 when Cook opened consultations with members of the Indigenous community at UM.
"This university wants to be a partner in bringing about meaningful change, and that can mean altering the most long-held traditions so that we can move forward in the true spirit of Reconciliation," says Michael Benarroch, President and Vice-Chancellor. "I am deeply honoured and grateful to wear these robes alongside the Chancellor at this and all future convocations, and I thank everyone involved in helping us bring about this important milestone. These robes help demonstrate the University of Manitoba's respect for the territories this university resides upon and our commitment to creating experiences that are more welcoming to Indigenous students."