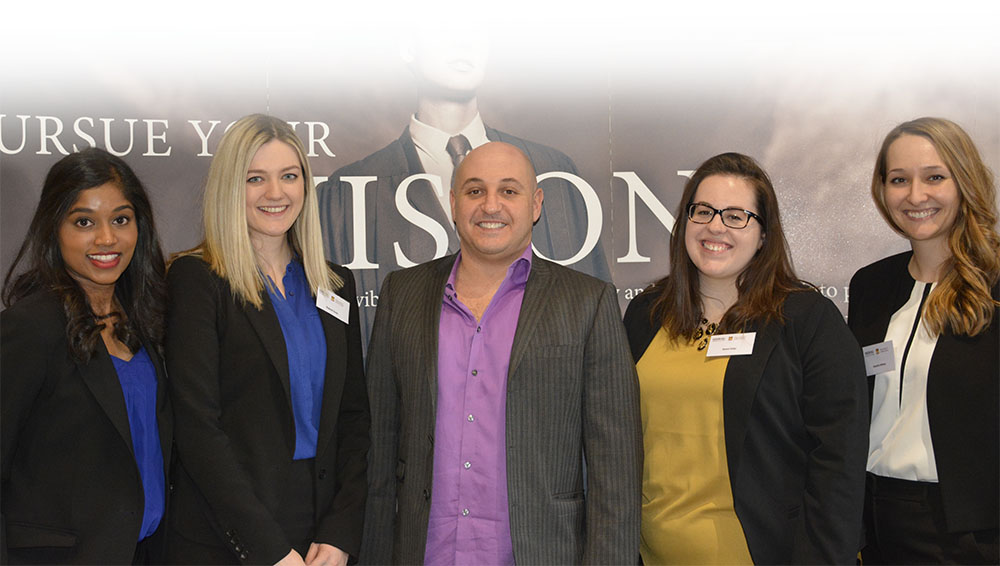 Inaugural Canadian Negotiation Competition
March 21, 2017 —
On March 3rd and 4th, twenty-four students from law schools across Canada gathered at Robson Hall, Faculty of Law, for the Inaugural Canadian Negotiation Competition. The law students, acting as lawyers, represented the fictitious Le'Vana Cosmetics or Mother Earth Organic Foods as the companies negotiated the legal problems in co-developing an organic line of cosmetics. Schools represented include: University of British Columbia, University of Calgary, University of Manitoba, McGill, Osgoode Hall, University of Ottawa, University of Saskatchewan, University of Victoria, and Western.
The student's negotiation skills were evaluated by a panel of three judges, who scored and provided them with invaluable feedback. We are thankful to the prominent members of the Winnipeg bar, who generously gave up their precious time to evaluate and mentor the competitors. Both University of Manitoba teams, Shantel Saliga & Samantha Holloway and Sharu Ratnajothy & Stephanie Savoie, turned out extremely strong performances, expertly coached by Michael Weinstein of Hill Sokalski Walsh Olson LLP and Steven Meltzer of Feuer Law Corporation.
In the final round Emily Kostandoff and Raya Sidhu from the University of Ottawa negotiated against Alexandra Beatty and Camille Walker from Osgoode Hall. Both teams turned out outstanding performances. Final round judges, Ari Hanson, Annika Friesen, and Dana Nelko, from Fillmore Riley LL.P., had the unenviable task of selecting the winners- Ms. Kostandoff and Ms. Sidhu from the University of Ottawa. Ms. Kostandoff and Ms. Sidhu will advance to the 2017 International Negotiation Competition, in Oslo Norway from June 26 to July 1st, 2017.
Ms. Alexander Beatty and Ms. Camille Walker, runner up team from Osgoode Hall, also received Special Mention: Best Planning and Self Analysis. Mr. Michael Luba and Mr. Alexander Godlewski of McGill were awarded Special Mention: Best Teamwork and Relationship Management. Other memorable events during the competition included the welcome reception and tour at the Canadian Museum for Human Rights, the Desautels Centre Coaches' Dinner and the Master Class for coaches and students with a keynote address by Dr. Bryan Schwartz.
The organizing committee of the competition gratefully acknowledges the sponsorship provided by the Marcel A. Desautels Centre for Private Enterprise and the continuing support of Fillmore Riley LL.P. Additionally, the organizing committee wishes to thank Dentons for generous sponsorship of so many of the teams competing in the competition. This competition would not have been possible without the stewardship of Professor Bruce Curran, who gave generously of his time to develop the format, rules and judging protocol and thoroughly vetted the results throughout the competition. Judging from the warm reception of all of the participants and coaches we expect that the Canadian Negotiation Competition will become an annual event, and we are already looking forward to next year.