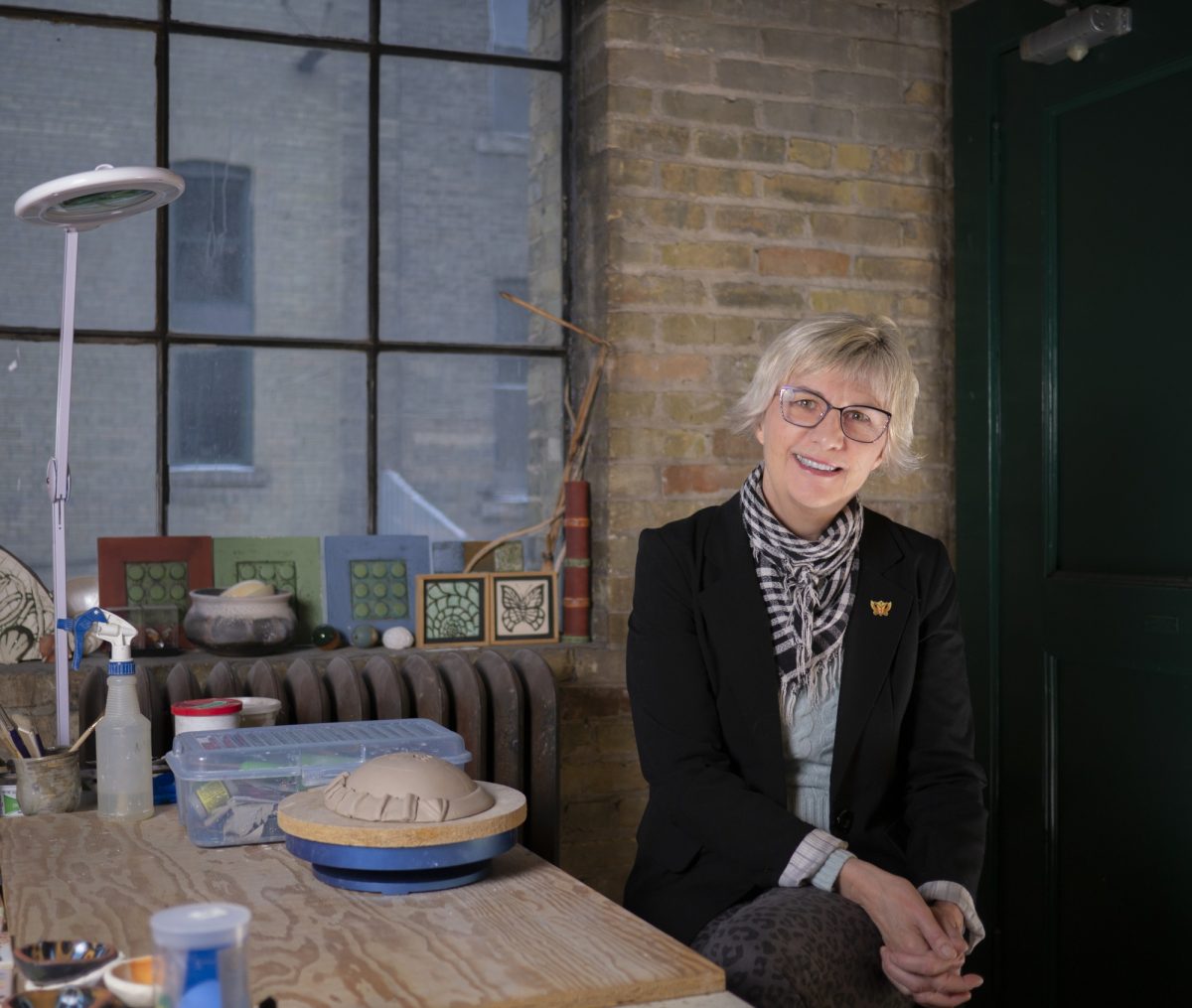 In the news: SoA Professor wins 2023 Saidye Bronfman Governor General's Award in Visual and Media Arts
March 28, 2023 —
We are pleased to congratulate and celebrate School of Art Professor Grace Nickel, recipient of the 2023 Saidye Bronfman Governor General's Award in Visual and Media Arts.
"Many Winnipeggers will be familiar with Nickel in her role as Professor at UM's School of Art. Others will know her work from recent solo exhibitions at Gallery 1C03 and Actual Gallery in Winnipeg." writes nominator Tammy Sutherland, Director of the Manitoba Craft Council. "She has mentored many emerging artists over the years, both formally, through Mentoring Artists for Women's Art (MAWA), and informally. She has served on the board of the Manitoba Craft Council and worked with many of this city's most respected art organizations, including MAWA, Art City, and Winnipeg Art Gallery Studio.
Nickel's reputation for painstaking research, persistence in exploring new territory, and exquisite craftsmanship have earned her the respect and recognition of colleagues, critics, and curators at an international, national, and local level. We're thrilled that she is being recognized with this prestigious award."
Congratulations, Grace!
ABOUT GRACE NICKEL
(excerpted from the nomination statement)
For more than forty years, Grace Nickel has maintained a vibrant studio practice while exhibiting, lecturing, teaching, writing, curating, participating in residencies, and taking on leadership roles in arts and academic settings. In her art practice focused on sculptural ceramics and installation, Nickel investigates how material, process, and scale impart meaning to form and how they influence the aesthetic qualities of her studio work by exploring both traditional and new technologies. Her work has been exhibited widely in Canada, the United States, Taiwan, Japan, Hong Kong, China, South Korea, the United Kingdom, Australia, and New Zealand and has garnered accolades, including the Bronze Award at the prestigious Second International Ceramics Competition in Mino, Japan and a Special Judges' Award at the Sixth Taiwan Golden Ceramics Awards. Nickel is a Professor at the School of Art, University of Manitoba (U of M).
Nickel grew up as a farm girl in Southern Manitoba, always aware of the scarcity of trees on the bald prairie and the beauty of clay excavated from great depths by her father with his frontend loader. She launched her career in 1980 with a BFA from the U of M, a school deeply tied to wheel-thrown practice and wood firing. From the outset, Nickel was drawn to the sculptural properties of clay. Pushing the limits of these properties, she moved towards a conceptual and architectural approach to ceramics, exploring hand-building and slip-casting techniques, working at an unusually large scale, and experimenting with fabric formwork and complex sculptural moulds.
With a wealth of experience behind her, she pursued graduate studies, earning an MFA in ceramics from NSCAD University. Nickel joined her alma mater, the School of Art at the U of M, as an Assistant Professor in 2010, became the first woman to receive a tenured position in Ceramics at that institution and was promoted to Full Professor in March 2022.
Find out more about this year's GG Award winners and view a short film about Grace Nickel's career here: https://en.ggarts.ca/
Winnipeg will be able to see Nickel's ceramic work in person this spring-summer. WAG-Qaumajuq, in collaboration with the Manitoba Craft Council, will be presenting an exhibition of her artwork, opening in May 2023.
More to come…