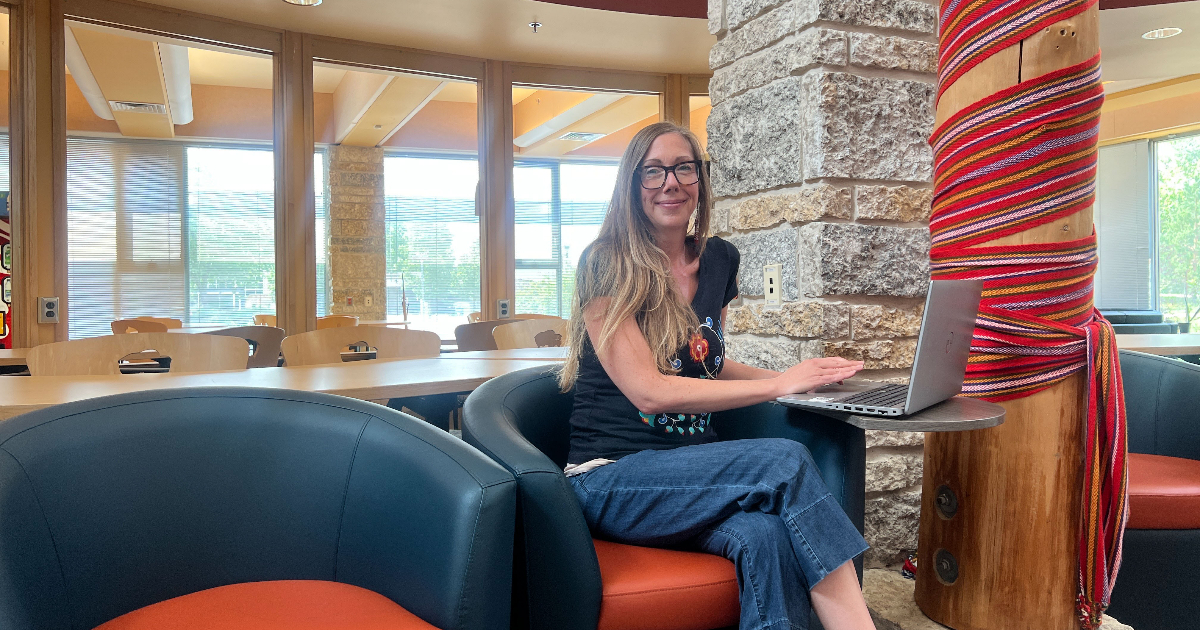 In-person support for UM students interested in Medicine now available at Fort Garry campus
Max Rady College of Medicine's admissions administrator will be on-site all summer
June 13, 2023 —
The Access & Aboriginal Focus Program located in the Indigenous Student Centre is excited to welcome Elizabeth Spence, the Max Rady College of Medicine's admissions administrator, for the summer months to help new and current UM students learn more about how to apply for Medicine. Spence did her undergrad at the University of Winnipeg; her degree was a Bachelor of Arts Honours in English Literature.
Later, Spence returned to university as a graduate student, this time at the University of Manitoba, and got her Master of Arts in English. Upon graduating, she left the university to raise her family. When she returned to begin her career in the Max Rady College of Medicine, she enjoyed the work so much she started another graduate degree doing a Master of Science in Community Health Sciences. UM Today sat down with Spence to talk about her background and what brought her to her position today with the Max Rady College of Medicine.
UM Today: Tell us a bit about yourself.
I'm Red River Métis, from here in the homeland of the Métis Nation, my name is Spence, but I also come from Ashams, Kiplings, Adams, Cooks, Heywoods, Batts, and Wards. Those are some of my family names and we sort of come from all over, York Factory, Norway House, Cumberland House as well and the Red River. We also have ties in Saskatchewan around Red Deer Hill, Prince Albert and right across the river from Little Pine First Nation. We made our way back to Manitoba, which is where I live now in Treaty 1, and I've pretty much been here my entire life.
UM Today: What will your role look like over the summer at Migizii?
"I'm spending time at Migizii this summer because a lot of our students are coming from Access or from the Fort Garry campus in general, and I want to have the opportunity to meet with those who want to learn more about the admissions process. I know the process itself just seems so complicated. There are so many steps and lots of things involved and not everyone understands the process. I want to help guide people as early on as possible to give them some tips and insights before they even apply to the program.
I'm available to meet with students if they want to talk, I can help with their applications, figure out how to prepare for Medicine, how to apply, the best ways to get into the program and how to prepare for their interview.
If we're asking people to have certain qualifications or markers of excellence, I believe it's important that we also provide resources and avenues to achieve those qualifications and markers.
UM Today: How has your journey brought you here today to the College of Medicine?
Prior to taking time off, my field of study was in literature. I was studying Indigenous literature, which I really enjoyed, but there was something very abstract about the work that I was doing. When I was off having babies, I had my own experiences in the health care system that changed my mind, and my focus became more about health.
Coming into this role was initially as an advisor for Indigenous applicants to Medicine, which was really exciting to me because it gave me an opportunity to do work that's meaningful to me. And then immediately my role expanded. I don't just want to be an advisor; I want to impact the whole system. I feel like it's my path, my purpose, to help our communities and to do whatever I can from an educational perspective to close some of those health gaps and to realize the Truth and Reconciliation Commission's calls to action.
UM Today: What message do you want to share with students?
You belong here as you are and you don't have to change yourself to fit into the University, the University should be able to adapt and change as you view it. For me coming to school, I felt like I didn't belong, that everything was so difficult to navigate, and I had no idea what I know now.
Now that I'm older and wiser, I feel like I have a better perspective. I just want young people to know this: you're amazing, you absolutely belong here, you deserve to be here, you're not an imposter; you have more to bring to the University than the University will bring to you. Just don't give up, always reach out to people – there's so many supports like the Indigenous Student Centre, Access, Ongomiizwin, join those student groups and stay here. You deserve to be here!
Elizabeth Spence is available for support upstairs in the Access & Aboriginal Focus Program area of Migizii Agamik on Wednesday afternoons from 1:00 – 4:00 p.m. until the end of August.
Drop-ins are welcome but scheduling an appointment is strongly encouraged depending on availability. You can schedule an appointment with her by emailing elizabeth [dot] spence [at] umanitoba [dot] ca or by phone at 204.474.8213.