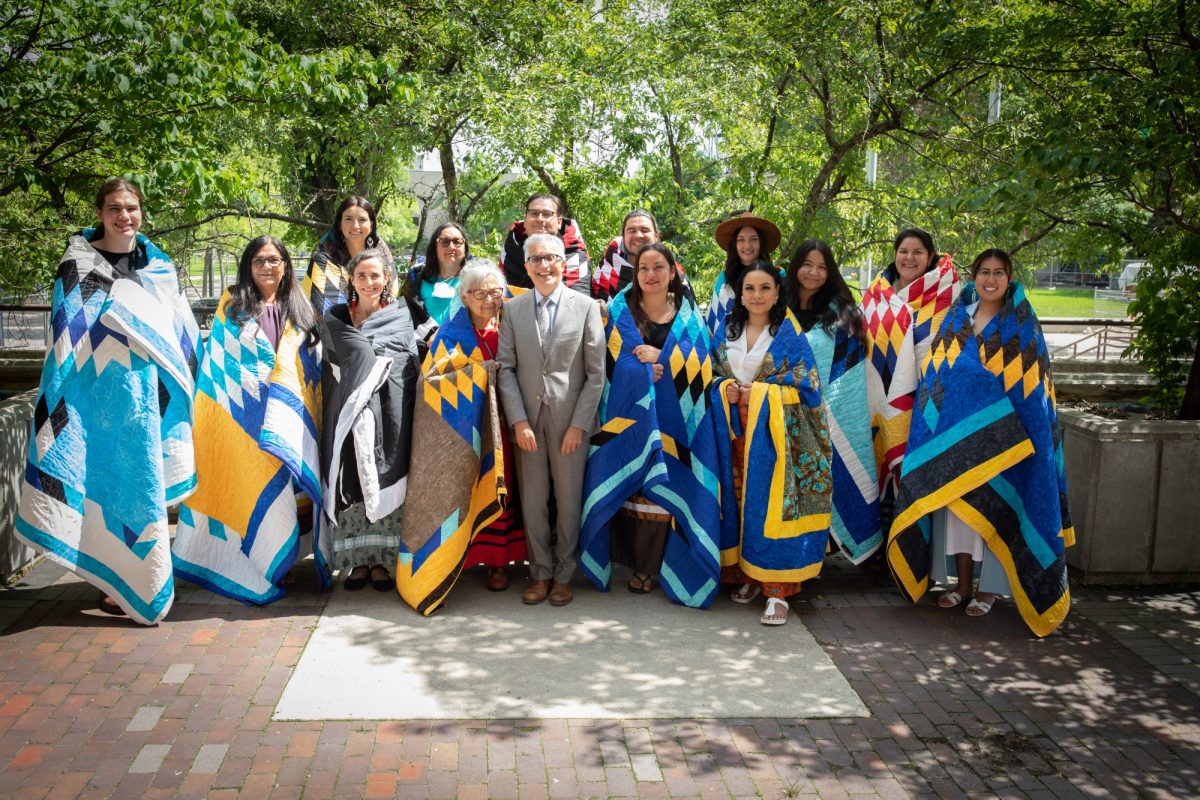 Honouring our Indigenous Campus Community: Call for Nominations
Nominations for 'Honouring Our Indigenous Campus Community' (formerly the Indigenous Awards of Excellence) are now open
January 31, 2023 —
It is with great excitement that the Office of the Vice-President (Indigenous) (OVPI) prepares to recognize members of the Indigenous community across the University of Manitoba campuses.
Since 2017, the Indigenous UM community has hosted a ceremony previously known as the Indigenous Awards of Excellence. This event has evolved to better represent the diverse gifts of the Indigenous students, staff and faculty on campus. In place of award categories, criteria have been expanded to ensure that anyone deserving of recognition can be nominated; and the recognition ceremony has been renamed Honouring Our Indigenous Campus Community.
UMToday spoke with Ruth Shead, director of Indigenous engagement and communications, about the changes.
UMToday: How did this change in direction come about?
Ruth Shead: We're always learning from the people in our community. After last year's awards, I congratulated one of the recipients for winning. They explained that they didn't feel that 'winning' was the right word because they see their contributions as a responsibility that they are fortunate to be able to share. We also heard that the award categories limited who could be nominated or, in some cases, the person being nominated fit all the categories, so the selection committee discussed those comments and the purpose of the awards.
UMToday: How was the new name chosen?
RS: Since the Indigenous Awards of Excellence were first introduced, we've been able to recognize and thank Indigenous students, staff and faculty for creating a strong campus community, being role models and advancing change in spaces where the structures and systems have worked against us. Our goal remains the same – to honour our Indigenous campus community – so we decided to say exactly that.
UMToday: What else can you tell us about this shift in recognizing Indigenous achievement at UM?
RS: We discussed if we should use the word 'our' as, obviously, the university does not own Indigenous people. While anyone from UM can submit a nomination, the selection committee is comprised of all Indigenous employees and the OVPI is the host. Ultimately this recognition comes from the Indigenous campus community and many past recipients have shared how special it is to be honoured by their own community. Moving forward, we are Honouring Our Indigenous Campus Community for inspiring us and for inspiring change by sharing
their diverse and unique gifts.
Honouring Our Indigenous Campus Community is a celebration of the outstanding achievements and contributions of Indigenous students, faculty and support staff at UM. Six students, two staff and two faculty members will receive this special recognition. All student recipients will also receive $250.
The OVPI encourages all Indigenous students, staff and faculty on campus to nominate anyone they believe is helping to shape the Indigenous UM community into what it strives to be today: welcoming, encouraging, culturally and traditionally involved, inspirational, generous and giving.
Nominations will be accepted until Feb. 28, and the Honouring Our Indigenous Campus Community ceremony will be held on June 20, 2023. Please visit the Indigenous UM webpage for more nomination details.