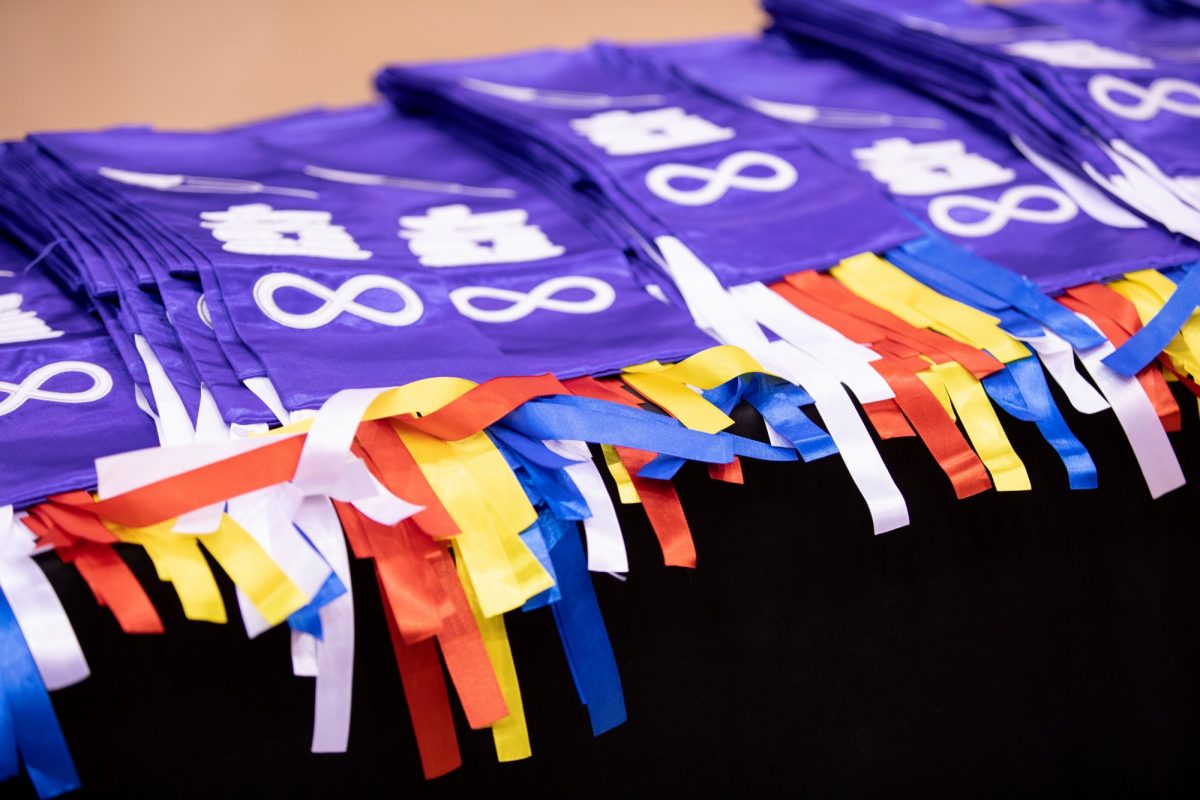 Honouring First Nations, Métis and Inuit graduates
Indigenous campus community celebrated graduates virtually on May 8
Early May typically sees the Indigenous campus community come together for the Annual Traditional Graduation Pow Wow at the University of Manitoba, one of the largest traditional pow wows in the province.
In light of gathering restrictions related to the COVID-19 pandemic, the Indigenous Student Centre (ISC) hosted an online celebration to honour Indigenous graduates at UM and their accomplishments on May 8 on Facebook.
"This past year has been challenging in many ways, and it has been wonderful to see how students have demonstrated strength, resilience and innovation despite those challenges," says Carla Loewen, the ISC's acting director. "This event, which we can't wait to host in person again when it is safe to do so, is one of our favourites, and we look forward to celebrating Indigenous graduates as they continue their journeys and join UM's alumni community."
UM Today spoke with two of the anticipated 510 self-declared Indigenous graduates – the largest cohort ever.
Meet graduate Stewart Hill
After graduating with a master's degree from UM's Natural Resources Institute in 1993, Cree student Stewart Hill spent two decades in the field as a research consultant in natural resource and land management. While attending a UM workshop about mapping, he was introduced to Dr. Annemieke Farenhorst from the Faculty of Agricultural and Food Sciences, who presented an opportunity to pursue PhD studies.
"Right then and there, I decided I would go for it," says Hill.
That September, he returned to UM and in early 2021, successfully defended his thesis to complete his PhD in natural resources and environmental management – the first person to complete a PhD from his community of God's Lake First Nation.
"Very enlightening things happened in my journey as I was learning and interacting with professors and students, including students from other countries," he says. "I realize now it was very transformational – I was not the same person I am now."
His thesis, too, went through a transformation of sorts, becoming an autoethnography – or combination of autobiography, ethnography and analysis, focusing on the traditional territory in his home community.
"I am telling my life story from my cultural perspective and correlating that into the Canadian system as it relates to water. The overall thrust is asserting [Indigenous] governance over water, an idea that came from Senator Murray Sinclair," he says.
In his thesis, Hill proposed a solution and structure based on the Medicine Wheel, using the spiritual, physical, emotional and mental aspects as theoretical and conceptual frameworks and relying on his previous work within his community to guide him.
"I had to [move] aside everything I had been taught by the colonial system and think: 'Who are we? Who am I? Where are we? Where do we want to go?'…I think in a different way now; I think as a sovereign Ininiw (Cree) person and bring that into my work as well."
Hill is currently a senior research and policy analyst at Manitoba Keewatinowi Okimakanak and continues to participate in guest lectures and on panel discussions at UM and organizations like The Wildlife Society. "I never turn [these opportunities] down because I think there's a lot of work that needs to be done to create awareness between cultures."
In terms of advice he would offer current UM students: "Work hard; don't quit; keep going…once you finish your degree, it's yours and it will benefit you for the rest of your life. It opens doors for you. Nobody can take that away from you.
"Always think about your culture and where you came from, where your people came from and who you are," he adds. "If you have a community you grew up in, work with your community. Go to your Elders, respected people, leaders – it's very rewarding when you do and very transformational because you learn a lot about yourself."
Meet graduate Kirsten Fleury
For Faculty of Science graduate Kirsten Fleury, getting involved with the Indigenous campus community made a lasting impact on her university experience through new friendships and a stronger connection to her cultural identity.
"I think I will always remember the feeling of community that I experienced at Migizii Agamik," says Fleury, who is graduating with a bachelor of science in biology. "It wasn't until I became involved with the Indigenous community that I started feeling like I had a place at UM."
Fleury, who is Métis from St. Francois Xavier, credits her experience with undergraduate research through the Prairie Indigenous Knowledge Exchange Network (PIKE-Net) with encouraging her to become more involved on campus. She eventually applied to other programs like the Indigenous Circle of Empowerment and Neechiwaken Indigenous Peer Mentor Program, and also ran for executive positions with the Métis University Students' Association.
"All of these programs helped me build connections with the Indigenous community, and provided me with a lot of emotional and spiritual support at times when I needed it," she says. "[In addition to] providing me with the opportunity to learn more about my Métis culture and Indigenous spirituality, I gained friendships and a sense that I did have a place and I did belong at UM, which made it so much easier to do well in my classes, as I no longer saw UM as a place full of strangers – but as a place full of friends."
As for the future, Fleury will spend the summer conducting Métis health and wellness research with Dr. Michelle Driedger and preparing for a new education path in fall 2021. She has applied to the master of science program with the department of community health sciences as well as the MD program at the Max Rady College of Medicine in the Rady Faculty of Health Sciences. She hopes to eventually work in health care with Indigenous communities, whether as a physician or in a research capacity.
"My goal is to…provide quality and culturally safe health care, and to reduce and repair the gaps that exist in our health-care system that disproportionately affect our Indigenous relations," she says.
Her advice to current students? Don't focus on the 'right' way to complete your degree and instead follow your own path.
"At first, I planned to complete my [undergraduate] degree in four years…but I found that I needed to reduce my course load and increase my extracurricular activities, because that's what worked for me," she says. "Do what you need to do to achieve your goals and still have time to take care of yourself."
Watch the celebratio on the Indigenous Student Centre at UM Facebook page.